Since she was 11, Rafiat Animashaun spent every other summer with her family visiting relatives in London and Nigeria. "Those experiences, hearing stories from my grandfather and mom, and understanding the history of my culture and what it means to be Yoruba and Nigerian, led me to realize, 'Wait, there's more to the world than the U.S. and being American,'" she said. "It helped me be more culturally competent at home."
Animashaun grew up in Silver Spring, Maryland, a 20-minute Metro ride to downtown Washington, D.C., and attended private, predominantly white Catholic schools, which also helped shape her worldview. "I went from a predominantly Black and brown elementary school to being one of very few Black or minority people in the classroom. Experiencing how different everyone was, not only by race, but religion, ethnicity, economic status and more, spurred me to become a diplomat," she said. "I always loved the idea of cultural exchange and unity across boundaries." Animashaun attended American University in D.C., but by her third year, she realized she wanted a more creative professional path with a more direct impact in communities, and started to take communication and marketing courses.
Animashaun will be joining us in August as a graduate student in the master's in public relations and advertising program. We spoke to her about her journey to USC Annenberg.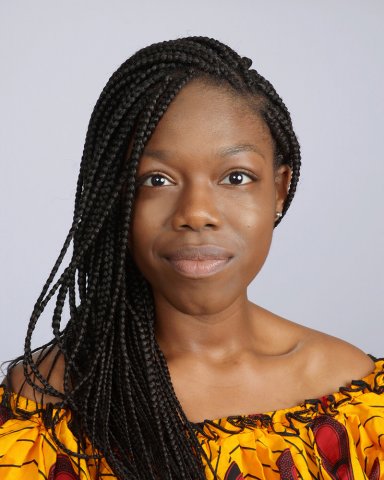 Photo courtesy of: Rafiat Animashaun
After earning your undergraduate degree in 2017, you freelanced for a half a year and then started at Vanguard Communications in D.C. How did your communications position help you on your career path?
Vanguard was founded 33-years ago by Maria Rodriguez, a Hispanic woman, with the intention of bringing PR to social change. We were the first social change-focused PR agency in the country. Today, you can see from our C-suite to entry-level positions, we are highly diverse in experience and background. We are minorities seeking to better the society and environment we live in. It is a unique space and opportunity I was fortunate to have. While I was there, was able to home in on the idea that you don't need $100 million to reach and resonate with the people you're looking for. Through our government and nonprofit projects, I've learned that if you have the right audience, messaging and tools — traditional media, social media, digital media, whatever it may be — you can make a real impact and change behavior. I wanted to basically mirror that myself and build a solid foundation for my own PR agency so that we can take the torch and uplift the next generation — while focusing specifically on media and entertainment.
Why did you feel you needed to return to school to make that happen?
Having had the opportunity to be a part of several campaigns [at Vanguard] spurred me to think, OK, I need to learn more about the industry. I wanted to turn my aspirations into a reality. So, I started looking for graduate programs and knew USC has one of the best programs in the country. I'm also very much into entertainment. I used to do theater in high school and I've always loved the art of being able to step into someone else's shoes. I wanted to keep that with me as I went down this social-cause and social-change path. Blending all my interests together would be the foundation for my PR agency.
Plus, of course, it's the location — being out in Los Angeles, temperate weather, I love it. I also did a lot of research into the program itself and saw that the Annenberg Inclusion Initiative was one of the research centers here. I really like the idea behind the work they are doing in diversity in media. Plus, your alumni network – many of the people who inspire me have ties to USC and Annenberg.
What is your philosophy behind Ire, the public relations agency you founded earlier this year?
Ire in Yoruba means many things. It means goodness, fortune, wealth, hope and favor. It is defined as a blessing or positive thing. The mission of the agency is to provide good fortune and prosperity, to uplift the voices, stories and people of minority communities in entertainment and media. Focusing on bettering and changing the narrative that we have of minority people in the media. So, Black lives, brown lives, LGBTQ and women's rights, children's mental health, immigrant rights, the list goes on. I want increased diversity, equity and inclusion in entertainment — in front of and behind the camera, in the writing room, and in every C-suite and meeting room. It's a long process, but I feel like the more people stand behind and invest in these movements, the more we can change incrementally until we find that justice, that unity, that equity that we've been talking about but haven't achieved because there have been no real structural changes.
You've already had the chance to get involved at USC. Tell us a little about what you've been doing.
I have been working with USC's Art/Emis, an intersectional creative community, on a TV show I conceptualized a few years ago, Ameri-Kinda. I want to shout out the great clubs and organizations USC has to amplify minority voices across campus. We worked hard to form a writer's room that is diverse and representative of all the voices that are being portrayed. I'm looking forward to premiering the pilot Spring 2021.