Media innovator, entrepreneur and CEO Maverick Carter encouraged the USC Annenberg School for Communication and Journalism's Class of 2019 to not be afraid to bet big on themselves.
"From the moment you walk off this campus, you are going to feel pressured to make safe, obvious professional choices," Carter said. "To do what you are supposed to do, rather than explore, discover, what you may actually want to do.
"I stand here today as a living testament to make sure you all know: What makes the most sense — may not even make sense at all!"
As LeBron James' longtime business partner and co-founder of the entertainment, marketing and content companies they've built, Carter has become an influential figure in the media and entertainment landscape. With their L.A.-based production company SpringHill Entertainment and its athlete empowerment brand UNINTERRUPTED, Carter and James have developed and produced content that speaks to a cross-cultural audience. With the success of these ventures and their commitment to uplifting others, The Hollywood Reporter recently named Carter and James to their list of "50 Agents of Change Empowering Diverse Voices in Hollywood."
Carter addressed 935 doctoral, master's and bachelor's degree graduates in communication, journalism, public diplomacy and public relations, who assembled Friday, along with their families and friends, under an enormous white tent covering McCarthy Quad on USC's University Park campus. Also joining the celebration was USC Trustee Wallis Annenberg, chair, president and CEO of the Annenberg Foundation.
"Wallis has provided her unwavering counsel to this school — this university — for over 40 years," said USC Annenberg Dean Willow Bay. "You've heard me say before: She is my hero and she is your champion. She encourages us to be bold and daring, inclusive and inspiring, and supports us so generously as we do."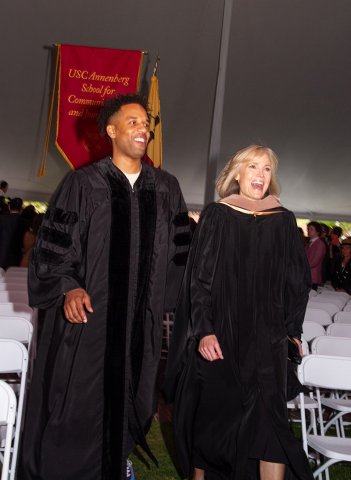 Photo by: Amy Tierney
Introducing Carter as the keynote speaker, Bay said, "Mav understands the power of contemporary media to challenge our assumptions, to build empathy, and to create a shared sense of values and community. Just look what he has done with
The Shop
, his hit series on HBO. He is creating spaces, and not just physical spaces loaded with cultural significance like a barbershop, but a community space where truths can be shared and where we listen — where we
really
listen — and understand."
In his address, Carter shared his biggest life lessons. He said his relationship with James led to him getting what his family and community in Akron, Ohio, would have called "a good-ass job" with Nike. Then, James asked him to leave Nike and become his business partner as he sought to defy the expectations of how a young athlete should handle his newfound millions.
Carter made the leap, quitting his "good-ass job," because he believed in what his lifelong friend was trying to accomplish.
"LeBron James decided very early on he was going to be more than an athlete," Carter said. "And I'm here to challenge all of you to think about: How can you be 'more than'?
"'More than' challenges every norm, refuses to accept the rules as they are … and most importantly, 'more than' implores you to take massive risks. Being 'more than' means you court failure, embarrassment, and the possible loss of everything."
The advice he shared with USC Annenberg graduates was this: "You have to gamble, and you have to gamble big! You have to make very big bets on yourself. You cannot play it safe."
Named for the James Garner character from the TV series of the same name, Carter said he learned about the "power of calculated risk" from his grandmother, who ran an unofficial gambling operation in her basement. ("You can't really call it 'illicit' though, because the cops and everyone knew what she was doing," he said, to laughter from the crowd.)
"My father, Colonel Otis Carter, gave me this extraordinary way to think about everything," he said. "He told me when I was a teenager, 'Maverick, if you bet on yourself and were to lose everything, you would just be breaking even."
Carter said he remembered that advice when he faced what he called his biggest failure: turning James' first free agency in 2010 into a television event called "The Decision."
"Well for those of you who were on planet Earth that day, you probably know how it turned out," he said. "It failed terribly!"
Even so, Carter asserted that "'The Decision' ended up being the best thing that ever happened to me. … As bad as it was, it was a total innovation: An athlete taking complete control of their opportunity, owning their content, changing how they tell their story."
Carter urged USC Annenberg graduates to take that kind of control over their own stories. "The degree you earned today is not just a ticket to a good-ass job, to make money and to play it safe," he said. "No. It's, in fact, the total opposite. The degree gives you the freedom to gamble, to take a chance, to start something, to change the world, to go chase your dream."
---
Watch the full ceremony video here. View the ceremony photos on Flickr here and view the reception photos here.