A self-described "huge extrovert," Meilin Fields had a lot going on growing up. She played four instruments, sang in multiple choirs, started dancing at age 3 and danced ballet for more than 13 years, adding in tap, jazz and hip-hop along the way. She also golfs and was editor of her all-girl Catholic high school's literary magazine. This zest for exploration was what motivated Fields to apply to USC Annenberg's Master of Communication Management program, where she will be starting in the Fall.
"I really wanted the broadness of the comm management program, with the ability to choose from so many different focuses," she said. "You can take all these classes here at Annenberg and at other schools on campus, and I think that kind of opportunity is amazing."
Fields was born in Washington, D.C., where her father, a now-retired lawyer with the Navy, worked at the Pentagon. The family moved when Fields was 2, right after 9/11, to the small town of Belleville, Illinois, a half-hour southeast of St. Louis, Missouri. She attended Boston College for her undergraduate studies, majoring in theater and psychology and admits that one of the reasons she chose USC was because of what they are doing in terms of addressing diversity and inclusion issues.
With parents who encouraged her to choose a professional field she was passionate about, Fields, one of more than 700 graduate students joining USC Annenberg this Fall, shares with us why she chose communication as the next step on her academic journey.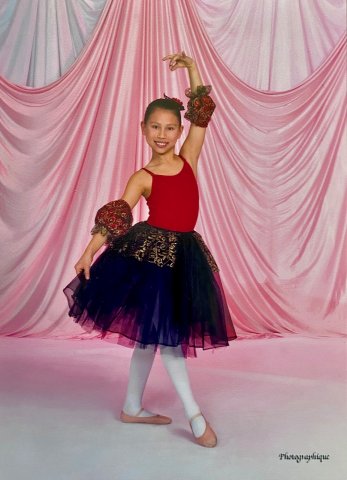 Photo courtesy of: Meilin Fields
You have a very diverse background with acting, dance, theater and psychology. Why did you decide to get a master's degree in communication?
It was my last year at BC [Boston College], and I was at one of those virtual career fairs — it was called Handshake — and at that point I was trying to figure out what I wanted to do with my life. I ended up talking to Ben Lee, [clinical professor of communication], on one of those little chat functions. Everything he was explaining to me was how I could bring together all these different things that I liked into one area. So, my psychology degree and wanting to understand people and my love of theater and wanting to work with people. Plus, I love creating content and the ability to do things that are creative. All these passions came together in communication.
Also, my parents told me, even when I was little, "After college, you go to grad school. That's how this works in life." I was like, "Okay, sounds like a plan."
You talked about growing up in a world where you didn't feel represented. Why is that important for you to change?
I definitely lived a pretty sheltered life, but at the same time, being half-Chinese, I felt like I was very different from a lot of people I was around. So, learning how to communicate with people who are not like me or understanding people who have very different life experiences, finding out what I can do to help make a more inclusive environment for other people is really important to me.
What are you hoping to do once you graduate?
I have always wanted to work in media and entertainment mainly because I understand that it's a huge platform that it affects so many people. Media has kind of overtaken our lives, and while some people think it's a bad thing, you can also see it as an opportunity. My uncle was the announcer on The Price is Right, he was also a news anchor and a weatherman, so I always wanted to move to L.A. and work in the industry.
What are you most excited about for the Fall?
I'm just honestly so excited about all of it, especially being on campus again! Being able to learn from all these incredible professors and take these classes that I never would have had the opportunity to take anywhere else is so great. I know I'll apply for internships and already understand the whole USC family — my brother graduated from USC — and how having all these amazing people who want to help and support you are part of coming here. I'm from a very small town in the middle of nowhere and I'm ready to move to the big city and try it out.