Meghan Wainwright was already on a path to success as a technology consultant right out of college. After majoring in English at Boston College, she turned an internship at the consulting firm Accenture into a full-time position in her hometown in the northern suburbs of Chicago.
At the time, she was also building her own influencer brand. While she had been doing beauty and lifestyle tips on her personal Instagram account during her early college years, as a college senior, she turned that identity into a full-fledged lifestyle blog, The Blonde in Pink. "Then about a year after I graduated, I started working with brands monetizing my social media platform," she said. "It really took off at that point: I was going to a ton of events, I was working with a lot of brands, and I was really starting to learn the social media side of the business world."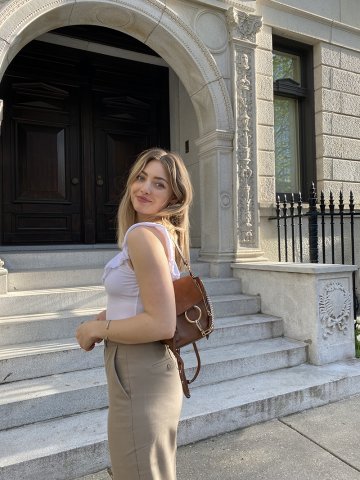 Photo courtesy of Meghan Wainwright
At first, Wainwright saw her work at Accenture and her blogging as two completely separate things. "Then I started traveling for one of my work projects, and this kind of kick-started this desire for me to change my life plan," she said. "I learned that I really loved content creation and digital strategy. My normal work life has been more traditional and corporate, but I always had an itch to do something that was a little bit more creative."
After researching master's degree programs, she applied to — and was accepted to — exactly one: the digital social media master's at USC Annenberg. "I knew that the combination of creativity and strategy I could learn there would open up a lot of different pathways for me," she said.
Wainwright moved to Los Angeles to begin her studies in Fall 2019, but the COVID-19 pandemic meant that she ended up taking most of courses remotely from back home in Chicago. Fortunately, even via Zoom, USC Annenberg faculty were able to help her explore how to bridge her technical aptitude and her creativity.
She credits adjunct instructor Morten Bay, who became her capstone advisor, for helping her navigate not just the course material, but the online learning environment. "Professor Bay really took the bull by the horns and made it work," Wainwright said. "He always made himself available for us. Whether we had a class with him at the time or not, he was always there to support us or just bounce ideas around."
Wainwright also found her classes with adjunct instructor Mayanna Framroze to be particularly meaningful. "I love her style of teaching," she said. "She brings her own professional experiences into the classroom, but she's still very much an educator. She facilitated a lot of bigger-picture thinking for me."
She also appreciated the number of team projects she undertook in the DSM program. "In a professional setting, the training wheels come off, and you're having to work with different personalities, people with different perspectives. Being able to do that in my classes was really good practice."
While building skills that would translate to her full-time work, she also continued to diversify the presence of her blog The Blonde in Pink, adding a TikTok account to further that brand, and also adding another account, @MeghaninTech, to share her experiences being a woman working in tech fields. "What I've been learning in the DSM program has really pulled everything together, as well as teaching me new skills, like user experience (UX) design," she said. "It's been really cool."
Ironically, the fact that she was back in Chicago and studying from home helped set up her up for the next step after graduation. "I realized that I was missing the structure of corporate life and working at a bigger company," she said. "I ended up getting an internship in Summer 2020 at Alida, a customer-experience management software firm. And then towards the end of summer, when I was ready to pursue full-time employment, I was offered the role of a solution engineer."
Wainwright says her new position is "an absolute perfect fit" for her. "It really blends what I had been doing as a consultant, but also allows me to use my creativity with content creation and digital strategy to work with brands," she said.
Balancing her second-year coursework with her full-time job was a challenge, but Wainwright says the DSM program complemented her work life — and helped her take the lessons she learned from both the tech world and her blog and fuse them into a unified career path. "I've been able to take what I've learned at USC Annenberg and the leadership skills I developed as a lifestyle blogger back into a corporate setting," she said. "I know I can take my career to a higher level now."