Charlie Siegel fell in love with the idea of being a Trojan during a guided tour. At first, he was not even considering attending USC, but after witnessing the vibrancy on campus he just knew he had found the right place for him.
"All around there were people walking and enjoying the weather, doing homework in the grass, and saying 'fight on!' to my tour guide," Siegel said. "Annenberg was just everything I ever wanted. My favorite aspect is that so many of our faculty are currently working professionals as well as professors. So, they're teaching from a very real point of view. That is one of my biggest draws to the school."
Hailing from a family of five in Phoenix, Ariz., Siegel began singing and dancing in the third grade followed by vocal competitions in middle and high school, and then professional community theater throughout Arizona. His background in musical theater as well as an interest in branding and graphic design led him toward majoring in public relations at USC Annenberg as well as minoring in disruptive innovation at USC's Iovine Young Academy.
Now a budding PR professional who dreams of working in entertainment public relations, Siegel serves as an USC Annenberg Ambassador for the Office of Admissions. He and two dozen USC Annenberg students were selected for the role, which includes helping prospective, newly admitted and current students navigate the school and the university through guided tours, answering questions, even producing a podcast.
"I applied to become an Annenberg Ambassador to inspire other people to come to USC," Siegel said. "In the same way my original tour guide did that for me, I want to play that role for others."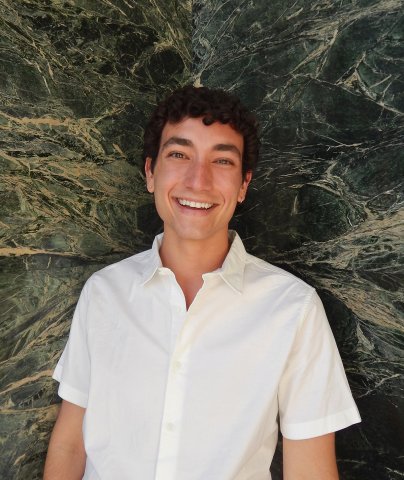 Photo courtesy of Charlie Siegel
What is your favorite part about being an Annenberg Ambassador?
My favorite part is when I get to tour people around the building because everyone loves Wallis Annenberg Hall. I love getting to tell little stories about things that I've done there. Also, taking prospective students to lunch is something that may seem awkward at first, but I've really engaged in some amazing conversations. After I had lunch with one prospective student, we stayed in touch and I ended up helping her pick classes over the summer. It's so special that you get to form this bond with prospective students and play a big role in their college decision.
That's so special! How does being an Annenberg Ambassador complement your PR major?
It complements my major because it's all about public speaking and putting yourself out there. As a PR professional it is really important to act on the fly, spin questions to work in your favor, and get out of your comfort zone. These are all things that I get to do as an Annenberg Ambassador and I love it.
How has your background in musical theater prepared you for a public relations career?
Obviously, there's that tie back because I used to be a performer and I have a lot of friends that are actors now. I grew up always talking to people and always being the center of attention. Performing kind of translated into public relations because I think I'm really good at being in front of people. It's also a really creative and artistic major, so you are always thinking about new ways to tell a story, which is what I did growing up.
Do you have any specific career goals or passions?
I really want to work in entertainment or fashion because I like going to photo shoots and sets. I love getting to see how my clients are being styled and seeing the final product at the end. Right now, I work as a public relations representative at an intimate agency called Slash, where we have a pretty tight list of actors and a couple of models that we represent. It's opened me up to new positions that I didn't know were possible. If I were to work in fashion, I would love to be a celebrity coordinator for a brand. I am also really interested in doing in-house public relations for a distributor or streaming service like Hulu, Universal or Warner Bros — and being a public relations representative for shows and movies.
What are areas that you'd like to learn more of as a PR professional and how has USC Annenberg equipped your growth?
I think I have so much to learn still! I'm starting to take a lot more upper-division PR courses. For example, this semester I'm taking the business and economic foundations of public relations, PR 429 with Professor David Stamper. I'm definitely learning a lot more about the business side of public relations and how that operates within a big corporation as well as investment relations.