Channing Joseph, lecturer of journalism, has been named a recipient of the prestigious Berlin Prize, a semester-long fellowship awarded annually to scholars, writers and artists based in the United States who represent the highest standards of excellence in their fields.
Joseph will spend the Fall semester at the American Academy in Wannsee district of Berlin, conducting research for his forthcoming book House of Swann: Where Slaves Became Queens — and Changed the World. The book is a narrative biography of William Dorsey Swann, a formerly enslaved Black man who became the earliest-known self-described drag queen and the earliest-known American queer activist. Drawing on previously unexplored archival sources, Joseph will tell the untold story of how Swann inspired a rebellious group — most of them formerly enslaved people — to create a secret world of crossdressing balls in the 1880s and 1890s in Washington, D.C.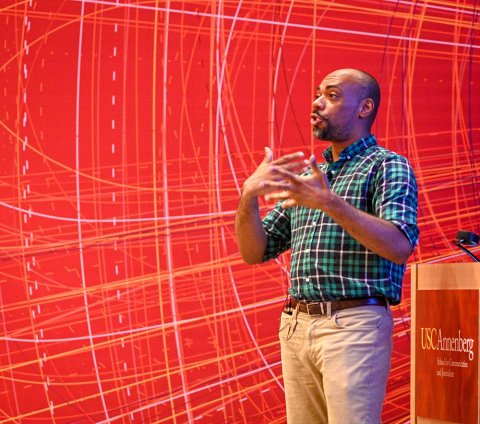 Photo by: Alan Mittelstaedt
"A residency at the American Academy will be really significant for my work because some of the earliest-known LGBTQ+ activists were Germans," Joseph said. "Karl-Maria Kertbeny, who first coined the term 'homosexual'; Karl Heinrich Ulrichs, who campaigned in the 1860s for the repeal of anti-LGBTQ+ laws; and Magnus Hirschfeld, who founded the Scientific-Humanitarian Committee, one of the first LGBTQ+ rights organizations in the world. These and other German figures were some of the first people to attempt to define same-sex attraction and same-sex romance in ways that were neither clinical nor derogatory, and my project will be enriched by including more detail on their contributions."
Joseph added that spending time in the archives in Berlin and in conversation with German scholars will help him include greater depth and detail on German LGBTQ+ pioneers and place the contributions of LGBTQ+ Americans into an international context. "I'm looking forward to learning about what they're working on, and also getting their feedback on my work," he said.
Joseph has already earned several fellowships for House of Swann, including a Logan Nonfiction Fellowship, a Leon Levy Center for Biography Fellowship, and a Whiting Creative Nonfiction Grant. It is also being developed into a film by the Academy Award-winning producer Bruce Cohen and the Academy Award-nominated director Lee Daniels.
Though many look at the Stonewall uprising of 1969 as the beginning of the fight for gay liberation in the United States, Swann's followers were one of the first-known self-organized LGBTQ+ groups in America, helping to lay the crucial foundations of self-acceptance, solidarity, courage, and confidence that eventually made Stonewall, LGBTQ+ pride, and marriage equality possible more than 100 years later, Joseph said.
Despite tremendous pressure from courts and community leaders, Swann cultivated a thriving network of drag queens and allies where none had existed before, Joseph said. "His experience teaches us a lesson about some of the ways people in what we now call the LGBTQ community were defining themselves in the years after the Civil War. And since LGBTQ people are still constantly looking for ways to redefine and express themselves, this lesson remains relevant."
"People who are subject to marginalization — people of color, LGBTQ, or both — are craving representation," Joseph added. "We've spent our lives not learning about people like us in history and the arts. I'm glad to be able to serve a role in inspiring people who want to learn more about this history, as well as other scholars who I hope will join me in exploring it."