USC Annenberg has received a $10-million grant from the Annenberg Foundation to launch a capital campaign that will transform the signature spaces in its historic Annenberg School of Communication (ASC) building into dynamic hubs that propel students' success, further groundbreaking research, and encourage new partnerships and initiatives.
The ASC building, designed in 1974 by renowned architect A. Quincy Jones, is designated a Historic Cultural Monument by the city of Los Angeles. Its bold and modern design offers a versatile foundation to advance the school's future. The Annenberg Foundation gift provides a $5-million grant plus a $5-million matching challenge grant to encourage the school's alumni, parents and friends to support the renovation.
"The ASC building's original design embodies our passion for technology, our dedication to service, and our commitment to use communication to address society's issues," USC Annenberg Dean Willow Bay said. "This fundraising campaign presents a once-in-a-generation opportunity to position the school for a future of continued leadership and impact, engaging our community in a transformative renovation that honors the vision of our founder, Ambassador Walter H. Annenberg."
Bay emphasized the need for a physical infrastructure that matches the caliber of the school's ambitions, beginning with ASC's most critical and visible spaces: its lobbies, auditorium, terrace and classrooms.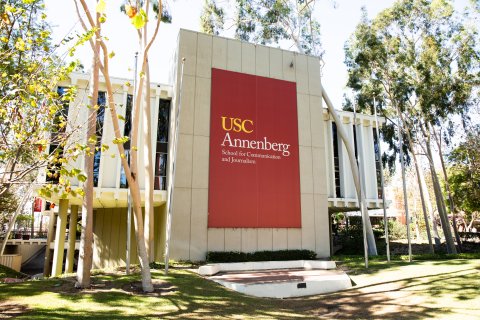 ASC's east lobby and student services wing, where students receive unparalleled support across academic advising, professional development and career services, will be re-envisioned to tap into USC Annenberg's network of more than 22,000 alumni and thousands of industry partners. Working side-by-side with their advisors, students will explore emerging industry trends and discover possible career paths using the school's groundbreaking student success platform, Annenberg Insights. The space will also provide an engaging venue for hosting hundreds of professional development events each year, including the popular Lunch with a Leader series.
Located across from USC Athletics' Heritage Hall and Allyson Felix Field, ASC's west lobby will become a media and culture hub using sports as a lens to create interdisciplinary programs and research across entertainment, human potential and performance, business, technology, and society.
At a time when careful stewardship of outdoor spaces has never been more important, ASC's second-floor terrace will become a hybrid indoor-outdoor space that promotes a stronger connection between the building and nature — a core tenant of A. Quincy Jones' architectural style.
Home to one of university's biggest classrooms and some of USCs largest and most exciting programs and events, the ASC auditorium will be enhanced with leading-edge AV equipment and modern lighting, acoustics and finishes. The building's remaining classroom and learning spaces will incorporate interactive digital tools and reconfigured spaces that promote new ways of learning and collaborating, as well as sharing and distributing content.
The reimagined ASC building will join Wallis Annenberg Hall, which opened in 2014, in offering a state-of-the-art environment that reinforces the school's position as an international leader in communication studies and as a center for campus life.
"Once again, we must rely on our tradition of transformation as we lean into a new era of deep purpose and boundless creativity," said Wallis Annenberg, chairman, president and CEO of the Annenberg Foundation. "We must continue to ensure our physical spaces align with our intellectual mission for this school to flourish."
To donate to the USC Annenberg ASC Building Renovation Fund, click here.