The 8th edition of the USC Annenberg Relevance Report won't be relevant for long, predicts Fred Cook, director of the USC Center for Public Relations. But today, it definitely is.
"Everyone in communications is talking about Artificial Intelligence (AI)," writes Cook. "This was not the case in 2019 when the Center for PR surveyed professionals and found only 18% thought that AI would be an important part of their future business. In 2023, in a survey we developed with WE Communications, that number grew to 80%. Six months later, AI is a topic at every conference, a debate at every agency and the focus of this report."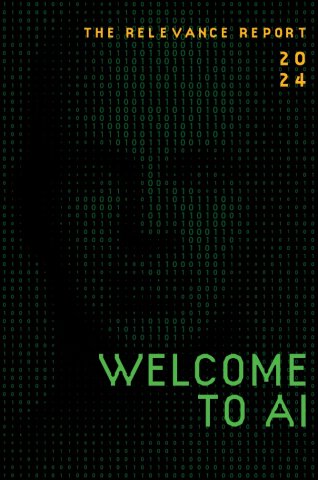 The USC Relevance Report is a collection of forward-looking essays authored by public relations leaders, academics, and students about the use of AI as a tool in public relations, corporate communications, and marketing. From companies that are experimenting with its use, to students who are actively using tools to enhance their creativity output, the Relevance Report examines how communicators can incorporate AI into their everyday work, while addressing ethical and legal issues that accompany every new technology, like cultural bias, misinformation, and job loss.
The USC Center for PR developed this year's report in conjunction with Microsoft. Contributors include Microsoft's Chief Communications Officer Frank X. Shaw, computer scientist Jaron Lanier, and communications strategist Steve Clayton. Authors from USC's Center for PR board of advisers include WE Communications CEO Melissa Waggener Zorkin, Zeno Group CEO Barby Siegel, Edelman President & COO Matthew Harrington, and Chief Corporate Affairs Officer at Weber Shandwick, Chris Deri. USC Annenberg faculty contributors include Dean Willow Bay and professors Robert Kozinets & Ulrike Gretzel, Gabriel Kahn and Burghardt Tenderich.
"This year's Relevance Report isn't intended to be a map for our AI journey. Right now, no one can accurately predict which road our future will take," says Cook. "Think of it as an invitation. Inviting you to enter an uncharted territory and explore its possibilities.
The report is available for download at annenberg.usc.edu/relevance. PR and communications professionals, industry analysts, and media personnel are invited to explore the comprehensive findings and join the conversation on the future of AI in our industry.
University professors and organizations interested in receiving booklet copies of the Relevance Report can request them at usccpr@usc.edu.