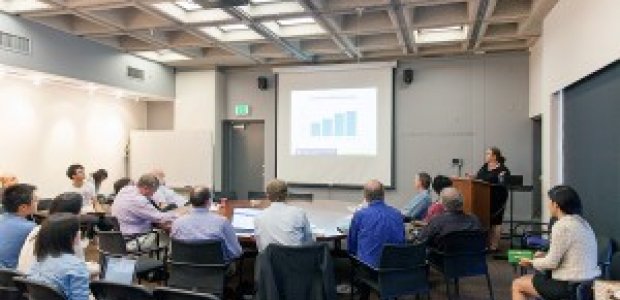 Courtesy of Ralf Cheung, The Daily Trojan
By Olivia Niland Student Writer
The Daily Trojan recently published an article about USC Annenberg's Research Seminar "Connecting People for Development."
The five-hour seminar, which was held in Annenberg's Geoffrey Cowan Forum on Oct. 7, explored the global impact of public access to information and computer technologies. It focused upon the findings of a recent Global Impact Study Report authored by USC Annenberg Associate Professor of Communication François Bar, as well as Professors Araba Sey and Chris Coward.
The study found that public venues such as libraries, telecenters and cybercafes played a large role in the expansion of information and communication technologies (ICTs) around the world. It examined ICTs in eight different countries—Bangladesh, Botswana, Brazil, Chile, Ghana, Lithuania, the Philippines and South Africa—for five years, and found that ICTs have a positive impact on social and economic areas of peoples' lives. In fact, the study found that public venues provided the first computer contact for more than half of people who visited them in the countries studied.
The seminar included a talk, presentations and roundtable discussions by professors from universities around the world, and also Jonathan Donner of Microsoft Research.
The Daily Trojan article quoted USC Annenberg Professor Bar as saying: "We took a hard look at the impact of public access to information technology. Connected libraries, cyber cafes and public centers for a long time have been the main way in which people concerned with development tried to bring information technology access to developing countries. Recently, there has been a debate about whether this has been successful or not. Nobody had done an in-depth study to look at this before."
Professor Bar has previously instructed USC Annenberg Communications classes, and currently serves as the co-Editor in Chief of Information Technologies and International Development.