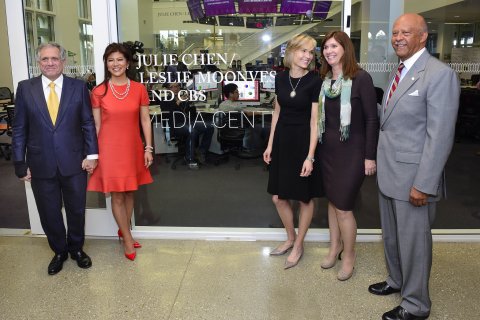 USC / Gus Ruelas
The hub of digital media production and education at USC Annenberg
–
the
state-of-the-art Media Center
of the new
Wallis Annenberg Hall
– is now named for alumna Julie Chen, Leslie Moonves and CBS, the school announced.
The 20,000-square-foot, two-story Media Center fully converges audio, video and text production for delivery on all platforms. With a design that transcends many professional newsrooms, it organically combines USC Annenberg's student-run digital, television, radio and public relations operations.
On Feb. 25, it was officially named The Julie Chen/Leslie Moonves and CBS Media Center, thanks to a joint gift to USC Annenberg. A crowd of more than 200 students, faculty, staff, trustees, alumni and friends of USC Annenberg gathered in Wallis Annenberg Hall for the ceremony.
"This generous gift from Julie Chen and Les Moonves prepares today's communication and journalism students for the world of tomorrow by mastering cross-discipline technology in a real-world setting," said USC President C. L. Max Nikias. "The new Chen/Moonves and CBS Media Center is the centerpiece of innovation in a building, the Wallis Annenberg Hall, that represents innovative thinking."
Chen graduated from USC Annenberg in 1991 with a bachelor's degree in broadcast journalism and English. She currently serves as host of hit CBS shows "The Talk" and "Big Brother." Moonves, Chen's husband, is president and CEO of CBS Corp. He is a member of the USC School of Cinematic Arts' Board of Councilors and a past member of USC Annenberg's Board of Councilors.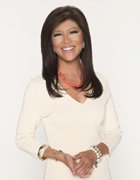 "After
visiting the campus
and seeing the impressive Wallis Annenberg Hall for the first time, I was inspired to support my alma mater and prouder than ever to be a Trojan," Chen said. "Spending time with the bright, engaged students I've met at USC Annenberg — and seeing these cutting-edge studios and workspaces come to life — energized and motivated me to be involved and hopefully make an impact on future generations of journalists and communicators."
It was USC Annenberg and Wallis Annenberg Hall's focus on the future that inspired the Chen-Moonves family and CBS to contribute to the project, Moonves said.
"This is a best-in-class, next-generation newsroom that our family and CBS are proud to be part of," Moonves said. "USC Annenberg has developed a leading-edge, fully converged environment for the creators and journalists of tomorrow, and we're thrilled to support its future success."
Students were especially excited by the gift to the Media Center, as it represents their potential careers after leaving USC. Senior Rafael Garcia, who is studying broadcast and digital journalism, said Chen and Moonves' careers are ones he hopes to emmulate.
"It's super exciting to see all these people who have graduated from USC Annenberg now as role models," Garcia said. "Hopefully one day after graduating, I can become like one of them."
The Julie Chen/Leslie Moonves and CBS Media Center operates at the heart of the technologically transformative Wallis Annenberg Hall, which opened on Oct. 1, 2014.The physical spaces, along with the digital networks of the $59-million building, are designed to offer students and scholars a collaborative environment where they can be nimble and innovative.
"As the digital media revolution pushes ahead, our new building and production laboratories of the Media Center are uniquely prepared to build the next generation of communicators," said USC Annenberg Dean Ernest J. Wilson III, adding: "The entire USC Annenberg family of students, faculty, alumni and staff extend our great thanks to Julie Chen, Les Moonves and CBS. This extraordinary gift is just the latest example of Julie and Les' longtime and ongoing collaboration with our school."
Digital media production in the Media Center feeds stories for all of USC Annenberg's news sites: Neon Tommy, Annenberg Radio News, Annenberg TV News, Intersections and USC Impact. Journalism and communication students share material and expertise among platforms, using up-to-the-minute technologies; it's also a base for communication scholars to conduct media research, and for PR students to share real-time analysis of social media.
The multipurpose television, radio and direct-to-Web video broadcast studios allow students to seamlessly stream professional-quality programming to any medium.
Brooklyne Gipson, a digital and social media masters student, noted the importance of being recognized by a major media corporation like CBS.
"I think it's really good to have the support of CBS behind us," Gipson said. "People are acknowledging what USC Annenberg is doing in the space that we have and this will let people know that professional journalists are being made right here."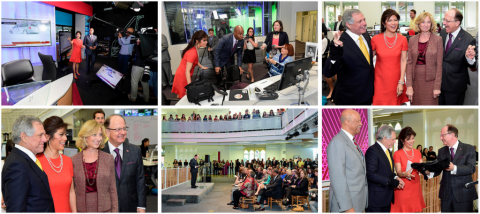 USC Annenberg

A signature element of the Media Center is its most visible one: a glassed-in video broadcast studio, visible from Childs Way, that is dubbed the "do-it-yourself" studio because its basic switching technology allows students to direct and produce a Web or TV program while sitting in front of the camera. In the new era of entrepreneurial journalism and communication, the one-man-band studio is an example of technology the new building is using to spark students' creativity.
From the start, the idea of the Media Center helped spark the vision for the entire building, Wallis Annenberg has said. As president and CEO of the Annenberg Foundation, she directed the gift that initiated planning for Wallis Annenberg Hall.
"It started with the idea that the real future of journalism — the students here — should learn and train and innovate in the kind of 21st-century newsroom, the kind of interactive, multimedia incubator, that should be commonplace in 10 or 15 years," Annenberg told hundreds of spectators who gathered for the building's Grand Opening celebration on Oct. 1.
Fall 2014 also brought both of USC Annenberg's schools, the School of Communication and the School of Journalism, two new directors: Sarah Banet-Weiser and Willow Bay, respectively. And two years after launching a $150 million fundraising initiative, USC Annenberg has raised more than $100 million for Wallis Annenberg Hall, scholarships and fellowships, chaired professorships and new student projects. The initiative is part of the broader Campaign for the University of Southern California, a multiyear effort to raise $6 billion for the university's academic, community and capital priorities. The campaign has raised more than $4 billion since its launch in 2011.