Inside the classrooms at USC Annenberg, students are the ones typically tasked with answering the hard hitting questions. "Five Minutes with..." turns the table on faculty members to ask them the questions we've been itching to know the answers to.
---
There was a palpable sense of excitement in the air at the University of California, as the university campus hosted the 2015 Special Olympics World Summer Games this week. Established in 1968, by Eunice Kennedy Shriver, the Special Olympics celebrates athletes with intellectual disabilities who compete in events like track and field, swimming, and basketball. This week, 6,500 athletes from 165 countries competed at USC, with events also hosted at UCLA and various Los Angeles venues.
USC Annenberg spoke with Daniel Durbin, director of the Annenberg Institute of Sports, Media, & Society, about how the Special Olympic Games strip away commercialization to capture the essence of sport.
Editor's Note: The following interview has been edited.
How do the Special Olympics compare to the World Olympics, that are so well-known and loved?
Well, they're really, in essence, two different events. The Special Olympics is created as an opportunity to extend play and extend competition and to really build an audience for it. It's a tremendous event and a tremendous opportunity for the athletes.
They are doing some media development of the Special Olympics, but it's not at all like the World Olympics, which is a pure media frenzy. The Olympics as we know it, the Olympics movement in the 21st century is really driven by media and selling athletes like Usain Bolt and Michael Phelps. And building up tremendous wealth for the IOC [International Olympic Committee] and for those who market products like Coca-Cola and others through the Olympics.
Whereas the Special Olympics remain, in many respects, a pure competition. That has not been quite as commodified, certainly not at all on the level of the common World Olympics.
USC Annenberg
I feel like part of the Institute of Sports, Media, & Society's mission is to embrace the diverse and overlooked athletes. Does the Special Olympics fit into that mission?
We try to examine all sports. Really, in many respects, our interest is in the human experience of sport: what is unique about sport and the human experience? And how do we create that sports narrative, especially in media? There are distinct elements of sport of course, where there always has been the sense of excellence, the desire to compete, and be excellent in your sport. And that the Paralympics and the Special Olympics and the World Olympics, they're opportunities for athletes to perform in elite ways. And there's the opportunity for athletes to experience excellence performance. And that's pure sport as it was conceived of in ancient Greece at the time of the original Olympics.
In the 21st century, we also have a media conglomerate that sells the Olympics as a type of entertainment. And that's a different form of sport, and it's really a modified form of sport that's built to try to make money. And that is effective. It builds a powerful financial basis for many sports. But there is something lost for everything gained. And the more you commodified your sport into a money-making machine, the less you focus on your own personal excellence and your ability to achieve.
You've written on your blog about your three-year-old son Jack, who's autistic. Do you look at the Special Olympics though a special lens because of him?
That's kind of a loaded question. The Special Olympics is a rich opportunity for expanding the sport experience. Jack currently is in hours and hours of therapy every day. He is currently taking a couple of hours of what's called ABA [Applied Behavior Analysis] therapy. The therapy attempts to build language skills that can make him successful in the future. It literally can be the difference between succeeding and completely failing in life.
And Jack, even in this situation, when he knows he's excelled in using language, when he knows he's done something successfully, it excites him. He jumps up and down, he shakes his arms in excitement. And there's a realization there that he is enjoying not just the experience of using language when he's able to use it, but the joy of the experience of it, of succeeding and doing something in an excellent way. And so you look at situations like this, and it gives you a focus that can broaden your view of what the value of sport is. It can help you see the tremendous value of sport in non-traditional settings.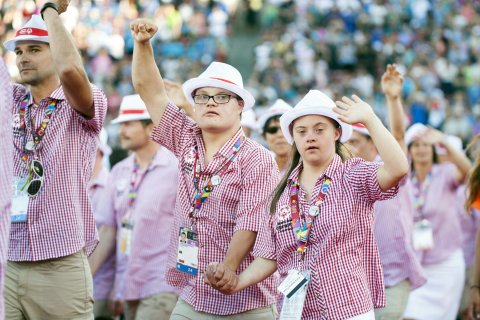 USC Photo/John E. McGillen
What do you think about the Special Olympics being on campus?
USC has the chance during this week to open its doors to celebrating human life and human experience and the value of each human being. When Eunice Kennedy Shriver first promoted the idea of the Special Olympics, the idea was that every human being is important, and that we should celebrate every human life. And I think that there's that opportunity on campus now, and as you walk across campus you can see it. But I think that it is a tremendous opportunity that USC is very fortunate to be able to partake in.
What events or athletes should people look out for as the Special Olympics continue?
All of them. If I would suggest anything to anyone, it is to go see your favorite sports. Because you're going to see athletes perform exceptionally well in those sports, you're going to see exciting events. So choose the sports that you appreciate the most.
The Special Olympic will run until August 2. Events are free and open to the public.
Top photo credit USC Photo/John E. McGillen.