"It really is the highest honor that faculty members can receive," said Michael Quick, Provost and Senior Vice President for Academic Affairs at USC, during the formal ceremony to install Robert V. Kozinets as the Jayne and Hans Hufschmid Chair in Strategic Public Relations and Business Communication.
Quick welcomed USC administrators, friends, students and scholars who gathered in the forum of Wallis Annenberg Hall to mark the official installation ceremony on April 18.
Endowed chairs are incredibly important to universities, because they attract the best and brightest faculty, Quick continued. "Receiving the honor of being in an endowed chair signifies great work in the past, but also the promise of great work in the future."
The Hufschmids, both alumni of USC, addressed the gathering of attendees, which included Quick – and faculty from both USC Annenberg and the USC Marshall School of Business, which will jointly administer the position.
The heart of the Hufschmid Chair is a dedication to future-focused, interdisciplinary scholarship and real-world practice. It is designed to provide academic and research leadership at the intersection of business and communication.
The Hufschmids said they have wanted to give back to the university that had supplied their education and nurtured their careers. Jayne Hufschmid said the chair "represents a nod to the very beginning of who we were, what our dreams were and the journey we embarked on."
"We are thrilled that Rob Kozinets is the holder of this new chair and we really believe that he's uniquely qualified to make sure that the next generation of Annenberg and Marshall students have the skills and the knowledge needed to effectively work with each other as future leaders and future innovators in communications and business," she said.
Kozinets is a globally recognized expert in marketing research, strategy and social media. He coined the term "netnography," which adapts the anthropological approach of ethnography to work with the many types of social experience and interaction that emerge through networked digital communications. His innovative method, and his theories of branding, social media marketing and consumer culture are taught in classrooms around the world. Outside the university, his work is used to address challenges facing a broad range of companies, including American Express, TD Bank, Campbell Soup, Nissan, Sony, L'Oreal and Merck.
Both Jayne and Hans Hufschmid have strong ties to the university. Jayne Hufschmid earned a bachelor of arts from USC and a Masters in Public Relations, while Hans Hufschmid earned a bachelor of science in business administration from what is now known as the USC Marshall School of Business.
Hans Hufschmid said the new chair would connect USC Marshall and USC Annenberg. He hopes it will bridge the divide between public relations and business.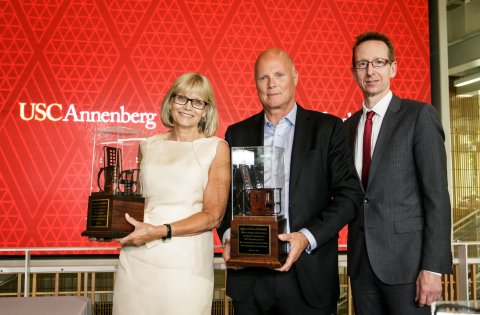 Photo by David Sprague
Kozinets aims to use his new role to continue and help business managers and those in other organizations to understand technology, media and consumers better, he told attendees of the ceremony. Previously he was a marketing professor at Northwestern University's Kellogg School of Management, the University of Wisconsin-Madison's Wisconsin School of Business and York University's Schulich School of Business.
"I also want to encourage those in power to critically examine their actions, their motives and the implications of economic growth," Kozinets said.
"Although I've taught for almost two decades in business schools, I'm still extremely curious about how and if contemporary consumer capitalism can be re-fashioned to be in the long term interests of humanity and the beautiful and irreplaceable planet that we share with 8.7 million other species," he added.
"It's a great privilege that I take extremely seriously, and I consider it the greatest honor to be doing it here at USC among so many distinguished and brilliant scholars, educators and students as USC's new Hufschmid Chair," Kozinets said.
School of Journalism Director Willow Bay said the divisions of the past are blurring or disappearing entirely in the fields of marketing, business management, communications and public relations.
"Assertively and boldly reaching across those divides has never been more important to survival or critical to success. Professor Kozinets' work demonstrates a unique ability to bridge divides among those disciplines and practices," Bay said.
She said Kozinets has made outstanding contributions in his fields of study using a highly effective and engaging teaching style and a deep commitment to service. Bay called him "a bold and ambitious scholar, and a transformative appointment for Annenberg and our public relations studies program."
"Throughout his career Robert Kozinets has encouraged cross-disciplinary collaboration with other practitioners in a variety of related fields, and we know he'll bring together an equally broad range of constituencies in his work here," she said.
The endowed chair builds upon the existing work between the two schools and strengthens future opportunities for students, Dean Ernest J. Wilson III said.
"At the same time, it will also recognize the growing relationship between communication and business strategy," Wilson said.
Dean James Ellis, of the Marshall School of Business, said he wanted to thank others who had helped in the process of securing Kozinets as the chair.
"I want to thank the faculty of Annenberg and Marshall School who worked so hard on the search committee," Ellis said. "Your standards are so high to find someone of the caliber of Rob, we sure appreciate that."
Please click below to see more photos from the ceremony.