She might have left her position as an assistant managing editor for the Los Angeles Times and head of the paper's politics team, but new USC Annenberg faculty member Christina Bellantoni is hardly getting a break from the politics beat during this election cycle.
Soon after her arrival as a professor of professional practice and the new director of USC Annenberg's Media Center, Bellantoni was instrumental in creating a politics desk for the media center. The 20-year veteran of print and broadcast news also moderated a recent panel discussion on the midterm elections. Just a few weeks into her transition from the newsroom to academia, Bellantoni talked with us about how she plans to fulfill the media center's mission.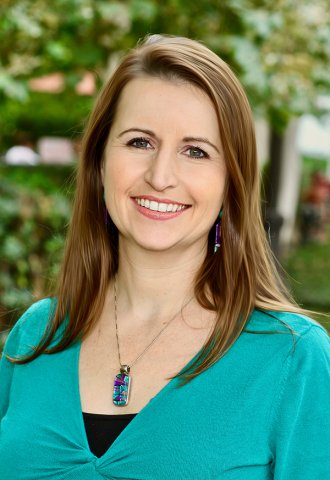 Photo by: Maggie Taplin
What are some of the challenges facing the journalism and communication businesses today?
There is a certain snobbery in newspapers, which is where I've spent most of my career, that I think lends itself to not having a diverse newsroom. Greater inclusion is going to be the thing that helps newsrooms from the inside. From the outside, I think it's transparency: It would be helpful for newspapers to stop pretending people there don't have opinions. That doesn't mean you have to be partisan media, but you can at least be a little bit clearer about where people are coming from or how decisions are made in the newsroom.
I wanted to attack these issues at the Los Angeles Times, but we never could because of the daily news deadlines — and also the general feeling that we were always sort of in a crisis that we were reacting to. So, I thought, what better place than USC Annenberg to think about these really big challenges in the industry that I love so much?
How will your role as director of the media center help you make progress on these issues?
I've always loved working with young people and I've done it a majority of my career, whether that's junior reporters or interns. All of those things just kind of merged and I realized, this is something I'm well prepared to do and I think I would enjoy. There are a lot of resources here that will help us think about these challenges and to help the next generation do better than we did.
Dean [Willow] Bay described the media center as three things: a classroom, a laboratory and an incubator. I have these things written on my whiteboard, and I refer to them dozens of times a day. That's the vision: How do we make sure that we're providing the most meaningful experience for the students? And then also, how do we make sure faculty, including communications faculty, feel included, appreciated, and welcome here?
In addition to creating the politics desk for the Annenberg Media students, have you made any other changes in your short time here?
Sometimes small things make a big difference. For instance, this is a working newsroom — and it didn't have a water cooler! Many students are here a full workday. Now, there's a lot of places they can get water on campus, but they're in a workplace here, and I think they should have water cooler. It's just a minor thing to show that we recognize that what is happening within these walls is actually unusual on campus.
What are some of the more important lessons students can learn from working in a professional-type atmosphere like that at the media center?
We have a lot of meetings, and I tell the students, "You're going to be sitting in meetings like this for your entire life no matter what career you go into. You're going to have great meetings, and you're going to have not-so-great meetings, but you should always try to make it an experience that you can all be happy with. So, be supportive, be respectful — and speak up!" One of my life lessons is, always ask a question. You don't want to be the person who people are wondering, "Was she there in that meeting?"
There has been a spike in USC Annenberg's enrollment since the 2016 elections. Are you seeing a particular edge or enthusiasm about communication and journalism among your students — people wanting to really know the craft?
Yes. And I think it's no accident that USC Annenberg is adding investigative resources, with [new professor] Mark Schoofs' arrival [from BuzzFeed, where he led the investigative team]. That's in part because students have been asking for more investigative journalism training. The USC Impact program is having incredible success. People want deep storytelling that helps them understand the world around them and that includes to know the truth, whatever that truth may be.