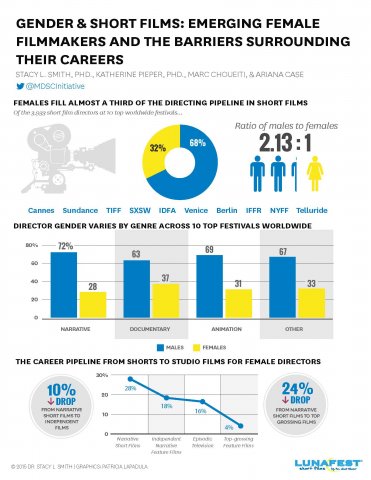 For female film directors, making a short film might be both the launch and the pinnacle of their careers, according to a new study released today.
The study was conducted by Professor Stacy L. Smith and her Media, Diversity, & Social Change Initiative at USC Annenberg, with the support of the LUNAFEST film festival. The research examined the prevalence of female directors across more than 3,200 short and mid-length films screened at 10 top film festivals worldwide. Also, the occupational paths and career impediments of female directors were assessed.
Short films represent a first foray into entertainment creation for many filmmakers. The findings of this study reveal that women represent 32% of directors of short and mid-length films overall at 10 worldwide festivals. However, breaking the findings down by genre demonstrates that women are only 28% of directors of narrative shorts. In comparison, other research reports from Professor Smith and the Directors Guild of America reveal that women directed 18% of independent feature films at one festival across 13 years, 16% of television episodes in the 2014-15 season, and just 4.1% of top-grossing movies in the same time frame.
"These findings demonstrate that female film directors face a fiscal cliff in their careers soon after making a short film," said USC Annenberg Professor Stacy L. Smith, author of the study and founding director of the Initiative. "Male and female directors are put on opposite paths as their careers progress. For males, opportunities grow, while for females, they vanish."
Female directors are better represented—but not equal to their male counterparts—in other film genres. Thirty-one percent of directors in animated films, and 37% of directors of documentary shorts were female. The study also shows that there has been no significant change in these percentages over the last five years.
"This study offers the best data on female interest in directing outside of information from film schools," said Professor Smith. "These findings also raise questions about how many female directors are attempting to enter the industry via educational programs or other paths."
The career impediments facing female directors are also explored in the study. Twenty-eight female directors were interviewed about occupational obstacles. Sixty-four percent reported that balancing the demands of work and family life created career barriers; 61% stated that financial challenges are a factor. Almost one-third (29%) of women also indicated that generating interest or finance for films about females or underrepresented groups and female-oriented subject matter was a barrier to career progress.
"The obstacles women face help explain the drop-off in female participation from short film to feature content," said Professor Smith. "Women do not start out on equal footing with their male peers, and as barriers creep in, women fall out."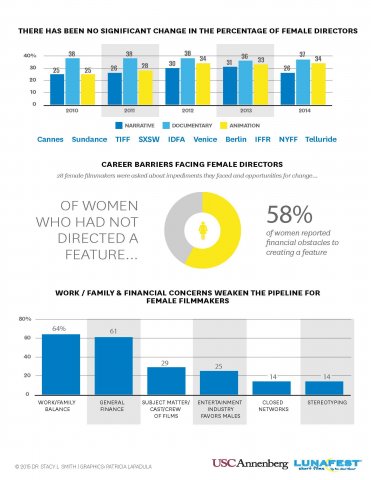 The researchers also evaluated the content of 115 short films screened at LUNAFEST film festival and compared the findings to Professor Smith's research on the 100 top-grossing films of 2014. As a counterpoint to mainstream content, LUNAFEST is a year-long traveling film festival of award-winning short films by, for, and about women. Girls and women appear in 63% of the speaking roles in LUNAFEST shorts, and 81% of the lead or co lead roles were held by females. LUNAFEST content provides a sharp contrast to the 28.1% of speaking characters and 21% of leads or co leads who are female in the top-grossing films of 2014.
LUNAFEST shorts also feature more characters from underrepresented racial/ethnic groups than top-grossing films. A full 37% of lead or co-lead roles and 38% of speaking characters were from underrepresented racial/ethnic groups in short films. In the top-grossing films of 2014, underrepresented characters were 26.9% of all speaking characters and 17% of all leads or co leads.
"When the barriers to creating films are lower, we see more diversity. Not only are there more speaking roles for female characters in LUNAFEST content, but for underrepresented racial and ethnic groups as well," said Professor Smith. "Despite the epidemic of invisibility in top-grossing films, the LUNAFEST short films reveal that diversity is possible in front of the camera, particularly with diversity of voices behind the scenes."
"Our work at LUNAFEST is important for generating interest and excitement for content created by women, whose voices and vision are largely absent from mainstream cinema," said Suzy Starke-German, LUNAFEST Program Manager. "The results from this study reveal why supporting female directors and their work is one step toward changing the landscape in media. We are proud that LUNA and LUNAFEST are committed to being by, for, and about women every year."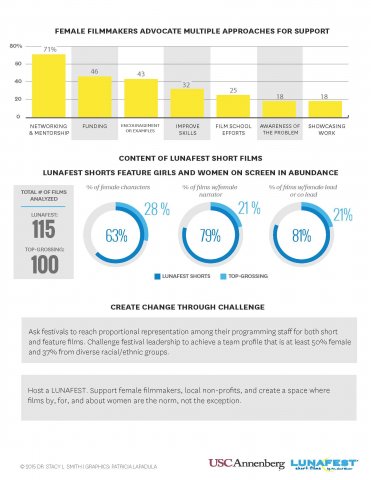 The study will be released at the 15th annual LUNAFEST film festival launch, held on October 8 in San Francisco. The event marks the beginning of LUNAFEST's year-long run, where it will appear in over 175 cities and reach over 25,000 people. Over the past 15 years, LUNAFEST has received over 10,000 short film submissions and had female-directed films viewed by more than 300,000 people across the U.S. 100% of all net proceeds from LUNAFEST screenings go to nonprofit organizations. To date, LUNAFEST has raised more than $3 million dollars for women's organizations. For more information on the films in this year's LUNAFEST circuit and to find out about upcoming screening locations, please visit, www.lunafest.org.
A full description of the results and methodology of the study, can be found in the report.
This study is the most recent from the MDSC Initiative, which releases yearly in-depth analyses of the prevalence and portrayal of gender and race/ethnicity in film. Students at the University of Southern California's Annenberg School for Communication and Journalism worked on the study. For more information on the Initiative, or to read previous studies, visit annenberg.usc.edu/MDSCI.
Key Findings
Female Directors of Short Films
Females fill almost a third of the directing pipeline. Of the 3,933 short film directors at 10 top worldwide festivals, a full 68 percent were males and 32 percent were females. This calculates into a gender ratio of 2.13 male directors to every 1 female director.
Females were more likely to be directors of documentary shorts than narrative or animated shorts. 37 percent of documentary directors were women versus 31 percent of animated directors and 28 percent of narrative directors.
Female documentary directors fare better in some countries than others. Female helmers of documentaries were more likely to have films based outside the U.S. (40%) than from the U.S. (30%). The analysis for narrative and animated short/mid-length films was not related to country of origin.
There has been no change in the percentage of female short film directors over time. Females' participation as directors of narratives, documentaries, and animated films was examined across the five years of short film festival programming. No overtime analysis was statistically significant. As such, the percentage of female short film directors has not increased or decreased over the last five years.
Barriers Facing Female Directors and Opportunities for Change
Work/family balance (64%). Participants stated that the tasks associated with their careers are made more difficult by familial responsibilities. Responses in this category included personal challenges faced, general statements of difficulty, and considering the timing of parenthood or career moves.
Finance (61%). Interviewees mentioned that project financing was difficult, and a few personal financial barriers were described. Of females who had never made a feature film, 58 percent reported financial obstacles to creating longer-form content.
Subject matter, cast, or crew of films (29%). Women described difficulty generating finance or interest in films about females or individuals from underrepresented groups, in stereotypically feminine genres, or for female-oriented films.
Three additional barriers were mentioned by female participants. The first was that the entertainment industry favors males (25%). Women also stated that non-gender specific closed networks (14%) in the industry make it difficult to gain access to opportunities for work or funding. Finally, individuals cited stereotyping (14%) or obstacles that arose from being challenged, dismissed, pigeonholed into certain types of content, or limiting norms or beliefs about gender.
Networking and mentorship (71%) and encouragement or examples/role models (43%) were mentioned by interviewees as ways to support women. Participants also indicated that increasing funding (46%) and helping directors improve skills (32%) were useful for female filmmakers. Several individuals mentioned ways that film schools (25%) could help women. Finally, creating awareness of the problem (18%), showcasing work (18%), and hiring women (11%) were indicated as opportunities for change.
LUNAFEST Content
LUNAFEST shorts feature girls and women on screen. Across 115 short films, a total of 63 percent of the 744 speaking or named characters evaluated were female and only 37 percent were male. A full 81 percent depicted a female lead/co lead driving the plot. These findings are in stark contrast to the 100 top films of 2014, where 28.1 percent of speaking or named characters were female and only 21 percent of leads or co leads featured a girl or woman.
LUNAFEST shorts showcase diversity of character race/ethnicity. Of the 715 characters that could be evaluated, 38% were from underrepresented racial/ethnic groups. A full 37 percent of the short films' leads or co leads were from an underrepresented racial/ethnic group. This deviates from mainstream content, as 26.9 percent of characters and 17 percent of leads or co leads in the 100 top films of 2014 were from underrepresented racial/ethnic groups.
LUNAFEST shorts showcase diversity of age. Across the 179 characters coded 40-64 years of age, 54 percent were female and 46 percent were male. This is a marked deviation from the 100 top movies of 2014 where only 19.9 percent of all 40-64 year old characters on screen were female.
LUNAFEST shorts sexualize girls and women on screen. Females were far more likely to be depicted in sexualized or tight attire (23% vs. 6%) and with some nudity (22% vs. 10%) than were males. These trends are similar to those found in the 100 top-grossing movies of 2014.