In the run up to a presidential election year, the intersection of politics and media becomes more visible than ever. It is that very subject that the newly launched R. Rebecca Donatelli Experts-in-Residence in Political Analysis and Media series aims to spark conversations about.
The series — established by USC alumna, parent, and online political pioneer R. Rebecca "Becki" Donatelli — kicked off with its first expert-in-residence, journalist Cokie Roberts, on Wednesday, Sept. 16. Roberts gave a keynote speech to a full house of students and faculty in the ASC West Lobby, where School of Journalism Director Willow Bay introduced the guest of honor.
"In order to launch this series, we reached for the stars, and we nabbed one in Cokie Roberts," Bay said. "Cokie, as you all know, is one of the most highly regarded journalists in this industry. She was, is, a cross-platform journalist before we even used that term."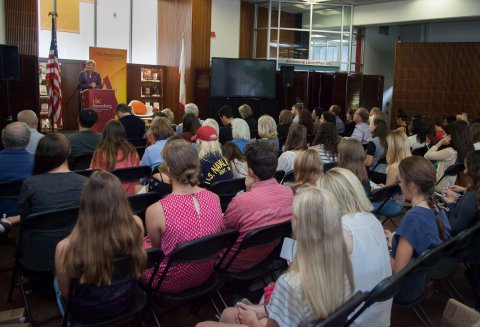 USC Annenberg / Brett Van Ort
Roberts' award-winning journalism career has spanned decades and countries across print, radio and television news outlets. She is best-known for her work as a senior news analyst for NPR's Morning Edition and political commentator for ABC News. Throughout her career, Roberts experienced and witnessed the challenges women journalists have faced, and focused much of her talk around gender equality in journalism.
"The fact is, our journalism schools around the country are about two-thirds female, and so I wanted to tell you a little bit about your foremothers and what they did ... to smooth your path, and also to make the world and society and American journalism a more complete place."
Roberts, who is also the author of several books on women's history, spoke about pioneering women journalists who helped pave the way for equality, as well as the progress she has seen in the field during her own career.
"The change in my lifetime has been enormous, but you know what, it's not enough," Roberts said. "And I look at you and see what's going on in journalism schools and see all of these wonderful young women and realize that we really have to do more."
The discussion also touched upon the importance of mentors, the value of multiplatform journalism, and why student journalists should educate themselves about more than just the media.
In closing, Roberts took questions from the audience and offered a final note of inspiration for young women pursuing journalism.
"You have to keep pushing because we need you," Roberts said. "We need you to be there in the journalistic world, whichever part you choose to be in, because it brings the perspective of the other half of the universe."
More than a year in the making, the expert-in-residence series was the brainchild of Donatelli, who served as the chief internet consultant for both of Senator John McCain's presidential campaigns and was also the first person to raise political money on the internet. By bringing in experts-in-residence and engaging USC Annenberg students and faculty, the series aims to spark conversation about the future of political communication.
Following Roberts' noontime conversation was a 4 p.m. panel moderated by USC Annenberg professor and director of the USC Annenberg Center on Communication Leadership & Policy (CCLP) Geoffrey Cowan on "Politics, Strategy and Media," which preceded a live viewing of the second GOP debate in Wallis Annenberg Hall. Roberts was joined by political consultant and USC Dornsife chair Robert Shrum, CEO of Rodriguez Strategies Matt Rodriguez, Facebook client solutions manager James Barnes, and internet strategist Nicco Mele, who recently joined CCLP as a senior fellow.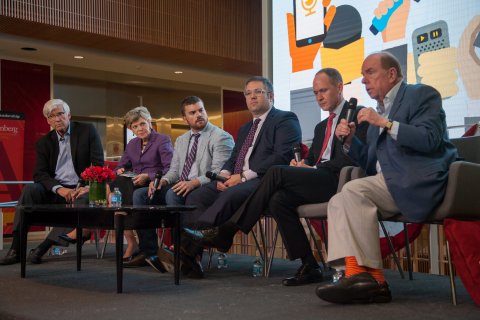 USC Annenberg / Brett Van Ort
Each of the panelists drew upon their own experience and expertise in politics and media to address how technology has changed political campaigning.
"I think if I was going to try and characterize what technology has done to the political sphere over the last decade, it's that it's fractured any sense of shared public space," Mele said. "The attention of citizens is very diffuse … and to capture that attention and shape it in any real way, to actually shape public opinion, is increasingly hard to the point of impossible."
Touching upon everything from online fundraising, young voters, and the role of social media, the consensus of the panel seemed to be that technology will continue to redefine how politicians and media professionals engage with campaigns.
"What's true now is that everybody is a political journalist, and everybody has pretty much an equal voice," Roberts said. "What some of us can still bring to the table is history and context, but what I'm not sure about with this particular election is whether that matters."
Donatelli, who is the president and founder of Campaign Solutions/Connell Donatelli, was in attendance at both inaugural events, and said she was inspired to launch the expert-in-residence series after touring Wallis Annenberg Hall last fall and meeting with USC Annenberg Dean Ernest J. Wilson III.
"We were having conversations about the intersection of data and media in the political world, and how what had been in silos is really cross-platform now," Donatelli said. "And the more we talked about it, he just thought it was interesting and thought it might be a great idea for Annenberg to do something like this."
The series will invite leading experts in the fields of politics and media to speak on campus about their work, and will also collaborate with faculty about ways to enhance the USC Annenberg curriculum. Each R. Rebecca Donatelli Expert-in-Residence will be invited to campus for a variety of events including meet-ups with students and faculty members, presentations at the Dean's Forum lunches, classroom discussions, panels and more.
The long term goal, Donatelli said, is to potentially incorporate the speaker series into a short for-credit USC Annenberg class. In the meantime, Donatelli said the series is a fitting way to bring her passion for politics back to her alma mater.
"It's really a joy to be back here on campus. As an alum and the mother of an alum, the daughter of an alum, I have a really strong connection to the school," Donatelli said. "You guys get to do things and talk about big ideas. Anything that makes you say, 'That would be interesting to study,' there's a way to go do it. And that's what you don't really get in real life that only happens in an academic environment."