"There's a way in which you listen to sounds, conduct interviews and produce stories and podcasts for public media that is different from everything else," said Doug Mitchell, founder and director of NPR's Next Generation Radio.
For the last three years, the Institute for Diversity and Empowerment at Annenberg (IDEA) has sponsored the Next Generation Radio Project at USC. The Next Generation Radio Project pairs USC Annenberg students and students from local universities with professional mentors in order to cultivate a new generation of diverse storytellers.
"The program has a documented success rate of creating pathways for diverse students into public media careers," said Amara Aguilar, who teaches digital journalism at USC Annenberg. Aguilar has also been an active mentor, as well as web and social editor, for the Next Generation Radio Project. "Next Generation Radio," she said, "is making an impact in that area and is an important program in promoting diversity in a tangible way."
Photo courtesy of Next Generation Radio
"Next Generation Radio tackles and celebrates the complexities of diversity," said Mitchell. "Working with USC Annenberg on this project gave us the opportunity to learn what students were passionate about, while also focusing on stories that give representation to people who might not have a voice otherwise."
The intensive, hands-on, week-long training included mentors from around the world, guiding students through their multi-media projects. Students learn skills necessary for sourcing, reporting, audio and text editing, web production and a tight, daily deadline.
"A second key purpose of this program," said USC Annenberg Associate Professor of Communication and Director of IDEA Taj Frazier, "is to create direct relationships and connections with top-tier journalists out in the field."
"By working in collaboration with these professionals," Frazier continued, "the participants are on the front lines creating dynamic and high-quality coverage of important and relevant issues that compel us to rethink what we presume we 'know' about human struggle, resilience and inequity."
This year the theme was "Stories of the Night" with the culmination being a short, non-narrative audio documentary, along with web and social content.
The stories illustrated the lives of people in the Los Angeles area working graveyard shifts.
Karina Saidi, an M.S. Journalism major graduating this May, focused her story on Verónica Guisa, a lawyer who relocated from Guadalajara to Los Angeles a little more than five years ago. Guisa works late-night hours at her sister's family-run flower wholesale shop in the Los Angeles Flower Market.
"It was a compelling story," Saidi said. "There is something beautiful I think about the work that can be done during that time of the night and the people who do it. Everyone was welcoming, but beyond that, in a more metaphorical way, seeing all of the variances in the flora and fauna reminded me of the diversity inherent in the physical space of the shop as well."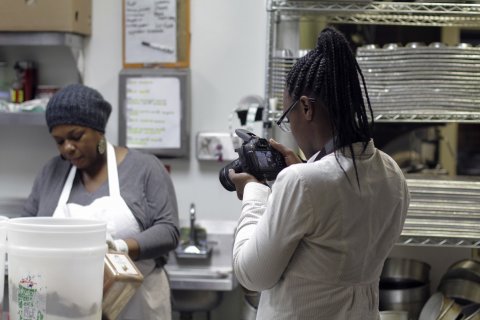 Photo courtesy of Next Generation Radio
Saidi applied to the radio project, as she was drawn to the mentorship aspect, as well as the opportunity to work with NPR. "Beyond the professional development, I think there's something to be said about people all working in the same room, the contacts you make and the relationships you form in such a short period of time," she said.
Celeste Mendez, a senior communication major, applied to the radio project as she was interested in how to create social change and trigger emotions through radio storytelling. "Hearing someone's personal story and what they have been through, you naturally become invested and connected to the subjects," she said.
With that in mind, Mendez produced a radio documentary about Danny Astorga, who has been working in the produce industry for twenty years. He is one of few vendors whose products are sold to independent ethnic businesses and local street vendors.
"Six days a week," Mendez said, "at the corner of Central Avenue and 7th Street, Astorga prepares produce at midnight to ensure that the smaller grocery stores and local restaurants have access to the type of fruits and vegetables that might not be available everywhere."
For Mendez, it was important for her to highlight the often "invisible" — the workers who are responsible for ensuring the cultural heritage integral to the city is recognized.
"Stories like these," said Frazier, "demonstrate the school's commitment to advancing the role that journalism can play in fighting for the ongoing project of democracy."