"Every day I think, 'Am I doing right by the institution and by journalists? Am I doing what I need to do to preserve credibility and integrity of the industry?'" said POLITICO Editor Carrie Budoff Brown to a packed audience in the Wallis Annenberg Hall Forum last month.
The award-winning journalist was one of POLITICO's first reporters in 2007 covering the intersection of politics and policy in a digital age. She was instrumental in the launch of POLITICO Europe and since 2016 she has served as the editor of POLITICO U.S.
The conversation was part of Brown's two-day visit as the R. Rebecca Donatelli Expert-in-Residence in Political Analysis and Media. The program is designed to inspire students to enter the field of political media and to bring experts to campus who focus on political communication and analysis.
Donatelli, who earned her B.A. in international relations from USC in 1975, is a pioneer in internet campaigning and the mother of USC Annenberg alumna Elizabeth Donatelli '04.
"What really resonated with me tonight is when Carrie said, 'Journalism is a public service,'" Donatelli said. "That [statement] encapsulates everything that a good journalist should be and a good journalism school should teach."
During the event moderated by Christina Bellantoni, professor of professional practice and director of USC Annenberg's Media Center, Bellantoni shared how she met Brown during the 2008 campaign trail, and how it's never slowed down since then. Brown went on to share insights into her experiences as a journalist and as the leader of one of the world's most bustling and expanding newsrooms.
In Brown's own words, here are some key takeaways from the discussion.
Leading a newsroom
What I have been most proud of is the ability to direct, manage and lead a newsroom whose sole purpose is to find out information that nobody knows — that is the holy grail. We don't care how many people read us — we care who reads us. Our value proposition is to tell the White House chief of staff something he wasn't familiar with, or Nancy Pelosi something she may not have known. Our reporting has been critical in sort of shining a light on various corners of the government.
In an environment where that is highly valued, I have an amazing newsroom of talented, ethical and scoop-driven reporters who love the chase of finding out information and having an impact. I am proud of the accountability journalism we provide and let the response happen as it may.
I am also challenged with providing adequate attention and analysis to stories that in any other time would dominate the news cycle for days. There will be five major stories and you're lucky if one of them lasts more than an hour in terms of the new cycle. So, you have to roll out news and deliver it quickly.
Part of my job is also finding hidden talent and giving journalists an opportunity and a platform. I want people who are going to work hard, be energetic, humble, and kind — and obviously great journalists. You have to work hard and be scrappy — that's exactly the type of reporter I want.
Serving a broad spectrum
[POLITICO is] a non-partisan news organization and we protect that fiercely. If you're a Republican or a Democrat, you'll be able to look to the publication and trust it. I strive to make sure that you can come to the site and you can read it with credibility.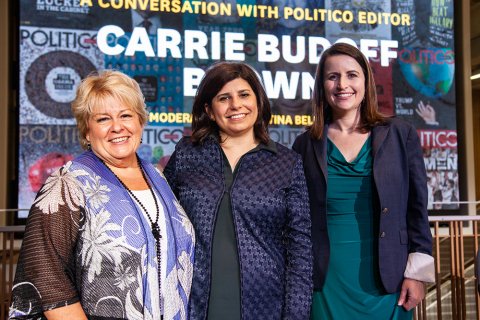 The notion of being nonpartisan is almost controversial in journalism circles but I am an 'old' school journalist in that way. I don't like talking about politics, I don't think you should share your opinion on Twitter and I don't like seeing fortuitous adjectives on my site. We have a magazine that commissions opinion and I like to see diversity of opinion there.
Going global
Geographic expansion is big for us. Just earlier this year we set up an operation in Sacramento — and that's just to a subscription audience and we're not betting on ad sales. We did global expansion in Europe with more than 100 people covering mostly Brussels, but also London, Paris, Berlin, and Frankfurt. Again, it's the same notion of how we covered Washington and bringing that into Brussels — believing there's a white space where people are interested in understanding how decisions are made and the people behind the decision-making stories.
Our ambition is to continue to expand globally — we have a partnership with the South China Morning Post, based in Hong Kong and that's our first step into Asia. We are also looking into building a tech publication as well.
Covering primary elections
With this [latest] election cycle, we tried to make sure that we're not just thinking about what the establishment is saying, but how to broaden our network and get a more diverse group of reporters and sources who are telling the story.
When I was setting up my team, I decided to base half of my politics reporters in the states — not all in D.C. or New York. One of my national politics reporters is based in California, and I have hired people from the LA Times, The Sacramento Bee and The Fresno Bee as well. I believe having someone who is present in California and who understands the system, and then, having national political reporters who are in Washington, but very familiar with the state, will provide new angles and stories.
No other national news organization has the footprint that we have and who will bring that knowledge of deeply sourced, state-based reporting for a national audience. Given the number of candidates, we have also assigned reporters to candidates and geographic areas — and layered different ways of covering the presidential campaign.
Diversifying the newsroom
There's a lot of attention at my news organization to diversifying the newsroom and being more representative of various viewpoints, various cultures, and various races. It's something that my company is deeply committed to and we're releasing our diversity statistics soon. It's important that the teams you assemble are not homogenous. That's an important threshold for us to process in terms of our journey towards a more inclusive newsroom.
Shaping your career
The weight of a press pass, doesn't come lightly. Everything builds on the other. Every experience, every mistake I've made, and every opportunity I've been given leads to a certain point. The best thing I learned as a young journalist was covering beats in small towns and walking into the town manager's office and [asking questions]. I soon realized unless I got it right and unless I was fair, they wouldn't tell me anything. In a day and age where you can 'DM,' email, and never have to pick up the phone, it concerns me. It was always the last call I made that gave me clarification on a story — those things saved me.