When Brenda Wiewel was looking for guidance on how to best promote the work being done as part of the USC Homeless Initiative, she didn't have to look far. Wiewel, director of the university initiative to eliminate homelessness, reached out to the USC Annenberg Agency. Here she connected with Jing Ma, a second-year communication management graduate student. After discussing with Wiewel the best ways to get the word out on campus about activities, resources and volunteer efforts, Ma met with the 19 other students in the Agency and formulated a plan.
The USC Annenberg Agency, which started in Spring 2019 with support from a USC Annenberg parent, operates each semester as a professional communication consultancy. The agency is structured as a directed-research course and designed to give graduate students hands-on skills in communication and public relations strategies that they can apply serving various USC community organizations and programs, as well as local nonprofits.
"Students get the opportunity to have real-world experience," said Freddy Tran Nager, entrepreneurial communication expert in residence, who teaches the course. Students first meet to decide which company they want to work with, and then take on a position based on their interests and areas of strength. "We have a lot of talent at USC," Nager said. "Students serve as copywriters, account executives, PR representatives, media planners and designers.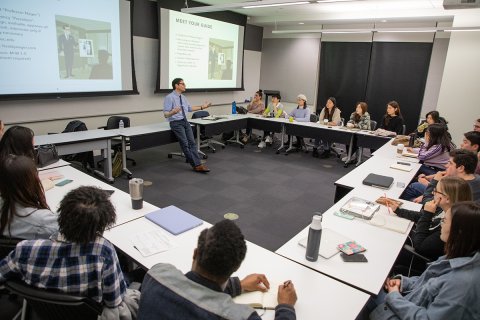 Photo by: Yannick Peterhans
"This is a great space for students to explore," Nager added. The founder of
Atomic Tango
— a marketing and media firm — Nager aims to leverage his expertise in business and content creation to teach his students the tools of the trade.
At the agency, students also use this opportunity to build their portfolio. "The students have amazing papers, but very few employers will ever ask for a midterm," Nager said. "Everyone is so visual nowadays –– this is why my students need to produce fliers, videos and social media posts so they can point to this work, as opposed to a 20-page report," he said.
Ma started at the agency in Spring 2019 as an account planner for the homeless initiative where students worked to help find solutions to raise awareness around housing and food insecurities on campus. She met with a PhD student who had experienced homelessness and invited him to talk to the class. "He shared his story and It allowed us to get a better insight on the topic," she said.
At the end of the Spring semester, the class presented a report that included key findings and creative briefs for a marketing event. This past Fall, they began the roll-out of their campaign, starting with Homelessness Awareness Week in November.
Students at the agency realized that "it's really important to do marketing not just for students who are currently facing challenges, but to a wider audience. USC offers a lot of support and resources that need to reach the entire campus," Nager said.
This past semester, students took on other clients, including the alumni relations and career development group that was hosting a series of workshops with the W2O Group, a marketing communication firm. The students took photos, filmed the workshops, and created a sizzle reel that the alumni office could use to recruit other industry partners.
Starting this month, a new group of students will work with the Oxford Global Women's Narrative Project and Lyn Boyd-Judson, the director of the Levan Institute for Humanities and Ethics. The mission of the organization is to amplify women's voices and experiences through the power of storytelling. Students have already been asked to help develop the website, plan strategy around distributing content, and plan campaigns.
For the future, Nager hopes to become a more robust agency and have greater visibility on campus. "My goal is to have the Agency become the go-to resource on campus for organizations that need help telling stories and compelling action," he said.