Two second-year master's degree students in the strategic public relations program are taking advantage of every opportunity as they pursue their degrees. Vivien Li spent her summer studying abroad in Hong Kong, working for a public relations firm. She was there during the protests against China and found it "eye-opening to be in Hong Kong at a time when so much history was happening."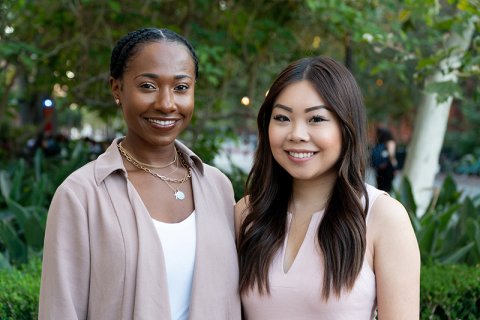 Photo by: Spencer Quinn
Kyndall Echols wants to change the narratives around designers and models of color in the fashion industry — by changing the storytellers. This past year she had the chance to use the skills she learned in her first year of the program to help a filmmaker get exposure for her movie.
Both realized that understanding the principles of data analytics would be key to reaching their goals in the PR field. So, when they learned that USC Annenberg, in cooperation with the marketing communications firm W2O Group, was offering scholarship support to help students build expertise in data analytics, they both jumped at the chance.
"I knew that analytics was a huge part of public relations, and I would definitely run into it in the workplace," Li said. For Echols, it was the opportunity to learn how to "back tactics and strategies with numbers."
The financial support that Li and Echols are receiving is just one aspect of W2O's collaboration with USC Annenberg, which will run through 2021. Starting in Fall 2019, W2O is also encouraging the development of students' data analytics skills in the communications fields by supporting adjunct faculty members like W2O senior advisor Bob Pearson, who is teaching a 15-week PR elective course, "Emerging Analytics: New Digital Models and the Future of Media." The class is designed to show students how analytics are transforming legacy media models. In addition, W2O is offering a three-part Data Analytics and Insights Workshop. The workshop is available to the USC Annenberg community and will give participants insight into the latest trends and research in the data analytics space.
Li, who is enrolled in the class, said, "I really wanted a course where somebody would explain analytics more creatively — with an understanding of the psychology behind it and the patterns that we see in human behaviors — so that I could understand why analytics in the workplace are so important."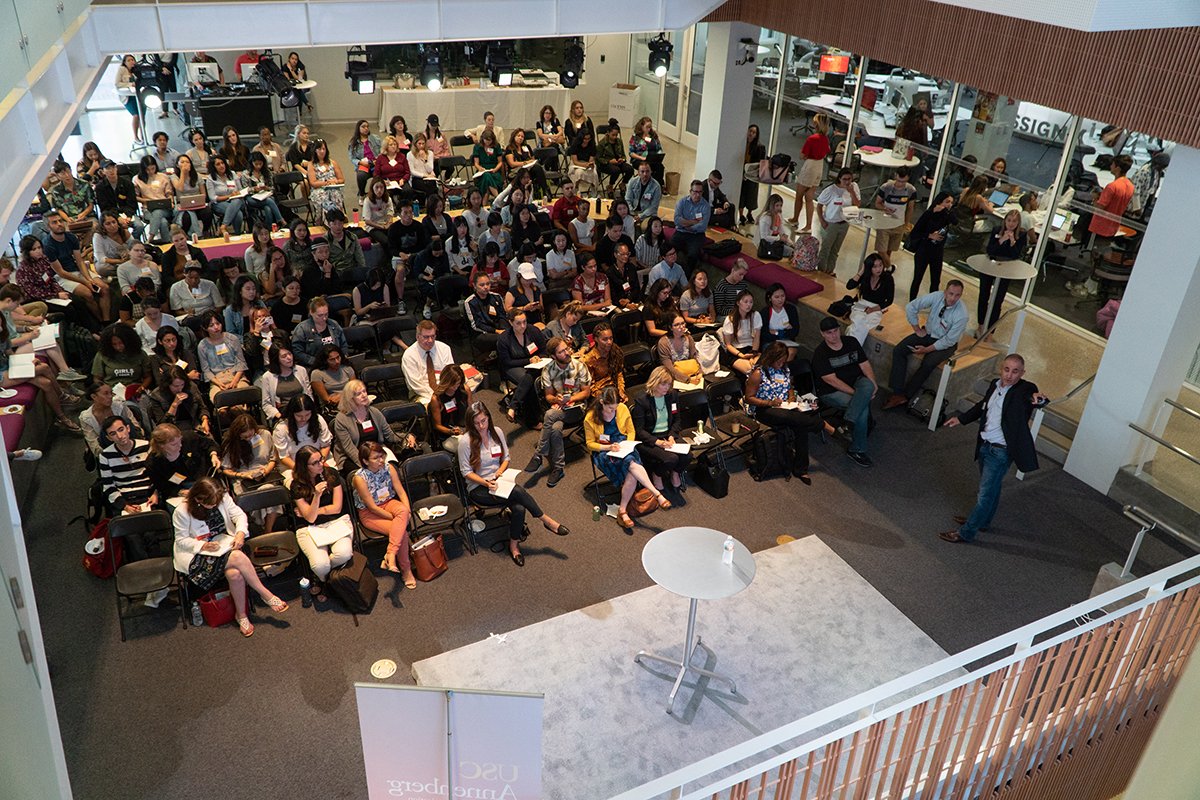 Photo by: Spencer Quinn
Jim Weiss, the founder and CEO of W2O, calls the three-part structure of the data analytics program at USC Annenberg "pieces of the puzzle" that complement one another. "The goal is to make a difference and to train and recruit the better-prepared entry-level talent our field needs more than ever before, period," he said.
From its 15 offices across the United States and Europe, W2O provides analytics-driven marketing services to the healthcare sector. As for the reason to pursue this collaboration, Weiss said, "USC Annenberg is a renowned university with a stellar track record of achievement, so it was a natural choice.
"Our students will benefit greatly from W2O's expertise in data analytics," said Willow Bay, dean of USC Annenberg. "I'm particularly grateful for their support for graduate student scholarships, as this will help USC Annenberg make important progress in diversifying the public relations field."
Echols will be joining the Data Analytics and Insights Workshops, which start Sept. 23. She said that W2O's collaboration with USC Annenberg demonstrates that the company sees the value of investing in students. "They are not only investing in me financially, but in my career as well," she said. "It shows that they believe in the next generation of communications professionals coming up," she said.
---
The next data analytics workshop is October 7.