When Jessica Flores had the opportunity to report on the recovery from Hurricane Maria in Puerto Rico one year after the storm, she knew what topic she wanted to pursue.
"Well, I like coffee," Flores said. As part of a directed research course taught by Laura Castañeda, professor of professional practice, and Amara Aguilar, associate professor of professional practice, who both work with students in the master of science in journalism program at USC Annenberg, she learned that many coffee farms in the Puerto Rico highlands had been devastated, if not completely destroyed.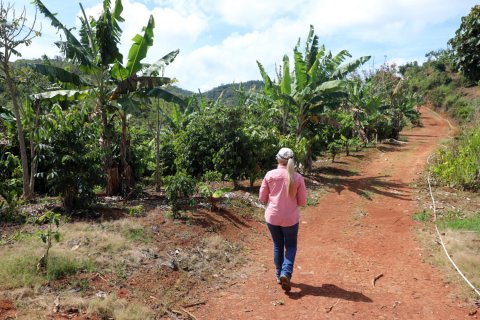 Photo by: Jessica Flores
"Starbucks had announced that they were going to be donating seeds to farmers, and there had been some coverage, but I wanted to do a follow-up story," said Flores, who earned her master's in journalism in May. "I was interested in talking to the coffee farmers and see what's happening now."Flores was one of four master's students and three undergraduates in Castañeda and Aguilar's course who spent three intensive classes in May researching and pre-reporting their stories from campus in preparation for a truly exceptional experience: a two-week, post-graduation trip to Puerto Rico for face-to-face interviews to complete their stories. Castañeda and Aguilar, along with fellow professor Miki Turner, assistant professor of professional practice, accompanied the seven women.
To help their students hone their craft under real-world conditions, Castañeda and Aguilar brought in a media partner, NBC Latino, to work with the students before, during and after their reporting trip. The students were expected to be multimedia reporters — providing text, still photography, video, and social media for their long-form pieces.
"The students had a chance to explore this community, tell these forgotten stories, and get some real reporting experience," Aguilar said.
"We took them to some of the places that were hardest-hit by Hurricane Maria to take them out of their comfort zone," Aguilar said. "They all showed an impressive work ethic."
While on the island, they met with staff at El Nuevo Día, the big daily newspaper in San Juan, who gave students firsthand accounts of covering the hurricane, including what it was like going long stretches without power and sleeping in the newsroom. "Students got to see the resilience and heart of these reporters, and how their first priority was helping their community," Aguilar said. "The experiences they shared with us were so inspiring."
In traveling to the coffee farms, Flores says she learned a lot about how coffee is grown, harvested and processed, but what really stuck with her was how the people she met were navigating the trauma the storm left in its wake. "It was just beautiful to see how hopeful they were, and how they were open to talking about it, but you can still sense they have PTSD," said Flores, now a contributor at Curbed LA. "As a student reporter, I had to figure out how to talk to them about it. You know, talking to them as a human —not just asking questions all the time, but really getting to know them and understand them."
"I think it gave them some really good skills as far as preparation, research, being able to talk to people in a passionate, empathetic way," Castañeda said. "You're in someone else's country — you can't just come in and Bigfoot a story."
Elizabeth Mayoral Corpus, who also graduated with an MS in journalism in May, had worked in her native Mexico as a reporter and came to USC Annenberg to build her skills in multimedia journalism. She saw the Puerto Rico project as a tremendous opportunity.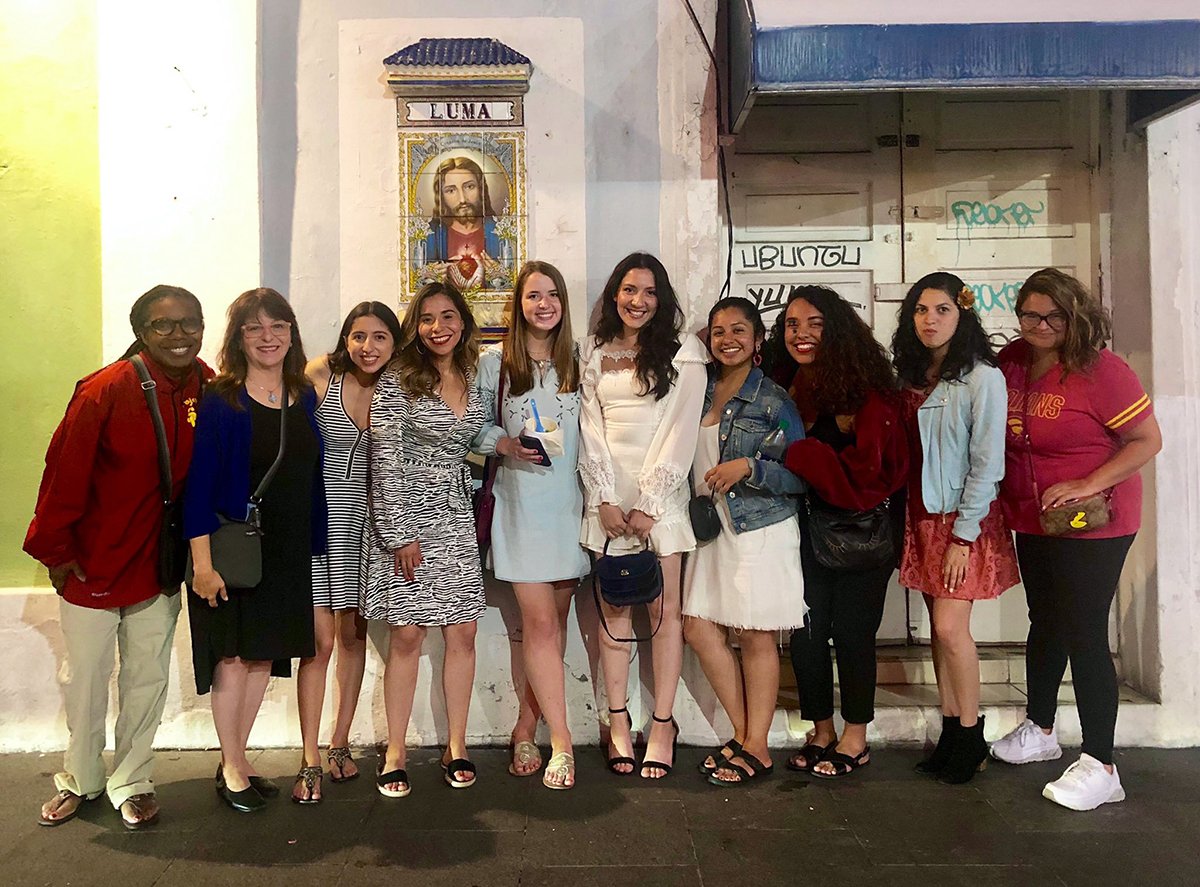 Photo courtesy of Amara Aguilar
Originally from the Mexican border city of Mexicali, Mayoral Corpus, who was just hired as a multimedia journalist/anchor by a Telemundo station in Salinas, has a keen interest in covering immigration issues. "I had the opportunity when I was at Annenberg to cover the border at Tijuana and San Diego," she said. "I wanted to continue with that beat in Puerto Rico, so I had a chance to talk to immigrants — including those from the Dominican Republic and Mexico — hear more about their stories, how they arrived to Puerto Rico, how the hurricane affected them.
"I give the students a lot of credit," Castañeda said. "To go there for two weeks and produce the stories that they did -- that's not easy for professionals who've been out in the field, let alone students."
Flores' multimedia project on the coffee growers was published on NBC Latino, as were Charlotte Scott's article on the artisanal tobacco industry, Marcela Valdivia's story on music therapy, and a co-bylined piece from Melissa Bivian and Flores on arts scholarships funded in part by Lin-Manuel Miranda. All of the stories from the project are collected on a website the students created for the class.
"We were all just helping each other on our stories, which was cool," Flores said. "We only had two weeks, so we had to be on it."