We stood wide-eyed in front of Nike West's newest building in Culver City. The unmarked office looked like a futuristic airplane hangar from the outside. Inside, Nike running shoes, painted the colors of the rainbow, adorned one of the walls in the foyer. It was the only hint this was Nike's headquarters. I would have taken a photo — if it wasn't for the nondisclosure agreements we signed as we entered.
I, along with 14 other USC Annenberg students, spent the week of May 27 visiting a variety of sports and media companies in the greater Los Angeles area as part of the Annenberg in L.A.: Sports Media Industries Maymester.
Two major themes in the L.A. sports market emerged from our conversations over the week: Brands were looking to reach audiences through authentic storytelling; and everything in the field of sports, business and media is connected. We met with executives at the Los Angeles Football Club, Dodger Stadium, Wasserman, Uninterrupted, Nike West and Twitter.
During our Nike West visit, we took a tour of their "imaging" facilities. The first floor of the building was like an auto assembly line, only with robotic arms for cameras. About a dozen mini-photography studios and two large sound stages ensured every thread of clothing they produce is seen by an audience.
Following the tour, basketball brand manager Jian Allen pulled back the curtain on how they develop marketing strategies. Their singular goal, we learned, is to "maximize human potential," adding that "anyone with a body is an athlete." Part of their vision, as evidenced by Nike's recent marketing campaign, is allowing space for athletes to "dream crazier."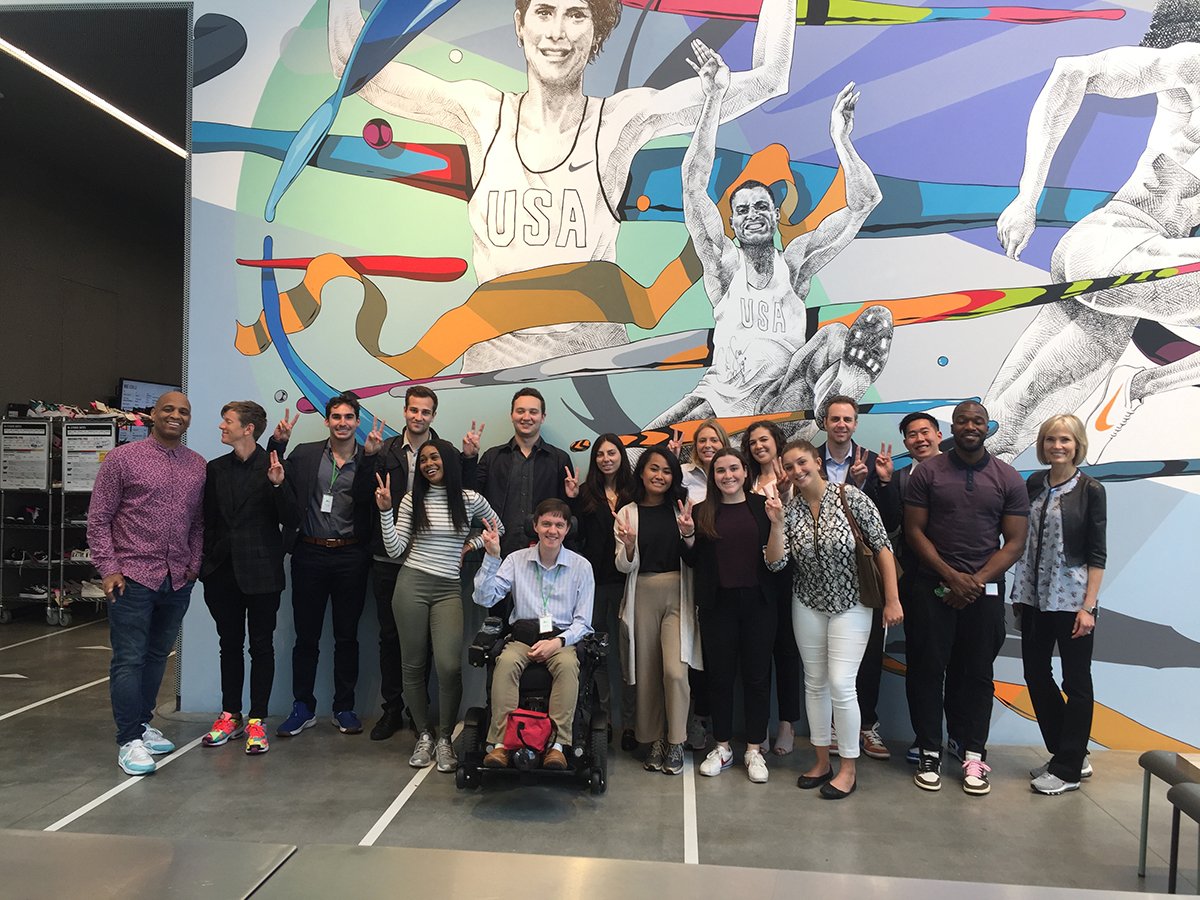 Photo courtesy of Zack Rigney
Allen split us up into four groups and we were given one or two marketing briefs of our own to work on. I have to say, it was quite nerve-wracking pitching ideas to Nike marketing executives. However, we already had a little practice. The second company we visited, Uninterrupted, LeBron James' media platform, also had us pitch athlete-focused material. The feedback we got from both of these pitching sessions reflected the deep thought Uninterrupted and Nike West put into making this Maymester a learning experience.
During these visits, we also had the opportunity to give oral briefs to the executives. Prior to the Maymester, each student prepared a five-page brief, which included an outline on one of the companies we visited and a list of questions. During each visit, one or two students presented.
It wasn't easy to ask tough questions while sitting at a conference room table across from L.A. sports' most influential figures, but we didn't shy away. How are the Los Angeles Clippers responding to local pushback against their proposed stadium in Inglewood? How is Riot Games moving forward on gender equity? How are both the Dodgers and NFL Media staying relevant to younger fans? Each executive had a solid answer, a testament to their willingness to listen and respond to student voices.
Throughout the week, it was clear that the L.A. sports market's challenges and opportunities overlap. For example, Casey Wasserman touched on challenges and triumphs as the chair of the L.A. 2028 Olympics, while Thomas Vu, senior producer at Riot Games, touched on a future for esports in the Olympics.
There were also numerous personal connections and overlaps in the L.A. sports world. Chief Business Officer of the Los Angeles Football Club Larry Freedman told a story about doing a deal with YouTube TV at a Dodgers game. Earlier in the week, we met with Executive Vice President of the Dodgers Lon Rosen and attended a game. We spoke with Jennifer van Djik, the executive vice president of marketing at Wasserman, who worked at the Clippers a year ago. Through each connection point, I saw the power of networking and taking advantage of every opportunity.
USC Annenberg Dean Willow Bay and faculty adjuncts Anthony Borquez and Rook Campbell from the business and communication schools, respectively, added valuable context. Campbell taught us about Nike's cause marketing, and Borquez educated us on opportunities in esports. Dean Bay brought everything together, encouraging us to ask good questions and helping us connect with the best and brightest in sports.
It was a whirlwind of a week, but the opportunities I had to network and learn from successful people in the L.A. sports and media industry were priceless.