From the very beginning, student journalists who produce video news segments for The Rundown proved they knew their audience: their fellow students.
"If you have no idea what happened this week because you've been locked in Leavey [Library], we get it," said Sebastian Vega (B.A., broadcast and digital journalism, '18) as he kicked off The Rundown's inaugural Snapchat news show in October 2017. Shot vertically for a mobile-device viewing audience, the videos cover news on campus, in the city and around the world from USC Annenberg's Media Center.
The Rundown started in 2016-17 school year as a weekly email newsletter. In the summer of 2017, Charlotte Pruett, who graduated this past May with a B.A. in journalism, pitched the idea of adding a Snapchat video component to provide their student audience with more visual content.
"We wanted it to be very student-focused, very much, 'Here are the biggest stories of the week, both at USC and otherwise,'" said Pruett, who was the show's first executive producer. "We took our motto — 'What do students need to know before they go party this weekend?' — and built a team around it and started working on the aesthetics and scripts. We wanted our tone to be much lighter than a traditional Annenberg TV News broadcast."
The Snapchat video addition was the second in a series of innovations that the team created to "acknowledge the reality of the changing way people are consuming news," said Laura Davis, digital news director of the Annenberg Media Center. "We didn't set out to say, 'Okay, we want to create a news digest product across the newsletter, Instagram Stories and Alexa Skills, we just went through this process of empathizing with our audience and defining a problem they have and then creating a package based off of those factors."
In year two, the team reevaluated and decided to shift away from Snapchat and toward Instagram Stories and IGTV. Both platforms included three short clips with a total running time of three to four minutes.
Nicholas Yekikian came on board as executive producer of the Rundown in 2018 and Pruett took over as executive editor of the entire USC Annenberg media newsroom. Yekikian, who graduated in 2019 with a master's in specialized journalism, prefers Instagram, as it allows them to integrate polls and questions, giving them the chance to be more "interactive" with their audience.
"It's like a different version of analytics, honestly," Yekikian said. "You get to see what issues students care about and what they think of certain things, which I think is really cool."
Pruett explained that one of the advantages of working in the media center is that it is an "incubator," giving students the chance to try out different ideas. As part of their mentoring, students are also taught how to distill news down to its essence to create the short blurbs for the newsletter and the social videos.
In Fall 2018, they added a third component — audio — delivered through an Alexa skill, part of a third-party app available for Alexa, Amazon's digital assistant, to extend its utility.
Camila Rios Irizarry, a rising senior majoring in theater and minoring in public relations, was one of the early radio hosts. She chose stories, worked on the audio scripts and hosted the podcast.
The audio version, Irizarry explained, was generally about seven minutes long and allowed her to delve deeper into the stories. Irizarry, who had never worked in audio before coming to USC Annenberg, walked into the media center her sophomore year and said, "Hi, I would love to be a reporter." She explained that Willa Seidenberg, director of Annenberg radio news, mentored her. "While I knew that I liked to listen to podcasts, I didn't know that I could do that myself."
Irizarry liked the medium for its intimacy. "It's an art to be able to transport people through audio," she said.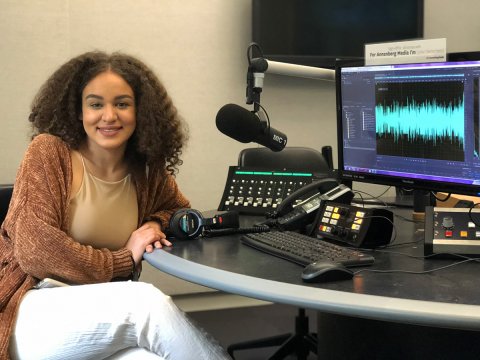 Photo by: Mira Zimet
Students working on all The Rundown's platforms are given autonomy over their choices and do all their own writing and producing, getting final editorial feedback from Davis and Seidenberg. While the stories don't necessarily overlap, the teams working on each component often collaborate. Because the platforms are so different, students can be found in the media center most Wednesdays and Thursdays, well into the evening, writing for the newsletter and producing the video and radio shows.
Their efforts have been recognized. This past semester, the Rundown won an award of excellence at the World Journalism Education Congress (WJEC) Creative Competition Awards and third place in the Disrupt the News contest presented by TVNewsCheck and the Broadcast Education Association (BEA) in Las Vegas.
For Yekikian the entire experience was "fabulous."
"Before I started at The Rundown, all of my skills were based in the written word," said Yekikian, who worked for the student newspaper during his undergraduate years at UCLA. "So, when I took this on I was like, 'Yeah, this is something different.' I learned how to write a script, I learned tone, how to set up a film set, what it takes to make the lighting right, how to edit. I never thought that I would be taking so much away from just one year of experience."