When Esthela Alarcón-Teagle joined the first class of the online master of communication management (MCM) program at USC Annenberg in 2011, she knew that it was a great fit for her needs. Already a USC alumna with a bachelor's degree in communication, she saw that the evening class hours and online instruction would allow her to be a full-time student while still working full-time, first as an independent marketing consultant, then as a marketing executive at Univision in Los Angeles. The curriculum allowed her to explore communications marketing theory — concepts she hoped would open more professional opportunities.
But when she suffered a mild stroke near the end of her last semester before graduation, she learned what made the program truly special: the people. "My classmates really came together," she recalled. "We were working on a lot of group projects, and they covered for me, taking what I had done and carrying it through to the end. The staff and faculty of the school were also very supportive."
"There was a lot of care and flexibility from everybody in the program," added Alarcón-Teagle, who went on to management positions at Casanova/McCann, an integrated communications agency in Orange County that specializes in marketing to U.S. Hispanic/Latino consumers. "It was just very personal."
That personal touch is by design. Ever since the program launched in Fall 2011, the faculty and staff who shaped it have striven to create a sense of connection for students whose instruction is completely remote.
Neil Teixeira, who was on board from the beginning, is now the director of online learning at USC Annenberg. He says that responsiveness to student needs is key to building that connection — as well as making it clear that the online students are also welcome on campus. "I've probably given a hundred or more individual tours to online MCM students who have visited campus over the past decade," he said. "We remind our online students all the time, 'We want you to come to use the libraries. We want you to attend homecoming football games and other USC athletic events. We want you to fully take part in the culture and experience of being a USC student.'"
As the program celebrates its tenth anniversary, the online MCM has gone from an original cohort of 30 students to more than 700 alumni, with some 350 students currently enrolled. Online students are all working toward the same master's degree as the in-person communication management program.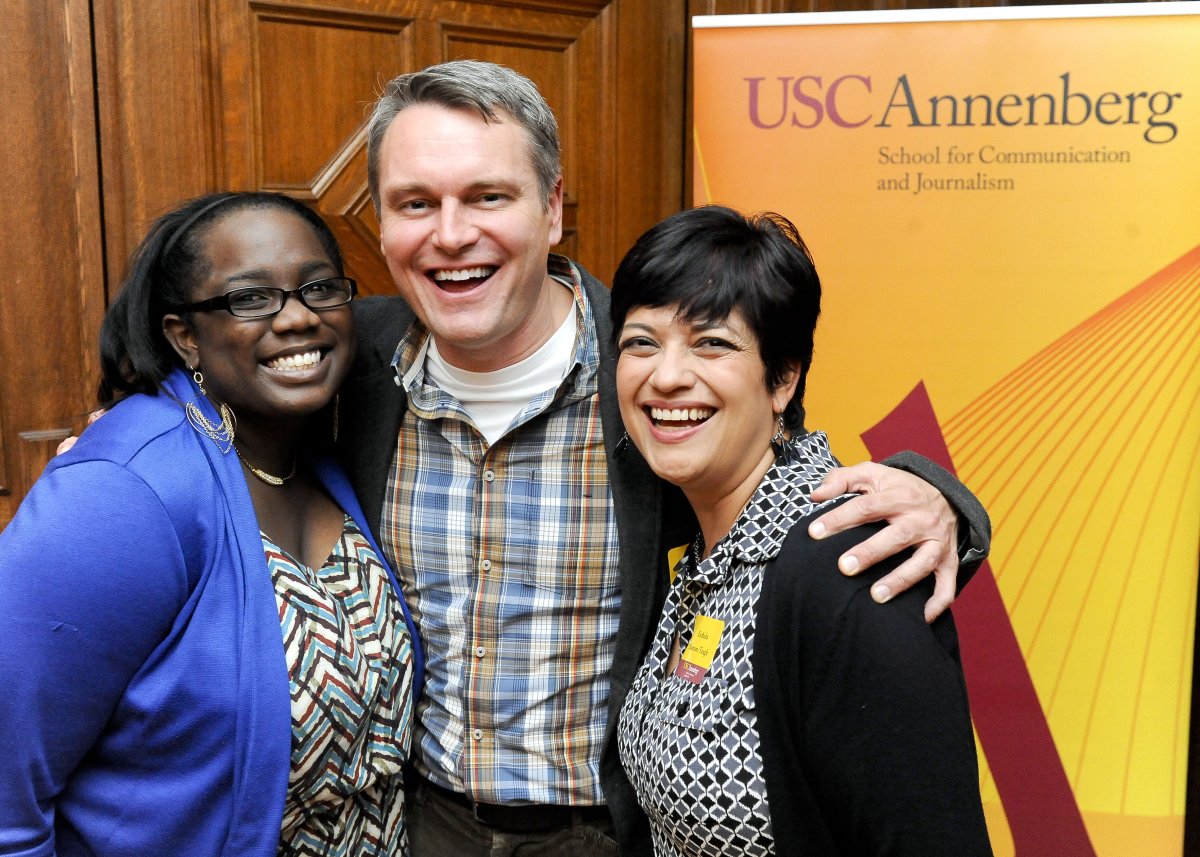 Courtesy of Online MCM Program
And it all began, Teixeira says, with a single online course that Rebecca Weintraub, now clinical professor emerita of communication, began teaching in 2003. "The success of that course made her recognize that online learning could be rigorous and effective. She was the first to step up and say that Annenberg should have an online master's program, which she dedicated herself to making a reality."
Weintraub was impressed with the "richness of the learning and the work product of students in my online class," she said. "Additionally, our residential program's demographics were changing. Working professionals, for whom communication management was created, were no longer taking a year off to come to a residential program. Technology had improved to a point where we could create an online modality of Annenberg's flagship master's program. And, as they say, we built it and they came."
Teixeira, himself a 2008 alumnus of the in-person communication management program — who wrote his thesis on distance learning — worked with Weintraub to create a fully online curriculum that now offers twice as many courses as when it began.
Beyond the convenience of online learning, the real-world benefits of the program are another strong selling point, Teixeira said. "New students often tell us they're immediately able to apply what they're learning in the classroom to their jobs. They're genuinely delighted when theories and strategies they use in their homework translate directly to their professional settings."
For Kelly Schwager, who graduated from the program in 2014, an online master's degree was the only option. "I was working at a tech startup in the Bay Area, I'm a mom, and my husband also had a career — I couldn't pack up and move," she said. "For a working professional, the program was perfect. I could schedule my classes around my work. But I also had the chance to be engaged on campus when I was in L.A. for business. In my first year, going to the homecoming game, being part of the festivities, sitting in the student section — we very much felt a part of the community, even though we weren't living on campus. It was fabulous."
Even after having years of experience in marketing, Schwager appreciated the chance to learn more about the theory underpinning the communications discipline. "I grew so much in the program," said Schwager, now vice president of global communications at Oracle. "I really loved being able to step back and question things that I thought I knew, to look at those things from a different perspective."
Rohan Maghrajh, who works in marketing for Google, is in his second year in the program and is set to graduate in 2022. "I had been thinking about the USC Annenberg online MCM for a while, and when COVID-19 happened, I thought it was an appropriate time to go back to school," he said. "I felt like this program really fit my personal and professional goal of learning to lead people with diverse backgrounds and help them to excel."
For Maghrajh, both the program's curriculum and the people in the program are helping him build those skills. "A lot of my classmates are also people of color, and this program creates an outlet for us to learn how to stand up for ourselves and to take up space," said Maghrajh, who is of Indian descent, and whose parents immigrated to Mountain View, California from South Africa.
Teixeira says that positive word of mouth from students like Schwager, Maghrajh and Alarcón-Teagle has been a "huge" factor in the program's growth throughout its first 10 years. "They're telling their colleagues and friends that, not only is the online MCM program practical and rigorous, but you'll make lifelong connections to classmates on both a personal and professional level," he said.
Alarcón-Teagle said those connections have remained a source of both practical knowledge and inspiration as she has continued her professional journey. In addition to her position at Casanova/McCann, Alarcón-Teagle serves as an adjunct professor at California State University, Fullerton, and is returning to school at California State University, Long Beach to pursue a second master's degree in psychology. "More than any specific course, it's the overall spirit of the program that has stayed with me," she said. "Even though USC is so big, it felt very small, very personal. We're a really close-knit group."