As they watch live via the biggest screen on campus, USC professors are using the potential impeachment of President Trump to deepen students' understanding of history, constitutional law and policy.
Gathering in front of a giant TV screen for a live viewing at Wallis Annenberg Hall, USC students watched a parade of ambassadors and diplomats testify during the public phase of the House Intelligence Committee hearings on impeachment in mid-November. They also heard from professors who took turns leading open discussions of the testimonies, evidence and other new developments.
"We decided to use the biggest TV on campus to provide students with the opportunity to watch the impeachment hearings in as unfiltered of an environment as possible," said Christina Bellantoni, professor of professional practice and director of the USC Annenberg's Media Center. "We chose a livestream that didn't have a lot of extra graphics and wasn't going to be cut into with a panel of talking heads to let them experience it completely raw.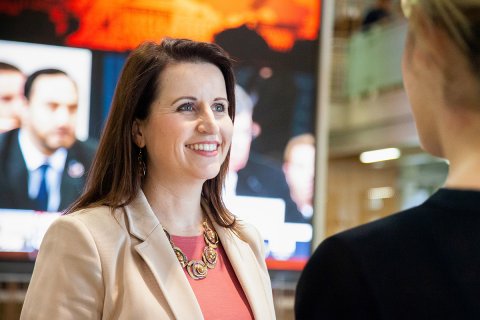 Photo by: Spencer Quinn
A microphone was available for faculty, who were encouraged to provide political and historical context and take questions from students.
"It's been a fun experiment," Bellantoni said. "If there ends up being a Senate trial that extends for days, I think there will be even more interest."
Bellantoni is also using the impeachment proceedings, along with the presidential primary debates, to show her students how the moments highlighted by the media sway how candidates perform in the polls and how voters perceive them.
"Every moment of the impeachment hearings is livestreamed and analyzed by people who are influential in the political realm, and anything could be a viral moment," she noted.
Impeachment is rare, which makes it a unique opportunity for professors to teach students about the process. Only two U.S. presidents have been impeached: Andrew Johnson in 1868 and Bill Clinton in 1998. They both were acquitted. The first president to face the threat of impeachment proceedings was John Tyler in 1842. In 1974, President Richard M. Nixon resigned amid certainty that the House would vote to impeach him for revelations related to the Watergate scandal.
Students across the university are studying the impeachment proceedings to deepen their understanding of history, constitutional law, policy, diplomacy and rhetoric. Dora Kingsley Vertenten, a professor at the USC Price School of Public Policy and an expert in campaigns and political parties, describes her students in the Master of Public Administration program as increasingly more interested in the inner workings of government. They aspire to serve the public and their communities — and are therefore among those paying attention to the hearings.
"The impeachment inquiry provides a real-time exercise in watching debates about what the government should be and, more importantly, what the government and our agents should not be doing in office," she said.
Impeachment's impact on the 2020 election
Vertenten said there are a number of important lessons from the hearings, including that they're paradoxically taking media coverage away from President Donald Trump and focusing it on members of Congress — particularly those who sit on the committees conducting the investigation. Previously lesser-known members like Rep. Adam Schiff have an opportunity to raise money for the 2020 election, when all 435 seats in the House of Representatives and 35 of the 100 seats in the Senate will be up for grabs, along with the presidency.
"Everybody gets a chance to raise money during an impeachment inquiry," Vertenten said. "If Congressional hearings — and a Senate trial — reach the level of the McCarthy hearings, then you can expect big war chests aimed at the 2020 election campaign from all sides of the political spectrum."
Media coverage doesn't have to include a lot of bells and whistles to give members of Congress that all-important platform.
"Boring, CSPAN-level material has been elevated via the impeachment inquiry, making everyday politicians into reality TV stars with the ability to become social media influencers and rock star fundraisers," she added.
She provided an example of how that benefits both sides: Rep. Elise Stefanik had a viral moment thanks to her defense of President Trump during the Nov. 15 impeachment hearing. The president himself tweeted that Stefanik was a "new Republican star." However, her 2020 Democratic opponent, Tedra Cobb, raised $1 million and increased her Twitter following — from roughly 5,000 to 250,000 — mere days after Stefanik achieved GOP celebrity status.
Lessons from prior impeachment proceedings
While there's no doubt that millions of dollars are being raised on both sides of the political aisle using the impeachment narrative, USC political experts have a variety of opinions on whether the hearings will ultimately help or hurt President Trump's reelection chances.
"Some argue that impeachment without a Senate conviction would help Trump, pointing to the Democrats' modest 1998 midterm gains in the midst of the Clinton impeachment," said Robert Shrum, director of the Center for the Political Future at the USC Dornsife College of Letters, Arts and Sciences.
"The reality is that Clinton's impeachment opened the way for George W. Bush to campaign on a promise to restore honor and integrity to the White House. A Trump impeachment, if he is not removed from office, will harden his base, but the revelations are likely to further alienate independents and swing voters and hurt his chances for reelection."
On the other hand, Bellantoni noted that history isn't always the best guide when it comes to Trump.
"When I'm putting my political prognosticator hat on, I say this is helping Trump," she said. "Impeachment is an opportunity for his base to be very fired up. When people are angry, they show up, and they're unafraid to fight back when they feel threatened."
"That said," she added, "anything I understand about politics, I try to throw out the window now, because the Trump campaign and presidency upended all those traditional notions about what it means to run a campaign, and how."
With the outcomes of both the impeachment proceedings and the 2020 presidential election uncertain, one thing is for sure: USC students and faculty alike will continue to tune in to see what happens next.
---
Story originally posted on news.usc.edu.