It was Thursday, March 19, and Laura E. Davis was on her couch at home in Los Angeles teaching her father in Kansas City how to use Skype. After hanging up, she stumbled upon L.A. Mayor Eric Garcetti's COVID-19 press conference being broadcast live on Facebook.
As she watched the broadcast, Davis noted the phrase Garcetti used to describe new guidelines to help slow the spread of the virus: "safer at home." Davis quickly entered the term into Stylebot, a chat-based style and copy-editing tool, to help Annenberg Media students correctly and consistently reference it in their reporting.
Davis, assistant professor of professional practice in the journalism school, created Stylebot along with lecturer Jennifer de la Fuente, as a solution to an ongoing issue in USC Annenberg's Media Center: grammar, punctuation, capitalization and word usage mistakes. The first attempts — stylebooks laid out on desks across the newsroom, followed by a cheat sheet of the student-run newsroom's top 11 errors taped to editors' desks — weren't working.
Using the instant-messaging platform Slack, Stylebot provides students with automated responses to their common copy-editing questions. This encourages students to engage with copy editing in a more accessible and intuitive way.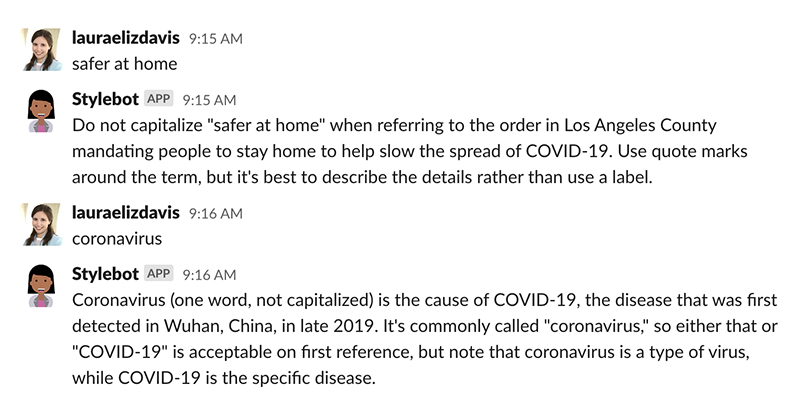 Photo courtesy of Laura Davis
"Basically, we married an old-school newsroom skill with modern technology," Davis said. "And now we've started to create a new culture around copy editing. Our students need to be prepared to do much of their own editing at a time when newsroom credibility is a question mark for a lot of Americans. As a result, every single thing a journalist writes is being scrutinized. Not messing up on basic grammar and punctuation is low-hanging fruit."
As de la Fuente set up the backend infrastructure for Stylebot, Davis, with the help of Henry Fuhrmann, an adjunct instructor and former assistant managing editor for the copy desks and standards at the Los Angeles Times, came up with the copy-editing rules. They started with the same 11 top mistakes and tested the tool with students.
Since late 2017, Davis has written or edited more than 900 original entries and expanded Stylebot to serve seven outside newsrooms across the country. While user inputs are anonymous, Davis monitors the questions people ask Stylebot. This has allowed the tool to adapt quickly to newsroom needs, focusing guidance where reporters need it most.
"It's really great for me as an educator," Davis said. "For example, I didn't really think we had to specify whether Super Bowl was one or two words, but a student asked, so now it's added to the library of information."
What has resulted is an original style guide that reflects the needs of modern news consumers and producers, and it's growing every week. In addition to improving Stylebot's editorial and technical capabilities with a cross-disciplinary team of students from USC Annenberg and USC Viterbi, Davis is exploring how Stylebot can best serve not only newsrooms but other industries as part of USC Viterbi's Startup Garage.
Davis and de la Fuente not only considered grammar rules when building the Stylebot, they also spent time thinking about its personality, planting a few "Easter eggs" that users might stumble on when asking a question. "As a joke, someone asked whether one can wear white after Labor Day," de la Fuente said. "I suggested they wear whatever they want, as long as they weren't clumsy," she then added a GIF of a person spilling coffee on their shirt. "This was reflective of the personality infused into the bot, as copy editing is something most people feel is super-dry," she added.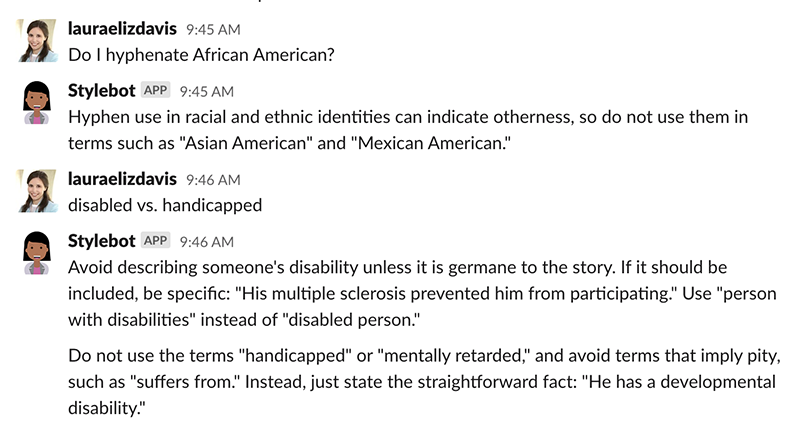 Photo courtesy of Laura Davis
Another advantage of Stylebot: It can be customized, allowing newsrooms to have all their style resources in one place. In early January, Davis built a customized version of Stylebot for the online news site NowThis. Drew Schwendiman, a USC Annenberg alumnus who graduated in 2018 with a bachelor's degree in broadcast journalism, had been one of Stylebot's early beta testers while still a student. Then an associate producer for the NowThis news team, Schwendiman introduced Stylebot to his news director, and they deployed it in their digital newsroom earlier this year.
"Our copy editor told me the day after it rolled out that she was receiving far fewer style guide questions," Schwendiman said. "Also, a lot of my coworkers messaged me to say it was cool. So, I've definitely patted myself on the back for bringing it here."
On March 19, Davis put out an open call on Twitter giving student and professional journalists — who might be relying on Slack even more now as they work remotely — the opportunity to gain limited-time, free access to Stylebot.
While Davis admits that Stylebot is not intended to replace human editors, its availability on a platform that many are already using is a plus in today's world. "In a time where almost everyone in a newsroom is also an editor and more people than ever are doing their own social media, this gives people an extra resource," she said.