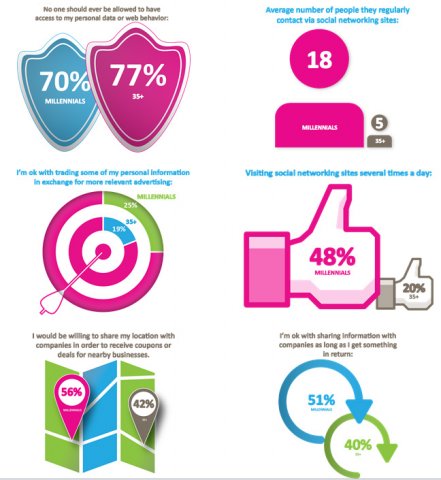 A study done by USC Annenberg's Center for the Digital Future on online privacy was featured in article from USA Today.
According to the study, "Millennials" are less concerned with privacy and are the most willing to share personal information online.
"From very early ages, Millennials were just very comfortable really using technology as their bridge to the world, and therefore [have] very little to fear from it," said Jeff Cole, USC Annenberg professor and director of the Center for the Digital Future.
Millennials, the study shows, have a more instinctive understanding of the value of interacting with companies online. Companies use the data provided by online interaction to improve rapport with customers.
"They understand that their information is a valuable commodity, and they want to be compensated," Cole said. "They're willing to accept advertising, but they want something out of it."
The study found that 56 percent of people, ages 18-34, said they would share their location in order to receive free coupons from businesses near them, while only 42 percent of people over 35 said they were willing to share their location.
"Millennials are the trendsetters," said Cole. "They are the ones that are proving it's OK to do these things."
The study was also featured in Forbes, Yahoo! News, and the Press-Enterprise.