Even as a four-year-old, Aliya Jasmine knew she wanted to be a broadcaster. Literally standing in her grandfather's rock fireplace so that the echo would lend texture to her fake British accent, Jasmine would pretend she was a BBC reporter.
When she was eight, her dad bought a VHS camcorder — "you know, the massive ones," she jokes — which Jasmine used to make her own home videos. "Any time you would see me, I was recording."
She'd continue to explore storytelling by capturing day-to-day activities around the house, including milestones like her younger sister learning how to walk. "I felt like a warrior, and my weapon was the camera," she said. "I've always been attracted to telling stories through the medium of TV in some capacity — and I knew I wanted this path."
Jasmine, who will receive a master's degree in specialized journalism this Fall, was born in Canada and earned her undergraduate degree in broadcast communication from the University of Ottawa.
After graduation, she wrote for Canadian magazines and newspapers, but her first job in the broadcast world was as a cable wrangler for Fashion Television. She moved up the production ladder from a production assistant to a segment producer to a producer at MTV Canada. "I think I was the youngest producer there at the time," she recalls. "It was a dream come true."
Over the course of more than a decade at MTV, Jasmine produced and hosted multiple TV shows, including Play with AJ, a crossover between sports and pop culture. She also created a documentary series called Impact, where she shifted her storytelling to hard-news subjects. Jasmine covered the South Sudanese Civil War, and also the potential effects of a proposed oil pipeline in British Columbia's Great Bear Rainforest.
Jasmine also freelanced for other outlets. After the 2010 earthquake in Haiti, Discovery Channel sent her to cover the aftermath. "That was one of the standout moments of my life," she said. "It was a really great opportunity for me to tell these important stories that were happening in the world, but to a millennial audience."
Then, in 2014, having spent time in Los Angeles on press junkets, she decided to make a change, take a risk and move to L.A. to figure out "who I wanted to be and what I wanted to do."
"It was really scary," she said. "I was at the height of my career in Canada."
After moving to Southern California, she started working as a host for Bravo TV and E! News, and freelanced as a reporter for the NFL Network and Fox Sports. She began to question what she wanted to be in the second part of her career. Was it too late to get into news full-time?
While Jasmine was back in Canada to pick up an Alumni of Excellence award, her university's president suggested she go back to school to become an expert in a specific area.
"I thought of my mom, a refugee who escaped civil war in East Africa, and how she went back to school to get her master's degree in her thirties with two kids — it turned her life around," she said.
While covering sports and entertainment, Jasmine would look for environmental and social justice angles for her stories: sustainable dresses on the red carpet, the NHL Green initiative, and the NFL's waste reduction efforts at the Super Bowl.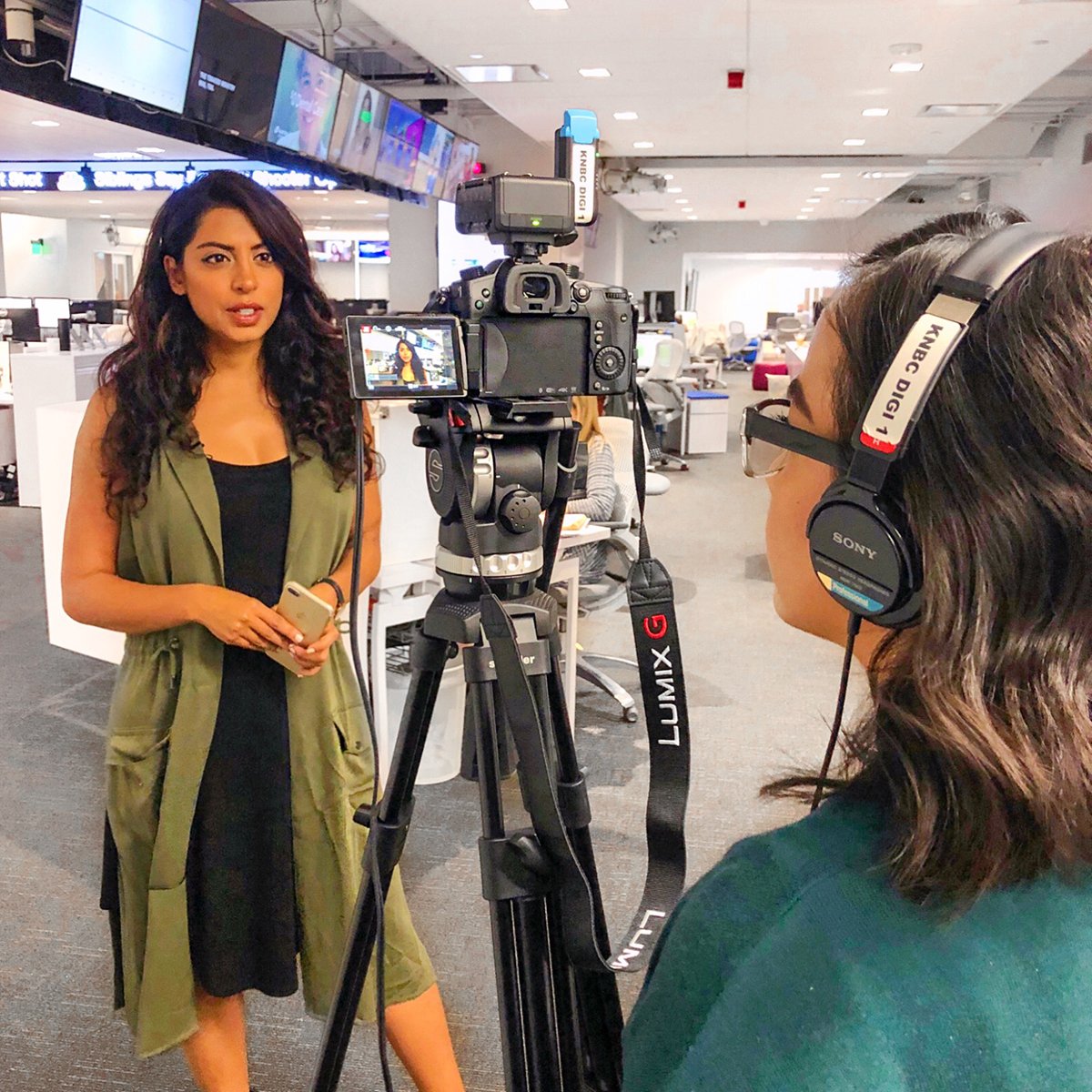 "Those were the stories that needed to be told," she said.
Jasmine joined USC Annenberg's specialized journalism graduate program in 2017. For the next two years, she attended USC part-time while working at NBC.
"The entire experience at USC has been amazing," she said. Learning from professors who were also working journalists helped her approach her own work with a fresh lens.
"Even if you're twenty years into your career, to take these classes and talk about the fundamentals of journalism is so important, [especially] with the attack on journalists, the idea of fake news, and this conversation being had on a global stage," she said.
Jasmine pointed to a documentary filmmaking class she took with Dan Birman, professor of professional practice, as a highlight. While she already knew how to host, produce, and provide notes in an edit bay, she had never had the hands-on production experience of shooting and editing. In Birman's class, she learned to do it all. Those were skills she needed in her current job at NBC, where she films original content, writes, edits and produces videos across their digital and social media platforms.
Jasmine also had the opportunity to take courses in other disciplines and schools on campus. One was an environmental politics class offered at USC Dornsife College of Letters, Arts and Sciences. "I would be reading about wildfire legislation, and then I was covering wildfires for NBC," she added.
Her reporting for an NBC story "Inside the Fire Zone," a story about the Woolsey Fire in Agoura Hills and Malibu, was recognized as a finalist by the Los Angeles Press Club.
"It's been really incredible to apply directly what I've learned in environmental journalism and be able to specialize in those programs," Jasmine said. "I was able to not only talk the talk, but actually walk the walk."