When then-USC senior Natalie Fung went on a trip with her friends to Las Vegas in Fall of 2013 to commemorate their last year of college, she had the next few months of her life all planned out. Slated to graduate early with a public relations degree, she had lined up a paid PR internship at Nickelodeon.
A car accident involving a drunk driver in Las Vegas changed not only her immediate plans, but the shape of the rest of her life. The crash left the Pasadena native a C5 quadriplegic: She was capable of some arm movement but was mostly paralyzed from the neck down.
"After my injury, I was kind of thrown backwards," Fung said. "I had to move back home with my family, leave school, leave my job. There was a lot of learning how to take a step back and realize that even though everyone else might seem to be on this path, it's okay I'm not on the same one."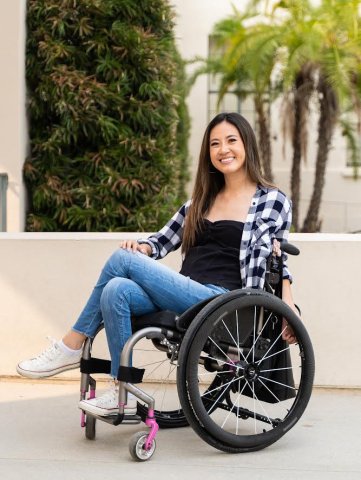 Photo by Victor Salazar
The next steps of her journey began immediately after the accident with months of intense physical therapy — and time coming to terms with her new way of living. Fung returned to USC Annenberg the following Spring, attending classes remotely with the help of Skype. She took one or two courses per semester over the next year and a half to complete her degree.
After officially graduating in Spring 2015, Fung knew that she wanted to eventually get her master's degree. But first, she had to confront her own misconceptions about people with disabilities.
"When I was first injured, I really struggled with identifying as someone with a disability," Fung said. "But then I started joining support groups and attended events for people in wheelchairs. I met a lot of amazing people who really helped me through learning this new life. I learned about the importance of having to advocate for yourself."
In the world of public relations, Fung initially planned to focus on corporate social responsibility, but while working in PR for a spinal cord injury nonprofit following graduation, she knew she wanted to do more. She was hired part-time as a marketing contractor at the USC Viterbi School of Engineering and joined the Rollettes, a wheelchair dance team based in Los Angeles. It was here that she reimagined her plans. Six years after earning her bachelor's degree, Fung wanted to truly advocate for, and give back to, the disabled community.
With her background in PR, she decided to look for a secondary degree that was more technical. After learning about the master's degree in communication data science, a joint program through USC Annenberg and USC Viterbi, she enrolled and started in Fall 2021. She found its interdisciplinary approach to be a perfect continuation of her education.
"There's diversity, equity and inclusion efforts in most places now, but there's still so many people with disabilities that are only included on the surface level," she said. "So many companies say, 'We want to invest in disability, but there's no data.' There's that large disconnect, so hopefully I can help bridge that gap."
Fung said that the program has not only shown her how great that disconnect is, but also how vital her focus of work will be.
Although she used to feel uncomfortable sharing her personal experiences with her own disabilities, Fung said she recognizes that her unique perspective can prompt important conversations, humanizing the statistics in an increasingly data-driven world.
"When there's outliers in data, we're taught to remove those or write something off as an anomaly," Fung said. "But in reality, that just might be a single person doing things differently. People with disabilities — we don't do things the same as the rest of the population, and it's really important for companies to realize that the disabled population can't be forgotten."