Ever since she was a young girl, Megan V. Green was determined to create DIY hair care products using easily available kitchen provisions, like eggs and honey, that would help her embrace the beauty of her natural hair. By the time she was 13, Green was getting paid to style hair in her neighborhood; during her high school years, she spent time working in a salon. By 2015, she was sharing her avocado hair formulas on Instagram and Snapchat — and eventually selling them. "I realized that if people didn't feel confident in themselves and their own natural hair, they were going to navigate the world in a much different way," she said.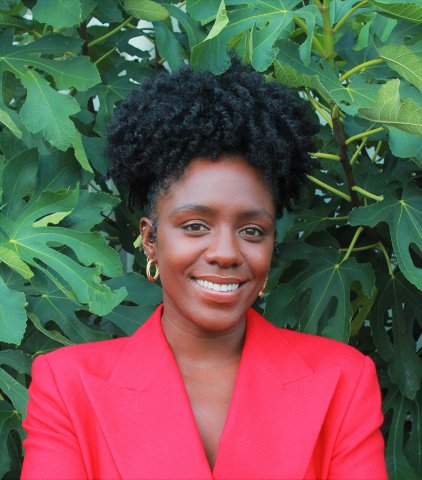 Photo courtesy of Megan Green
Green's own path started out a bit rocky. Born in Philadelphia, she was immediately placed in foster care, where she suffered from abuse. Though she was adopted by a loving family when she was 4 years old, the pain of her early childhood stayed with her, making her teen years a struggle. "I was acting out, getting in trouble in school, until I got the proper tools to productively process trauma," she said. "I think growing up without your biological parents makes you want to show the world that your existence was necessary."
While she was slowly growing her hair care business on the side, Green's career took a different trajectory. In high school, Green learned of a scholarship program with Precision Castparts Corp. (PCC), a manufacturing company that was partnered with her school. She applied, and was granted a full ride to Villanova University, where she studied psychology. "This was literally a dream come true for me," she said. In addition, part of her package with PCC was a paid internship where she could work at the company on her breaks and during the summer.
After graduation in 2013, she transferred to their Portland office, where she worked as a talent recruitment specialist for a division of PCC and managed their scholarship program. "I realized there's not one route to success, but there is a route to being pigeonholed within an industry," she said. "I got to a point where I knew I could read all the books in the world, but I just needed to go to school. I needed to study and do research. Everything is being driven by communication." It was at that point, in late 2015, that she decided that she wanted to go back to school to earn a master's degree, applying to the communication management program at USC Annenberg. She was looking to build her skills in diversity training, but once she joined the program, the focus quickly shifted to her longtime hair care business and creating a social enterprise.
"I was actually scared to be an entrepreneur," said Green. "It was my Annenberg professors who were like, 'No, I want you to take your hair-care business seriously. You can do this.'" This confidence boost enabled her to look at her "hobby" in a new way. She took courses in branding, marketing and crisis management consulting, and also took a few classes from the USC Marshall School of Business as electives.
Partway through her graduate work, though, Green decided she wanted to better understand how to grow her business from an investor's perspective and took some time away from school to travel. She spent four months as a marketing communication intern at a startup accelerator in Cape Town, South Africa. "Here I met business owners from all around the continent," she said. "Just being in the conversations, it was really incredible for me."
Green returned to L.A. with her purpose strengthened; while finishing her degree, she worked toward creating the infrastructure for her social enterprise company. "I gained so much confidence in this master's program because you're solving real-world issues," she said. "I also knew there were people here at Annenberg who would support me."
After graduation in May of 2019, Green fully launched her business, calling it MVG — her initials, but in this case standing for Motivate, Vibe, Grow. She created a podcast and a YouTube channel where she shares DIY, styling and confidence tips. "It's been really cool to show women how to love themselves, in part by reexamining their relationship to their hair and learning how to use inexpensive products found in their kitchen in that hair care journey," she said.
But her mission was broader than only hair care. Green knew from her own experience that confidence and self-esteem — especially for those dealing with childhood trauma — needed to be addressed as well. She started "Crownworkshop" experiences, where she would speak to a group, first in person and later virtually, in order to guide them on how to live well, build self-esteem, and process difficult situations to shift their mindset and perform better. "When we become self-aware, we are open to opportunities for growth," she said.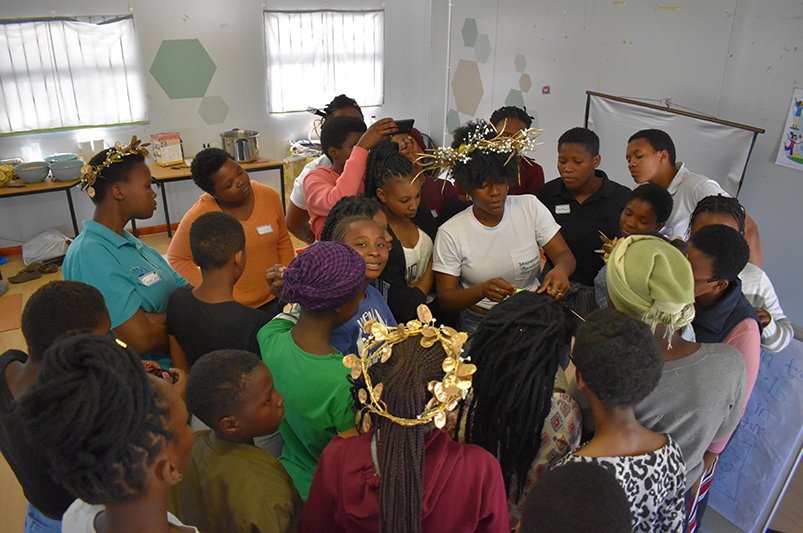 Photo courtesy of Megan Green
Green started the experiences in middle schools in Brooklyn and Los Angeles, but in August 2019 she returned to Cape Town to work with underserved communities in South African townships. "The joy I experienced after a Crownworkshop experience at Sikis' Coffee, the only Black-owned coffee shop in the township Khayelitsha, confirmed that I was moving to Africa to build my vision," she said.
Green's hope is to continue to "create a space for people who are dealing with confidence and abandonment issues in order to learn to live well and understand how this influences their perception of themselves," she said. "I felt like this was my mission: To shift that narrative and show that growth is possible if you stay planted in your journey."