For Maral Tavitian, recent violence against Armenians ignited many elements of her identity: her academic studies, her predilection for justice and her heritage.
Azerbaijan's military offensive to reclaim a long-disputed area between Armenia and Azerbaijan, historically populated by indigenous Armenians, unleashed a wave of humanitarian disasters, including the deliberate destruction of ancient Armenian artifacts, environmental devastation and war crimes. The events also sparked anti-Armenian hate crimes in the United States and France.
Tavitian, who majored in journalism at USC Annenberg with minors in entrepreneurship from USC Marshall School of Business and human rights from USC Dornsife College of Letters, Arts and Sciences, was precisely positioned to understand the many aspects and challenges of the conflict.
A first-generation Armenian American, Tavitian was familiar with her family's stories of the Armenian Genocide by Ottoman Turkey and the anti-Armenian pogroms in Baku, Azerbaijan, the birthplace of her maternal grandparents. "As a great-granddaughter of genocide survivors, I was motivated to pursue journalism because I understand how important it is to bear witness and document atrocities," Tavitian said.
Tavitian's venture into journalism began in middle school and has flourished at USC Annenberg where she has explored immigrant communities in Los Angeles through the city's diverse restaurant landscape.
She credits the school for her mentors and industry-standard experiences. "Annenberg gave me the freedom to pursue any project in any journalistic medium, whether it was hosting a podcast or leading the special projects team," said Tavitian. "It was a creative incubator that developed my identity as a thinker and storyteller."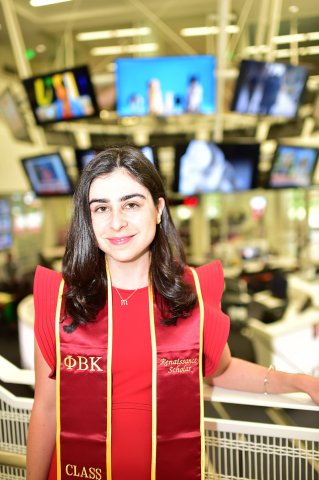 Photo courtesy of Maral Tavitian
Following her graduation in 2017, Tavitian — who was honored with the
USC Renaissance Scholar grant award
, given to 10 students completing an interdisciplinary course of study, as well as the USC Annenberg Outstanding Print and Digital Journalism Scholar award — accepted a full-time job at
CivilNet
. The digital media outlet, which is part of the Civilitas Foundation, sent her to Armenia to launch her reporting career.
After returning from Armenia she wanted to pursue a career that makes a more direct impact, and began studying law at USC Gould. Then, when news of attacks broke on Sept. 27, 2020, she thought of her former CivilNet colleagues who were reporting on the conflict.
"CivilNet is one of the few news organizations providing in-depth, factual and multilingual reporting and analysis on the ground, even as foreign reporters cycle in and out," she said.
Deeply moved by their commitment to telling the stories of Armenians in the Republic of Artsakh, despite the dangerous conditions, Tavitian started a fundraising campaign for CivilNet journalists, with her sister, Lena, also a USC alumna with a degree in economics.
"Much of the U.S. coverage of this conflict lacked important context and local insights, so our goal was to support Armenian journalists with deep expertise on the issue," Tavitian said.
The sisters organized a socially distanced bake sale that raised nearly $10,000 from 74 donors, more than half of whom were not Armenian. Participants received a thank you card with a QR code that showed them how to contact their congressional representatives about legislation to terminate U.S. taxpayer-funded security aid to Azerbaijan, and demand cessation of Azerbaijan's and Turkey's hostilities against civilians during a global pandemic.
Tavitian stresses that reliable reporting is necessary for accountability during a rapidly developing war, noting Azerbaijan's coordinated disinformation campaign. Drawing from her USC Annenberg lessons, Tavitian also initiated a petition to demand that the New York Times report accurately on the conflict. She warned that "Irresponsible journalism legitimizes violence against innocent civilians and dignifies the actions of an authoritarian regime." That petition garnered more than 23,300 signatures.
Finally, Tavitian worked with USC Gould and the Armenian Law Students Association to raise another $10,000 in humanitarian aid for nearly 100,000 Armenian refugees displaced from Artsakh.
These somber and life-changing experiences have only inspired Tavitian's enterprising nature and commitment to hold systems accountable.
"These events prompted me to reflect on how international institutions continue to fail disenfranchised communities, and how I can best contribute my skills to the ongoing quest for justice."