Willow Bay, director of the USC Annenberg School of Journalism, has been chosen by the Los Angeles Press Club to receive its highest honor, the Joseph M. Quinn Award for Lifetime Achievement.
The award is to be presented to Bay by philanthropist and USC Trustee Wallis Annenberg at the club's 57th Southern California Journalism Awards gala in the Crystal Ballroom of the Millennium Biltmore Hotel in downtown Los Angeles on June 28. In attendance will be 550 influential journalists and media executives.
Bay, now entering her second year as School of Journalism director, is a veteran television journalist as well as a digital news editor and author. She was the first woman to co-anchor CNN's financial news program "Moneyline News Hour," and has anchored or co-anchored numerous shows on CNN, NBC, MSNBC and ABC. She helped guide the early expansion of The Huffington Post, where she still serves as Senior Strategic Adviser, and she works as a special correspondent for Bloomberg TV.
Bay is also an author, as well as a highly sought-after moderator at key forums for thought leaders and has led panels with prominent politicians, philanthropists, athletes, cultural figures and CEOs such as Jeff Bezos (Amazon.com), Indra Nooyi (PepsiCo), Howard Schultz (Starbucks) and Larry Page (Google). At The Huffington Post, she interviewed Warren Buffet, Sheryl Sandberg and the Dalai Lama for the site's first global live-streaming event.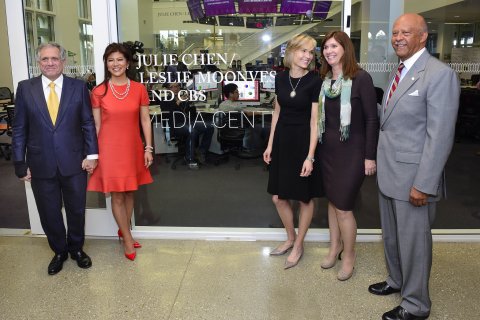 USC / Gus Ruelas
Bay joined the USC Annenberg School for Communication and Journalism in July 2014, the start of a milestone academic year for the school. She launched operation of
the cutting-edge Julie Chen/Leslie Moonves and CBS Media Center
in the new
Wallis Annenberg Hall
, welcomed the inaugural cohort of the school's new nine-month Journalism MS, forged partnerships with key media industry partners and created new curriculum and new fellowships for Journalism master's students.
"She has inspired her colleagues as an anchor and correspondent with engaging, intelligent and insightful reporting. Now she is inspiring future generations at the USC Annenberg School of Journalism. And how lucky we are to have her right here in our own backyard," said LA Press Club President Robert Kovacik.
"The LA Press Club is such a vital part of this city's journalism ecosystem." Bay said. "I am deeply honored to receive the Quinn Award and join the list of remarkable past winners."
The Quinn Award was established in 1979 in the name of the late Joseph M. Quinn, a former Press Club president and war correspondent who built City News Service and founded the club's awards program in 1957. The award has been presented to local and national journalists, including Walter Cronkite, Otis Chandler, Ted Koppel, Tom Brokaw, Ann Curry, Judy Woodruff, Warren Olney and Patt Morrison.
Bay has had more than one successful career, but everything started with an interest in journalism. An interview for an editorial internship at Seventeen magazine launched a modeling career that included a six-year role as Estee Lauder's spokesperson, which funded her education.
She graduated cum laude from the University of Pennsylvania with a B.A. in literature and received a master's degree from New York University's Stern School of Business.
After earning her MBA, the lure of journalism was still strong. A marketing degree fueled her interest in using storytelling to reveal subjects' motivation, character and drive – as well as her ongoing desire to learn more about the world around her and share that knowledge with others.
"It's not a desire that has ever gone away, because whatever I have done has constantly led me back to journalism, even if it was only part-time," Bay said.
She embarked on a broadcast career, working in cable TV until she landed a job for the NBA, co-anchoring the league's seminal newsmagazine "Inside Stuff" every week on NBC. On the weekends, pursuing her love of news, she co-hosted "Good Morning America."
She was then hired by CNN to host "CNN & Entertainment Weekly" and found out the network was also launching "CNN & Fortune," a business news magazine.
Bay recalled how she talked her way into both shows. "I said, 'Well, first off: I'm the only one on the team with an MBA, and I'm a woman, so you know I'm going to work twice as hard, so why can't I do two shows? And they said, 'OK, put it that way – sure! Go for it!' So I did." When CNN's flagship business news program "Moneyline" needed a new co-anchor, Bay was the obvious choice.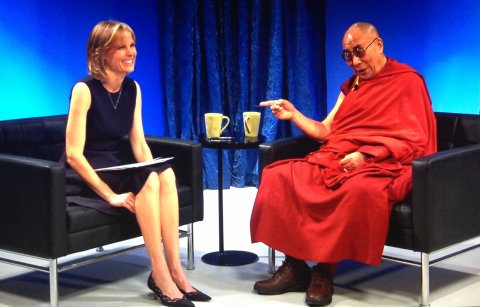 The Huffington Post
In 2007, she tapped her business skills as well as her editorial training to help Arianna Huffington and her partner Ken Lerer expand The Huffington Post. They worked closely to launch a dozen news, business and lifestyle content verticals, including eight metro pages across the country.
Bay said her work at The Huffington Post heavily influenced the way she approaches her post at USC Annenberg.
"The energy and the excitement at HuffPost really shaped my thinking," she said. "It has guided me here at Annenberg to help infuse the school with a culture of collaboration, with a belief in the iterative nature of development. You don't have to launch something that's perfect. You launch it, collect immediate feedback and you tinker with it until you get it right."
She was drawn to USC Annenberg, she said, in part because she has always found enormous satisfaction in supporting young people as they embark on their careers. And now more than ever, she believes journalists need a new kind of guidance.
"I saw a real opportunity to equip students – not just with the skillsets they need, which these days is sizeable – but also with the mindset that's entrepreneurial and risk-taking. Because I want to see our graduates, not only go out and change the world with their reporting, which is critical, but also to change the world of journalism."
Still new in her role at Annenberg, Bay already has developed fellowships for Journalism master's students and launched a new editorial initiative, "What's Working," which publishes and features students' bylined work on The Huffington Post. Bay has worked to introduce Annenberg's faculty and students to accomplished journalists, business leaders and media professionals. A few weeks into her job, she hosted Richard Fisher, president of the Federal Reserve Bank of Dallas, who delivered news-making remarks on Fed policy to students, faculty and reporters.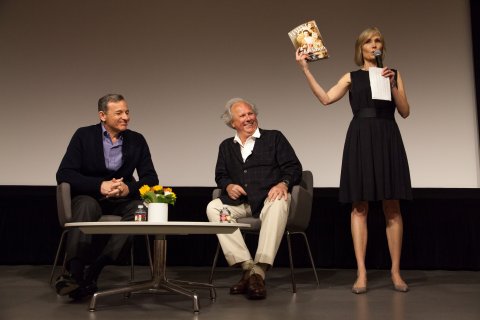 USC Annenberg / Brett Van Ort
ABC News anchor Diane Sawyer, PayPal co-founder and entrepreneur
Peter Thiel
, Vanity Fair Editor
Graydon Carter
, and her husband, Disney Chairman and CEO
Robert Iger
were among the speakers that followed.
For the School of Journalism's Commencement address last month, she invited the internationally revered journalist Jorge Ramos, anchor at Univision and Fusion and one of TIME magazine's most influential people in the world in 2015.
Also last month, she led a trip of 16 undergrads on an intensive, curriculum-based, working trip to New York City, where they met with an array of media professionals, from researchers and journalists to C-suite executives. She co-taught the new Maymester program with the new Director of the School of Communication, Sarah Banet-Weiser.
"I recruited Willow to direct the Annenberg School of Journalism because we needed a leader with her wide experience," said USC Annenberg Dean Ernest J. Wilson III. "She has a vision of what the future of journalism must become and the leadership skills to take us there.
"Willow has been wonderful with our students. She already has launched innovations that will make them even more valuable to leading journalism institutions, and she has proved herself a great team player and a valuable colleague."
A mom of two boys, 12 and 16, Bay also is the author of "Talking to Your Kids in Tough Times: How to Answer Your Child's Questions about the World We Live In," published in 2003.
Also at the Press Club's Awards gala, USC Annenberg students will compete with professional journalists in a roster of categories. Students at Neon Tommy, Annenberg Radio News, Annenberg TV News, and Intersections South L.A. have a total of 55 nominations, more than ever before.
Top photo by Mark Brown for Trojan Family Magazine.