Willow Bay may have been awarded the Los Angeles Press Club's highest honor Sunday night, but she is ready to pass the torch on to the next generation of journalists. Standing on a brightly-lit stage in front of more than 500 of her peers at the 57th Southern California Journalism Awards, the director for the USC Annenberg School of Journalism first gave credit to the 30 awards won throughout the night by student journalists from USC Annenberg's news outlets.
"I want to ask you to help me in guiding this next generation of journalists. They are beginning their careers at what you all know is a wildly transformational moment," Bay said, reminding the audience to be mentors, as they were once mentored.
The Joseph M. Quinn Award for Lifetime Achievement, previously held by journalism greats Walter Cronkite and Seymour Hersh, is the L.A. Press Club's most sought-after recognition. Bay was awarded for her journalism work, including as a television anchor on CNN, NBC, MSNBC, ABC, a correspondent for Bloomberg TV, and an early advisor for the Huffington Post. Bay thanked professional mentors who had helped her along the way, as well as her family.
The award was presented to Bay by philanthropist and USC trustee Wallis Annenberg, who said great journalists have always been skeptics and seekers.
"Willow knows that we need the next generation of skeptics and seekers, the next generation of L.A. press club members to be the disruptors, not the disrupted," Annenberg said.
Annenberg said she believed Bay's position as director of the School of Journalism and her enthusiastic acceptance of the future is what qualifies her for the Lifetime Achievement Award.
In the audience was also USC Annenberg Dean Ernest J. Wilson III, who added that, "Wallis Annenberg did us a great honor by coming to this event," pointing out she receives dozens of invitations.
"The fact that she elected to come to this event, honoring Willow Bay and the school, expresses her real commitment to the Annenberg School for Journalism and Communication," Wilson said.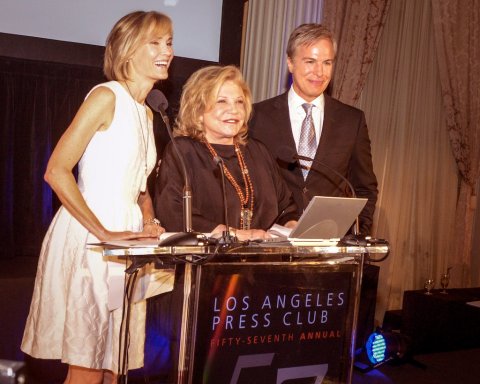 Courtesy of Alan Mittelstaedt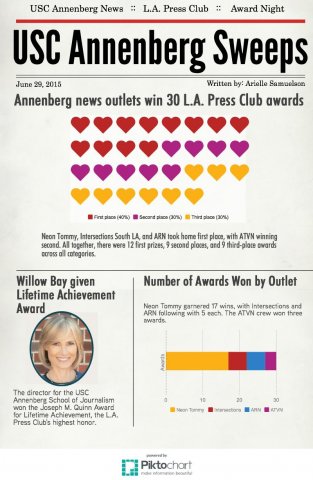 Throughout the rest of the evening, the Millennium Biltmore Hotel ballroom was filled to the chandeliers with Trojan cheers as USC Annenberg outlets took home 30 awards, at an event that celebrates the best and brightest journalists in Southern California. Student journalists won 12 first place, nine second place, and nine third place prizes in categories that pitted them against professional heavyweights NPR-affiliate KPCC, Bloomberg News, and NBC4.
The big winner of the night was Neon Tommy, which accumulated 17 awards and eight first place prizes for its investigative, feature, and sports reporting. Their most prestigious win of the night was Best News Organization Exclusive To The Internet, which placed them over KCET and WestJournal.
"Neon Tommy, leave some for the rest of us," said KPCC reporter Brian Watt, as he announced another first prize for the digital news site.
"We put together a team of editors who demanded the best and also encouraged people to do what they want to do," professor Alan Mittelstaedt said. "And when you combine freedom and excellence you get top awards like everyone here tonight." Mittelstaedt took over from Marc Cooper as director for Annenberg Digital News, after Cooper's retirement this year.
Former Editor-in-Chief Will Federman, now at Fortune Magazine, and Senior Reporter Matt Tinoco won first place twice for their story exposing a problematic new South L.A. hospital, once in the student category and once in the professional category for Best Public Service News.
The judges commented that the piece was, "A serious and well-documented investigation, raising legitimate — and alarming — questions about public policy, health care, community service and public-private partnerships."
"Last night's awards are proof that Neon Tommy has been producing some of the best, most fearless journalism in the Los Angeles area for the last 6 years," Federman said. "I'm incredibly proud of the work the staff produced during my time at Neon Tommy."
In some categories, USC students muscled out other news organizations for both first and second place. Annenberg Radio News (ARN) dominated the Light New Feature category. Jerome Campbell, a recent graduate, won first place for his personal radio story, "As Black As I Wanna Be?"
In the comments the judges wrote, "Growing up other kids made reporter Jerome Campbell ask himself the question, "How black am I?" In this Detours segment, Jerome explores his identity as a black man, and discovers that he doesn't have to feel like being 'black' is relative."
Campbell admitted that he was surprised and relieved when he won for revealing a part of his story that he says others are not always receptive to hearing.
"There's been so many times in my life that I've wanted to engage with that and I've had other people either ignore it or sort of bypass it as an unimportant story," Campbell said. "I think having other people recognize that, something that I was trying to communicate, is amazing."
Victor Figueroa won second place in the same category for "Carl the Bartender Keeps Santa Monica Laughing," a piece that also took first prize for Best Use of Sound.
That brought ARN's count up to five awards, followed by five wins for Intersections South L.A., and three awards for Annenberg TV News, including second-place for Best Multi-Media Package.
Daina Beth Solomon, Editor-in-Chief of Intersections South L.A., said that winning was exciting, but her favorite part was the festive atmosphere. Solomon won two prizes for Intersections, including Best Feature Writing for Youth Media with fellow grad Olga Grigoryants for their story "40 Years for Four Shots."
The judges called it, "A fine and nuanced look at what we did not know about the young man behind the USC shootings on Halloween of 2012, but thought we did. Beautifully written and thoughtfully reported, well beyond college level."
"It was fun just to be here with the whole Annenberg group, and celebrating two years of a lot of accomplishments for the grad students," Solomon said. "It's really encouraging."
The new M.S. Journalism program also saw three recent graduates awarded for their work. Christian Brown, Matt Levin, and Marah Alindogan won second place and two first prizes respectively, for their work in online news and radio.
Student weren't the only ones honored. USC Annenberg professor Marty Kaplan won for Best Commentary, for the Jewish Journal, and M.S. Journalism professor Kelly Goff won with the NBC4 Digital News team for Best Hard News.
You can read a full list of winners at the 57th Southern California Journalism Awards on the L.A. Press Club website.