Willow Bay, veteran broadcaster and digital communication leader, has been officially instated as dean of USC Annenberg and as the Walter H. Annenberg Chair in Communication.
Surrounded by faculty, students, parents, friends of USC Annenberg and leaders of USC, Bay was inducted into office at a ceremony at Town and Gown on Aug. 23. The audience erupted in cheers and applause as she was introduced, at the conclusion of a procession of USC deans.
USC President C. L. Max Nikias heralded Bay, director of the School of Journalism since 2014 and the first female dean of USC Annenberg, as a "gifted leader of singular vision, who thinks beyond borders — beyond expectations."
"As we conducted a yearlong search for our next dean, we kept in mind three qualities I mentioned at the start. Inspiration, which makes us human. Innovation, which drives us forward. And intellectual rigor, which demands truth," Nikias said. "We found our ideal right here at home: Dean Willow Bay."
As head of the Journalism School, Bay launched operation of the Julie Chen/Leslie Moonves and CBS Media Center in Wallis Annenberg Hall, introduced the school's new Bachelor of Arts in Journalism degree program, welcomed the first cohort of the school's nine-month Master of Science in Journalism program, forged partnerships with key industry partners and created new curriculum and fellowships for master's students.
She is an experienced journalist, author, producer, digital news editor and national broadcast and global cable television news anchor – with a career spanning NBC's Today Show, ABC News' Good Morning America/Sunday, CNN's Moneyline News Hour, The Huffington Post and Bloomberg TV.
She holds a bachelor's degree from the University of Pennsylvania and an MBA from New York University's Stern School of Business.
Installation Remarks
Willow Bay, Dean of the USC Annenberg School for Communication and Journalism
Delivered on August 23, 2017
Thank you, President Nikias. I am grateful for the opportunity to lead this remarkable school and to be part of this wonderful university community.
Max, you have done so much to make USC a global leader — a center of scholarship and excellence — and an incredibly special place to teach and learn. You are also the very first person I met here at USC.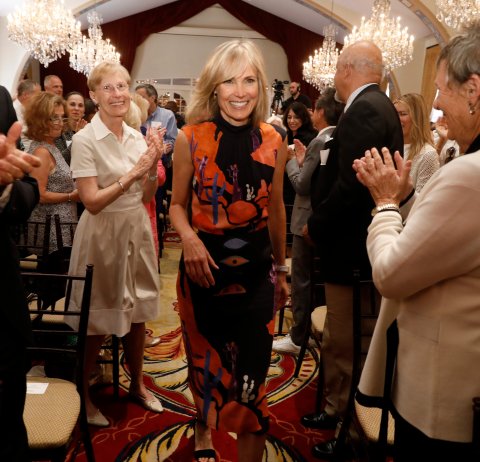 Photo: Steve Cohn
It was 1999, when I was anchoring a show called
Moneyline
on CNN. One of the biggest financial stories of the era was the dot-com boom and how emerging technologies were disrupting traditional industries and creating new ones. That is what brought me to Los Angeles to report on a new academic center at USC exploring the intersection of media and technology.
The director of the new Integrated Media Systems Center was an associate dean of engineering, professor Max Nikias. One area he and his team were studying was immersive, 3-D audio. To demonstrate what it was all about, Max brought me into a special theater where sensory deprivation would amplify the immersive experience of the sound. OK, I thought, why not?
When we got inside, it was so dark I couldn't see my hand in front of my face. And I panicked. My heart was racing and I wanted to run through the pitch-black room and pound on the door. Only the fear of embarrassment kept me in my seat. And then the 3-D sound washed over me like a wave. Max was right; it was amazing.
Some journalists have terrifying stories of war zones. I have the very scary media lab at USC Viterbi.
Max, who could have imagined back then that we would be sharing this day? And a love of this great university?
Who could have imagined that over these past two decades, new technologies would so fundamentally remake our world in ways that even you and your team of brilliant engineers could not have envisioned?
Who could have imagined that communication — both the field and its disciplines — would be at the heart of our culture, commerce and politics like never before?
And that they would create such extraordinary opportunity and such profound disruption?
Who could have imagined that those changes would threaten the core values of our society?
Or that the freedom of the press and the responsibility of journalists to inform the public and hold our leaders accountable would be under siege?
And who could have imagined a time when change is happening faster or more relentlessly than it is right now?
Our world has been re-wired. And no one left us a user's manual. We may not have imagined that we'd be here, but this is a moment made for the USC Annenberg School for Communication and Journalism. This is the moment for us to lead the way forward. —Dean Willow Bay
Wireless communication has spread faster than any communication technology in history. It has been a potent source of fuel for the creation of new mass media, the "frictionless sharing" of online social networks — connecting billions in just a few years.
We have unprecedented opportunities to connect, communicate and access information. Yet many of us feel less connected and less informed. This moment can feel as disorienting as sitting in that pitch-black theater all those years ago.
Our world has been rewired. And no one left us a user's manual.
We may not have imagined that we'd be here, but this is a moment made for the USC Annenberg School for Communication and Journalism.
This is the moment for us to lead the way forward.
Our history has prepared us for this. Just consider the vision of our founder, Walter Annenberg, who said:
The right to free communication carries with it responsibility to respect the dignity of others — and this must be recognized as irreversible. Educating students to effectively communicate this message and to be of service to all people is the enduring mission of this school.
Right there, embodied in Ambassador Annenberg's words, is our charge to use communication to understand the profound changes of our time. Those words remind us of the enduring values at the heart of USC Annenberg's work, a commitment to diversity and inclusion that is in our DNA. It is reflected in the breadth of perspectives and backgrounds among our faculty, staff and students, and in all that we do academically and professionally.
Today, thanks in large part to the vision of Wallis Annenberg, there is no place better equipped to take on this challenge. Our academic rigor puts USC Annenberg at the very top of the world's communication schools. The excellence and energy of our faculty, our world-class facilities and our technological capabilities are second to none. So are our connections with our industries of practice.
New Paradigm
But to lead and navigate rapid change, we need a new paradigm, one that borrows from the world of technology, and from the spirit and energy of entrepreneurs. One that I used frequently managing growth in a new-media start-up.
We need agility, already one of USC Annenberg's strengths.
We need velocity, to generate new ideas, test them and if necessary change course faster than we are used to.
We need discipline, to abandon ideas that do not evolve as we had planned, and the willingness to pivot with purpose and grace.
All of this will create a "dynamic stability," a comfort with continuous change that will help us lead the way into the future.
We are beginning to put this new paradigm into practice. Velocity propelled the launch of our new B.A. in Journalism. We need intellectually and ethically rigorous journalists now more than ever. And our program develops contemporary reporting skills, and emphasizes the core values and ethics of the profession.
With our Julie Chen/Leslie Moonves and CBS Media Center, we have created an infrastructure to support innovation. It serves as a newsroom, classroom and incubator for new ways of reaching audiences. Scholarship and practice are both enriched by sharing the same physical and intellectual space.
This new paradigm will drive three priorities in the years ahead: new foundations, new connections and new conversations.
New Foundations
By new foundations, I mean scholarship and teaching that help us understand today's dizzying changes in communication.
One of the world's foremost communication scholars, who just happens to be our very own professor Manuel Castells, has observed that "any new form of social organization and any process of technological change generate their own mythology" where there is "a gap between social change" and our understanding of it.
We will invest in scholarship to address this gap — it is more like a chasm, really — to define the transformation of communication in the digital age, examining its effects and implications.
That begins by investing in our faculty, our most precious resource — and one on which USC Annenberg's reputation as the world's preeminent school for communication relies.
Over the past few years, we have added faculty with digital media expertise in all of our professional programs. Now, we are adding to our tenure ranks with four new professors joining us this fall. And we will be adding more in the years to come.
We also will accelerate innovation in curriculum and teaching across all our programs — communication, public relations and journalism — using a continuous, iterative process.
I mentioned our new B.A. in Journalism. It's time now to reimagine our public relations program to fully address the transformation of the dynamic and growing PR industry, and the global trends that are shaping its future: closer alignment with marketing, a focus on digital storytelling, and an ever-changing media mix. Every organization not only has the capability but the imperative to make its voice heard. We need to prepare students for careers in a culture in which our stories and messages carry greater influence than ever before.
To continue to attract and train the next generation of communication leaders, we will also expedite the development of new and refreshed graduate programs, a process that is already underway.
We believe that media and news literacy is a core competency in the digital age.
At a time when it is harder to distinguish fact from fiction, and all too easy to ask "Siri," or recirculate a meme, we need to prepare our students to be savvy consumers and ethical producers of information. We have recently developed an interdisciplinary media literacy class blending communication theory and journalism practice, soon to be a required course in all our undergraduate degree programs.
But a fluency with new media tools and techniques is just the beginning. We will develop new courses to grapple with the ways in which new media technologies affect our ability to differentiate fake news from real, to understand the ways in which business models of our "attention economy" shape the design and intent of communication tools and platforms, and to appreciate what that means for users.
New Connections and Partnerships
My second priority as dean will be to broaden and deepen our network of connections, to position ourselves along communication's new frontier.
One critical area of focus will be to form and strengthen partnerships that help build the diverse, creative workforce our changing field needs.
Photo: Steve Cohn
To do that, we will increase our investment in career services and offer our students more opportunities for experiential learning.
Our Student Services team is a hallmark of what we call the Annenberg Advantage, a highly skilled staff working closely with our academic units and leveraging the vast network of our relationships.
Their work is part of the reason our students are sought after by employers. In our Class of 2016, 98 percent of USC Annenberg undergrads and 99 percent of students who graduated with a master's degree were employed within 12 months of graduation.
But that list of employers looks very different from years past. Some of our grads are heading for jobs at places like Apple, Facebook, Google and Netflix. And many more want to follow their lead.
Through a donor-funded pilot program called Annenberg Works, we are forging new connections with the global tech and new-media communities. I am pleased to announce this will become a permanent element of our career development capabilities. The team has established an ambitious goal of engaging with more than 300 companies this academic year; 80 of those will be new relationships.
We will also work to create new connections for our students through immersive professional learning opportunities.
We will expand our two-week Maymester programs, now in New York, San Francisco and Los Angeles, where our students experience firsthand the convergence and disruption in media, communication and web technologies, and imagine their possible place in it. They listen in on the planning behind national ad campaigns, talk with top-level executives or early-career professionals, and bounce ideas off creative strategists.
It is for many a transformative experience. Here is how Keren Marroquin, a first-generation student on our Silicon Valley trip and whose parents migrated from Guatemala, described it:
Many families that come from humble beginnings do not have the expertise in venture capitalism and start-up companies. When your parents are living paycheck to paycheck, they teach you about working harder than anyone else in the room. For two whole weeks the walls that blocked my vision for the future became transparent and permeable.
Experiences like this break down walls for our employers, too, allowing them to learn from a generation that engages with content in entirely different ways. Our students ask well-informed questions — sometimes probing more deeply than our hosts might expect. They may ask an Academy Award-winning filmmaker why his much-anticipated sequel was a box-office disappointment, or an executive at a professional sports league why so few women work there. And sometimes they bring relevant academic theory to practice, offering suggestions, for example, about how an entertainment company might reconsider its efforts to build "para-social relationships." The translation: create better fan engagement.
I see time and again how an employer who engages with our students comes away energized, and challenged to think about her business in a whole new way.
I want more of our students — and more of our employers — to have these shared experiences. I want that spirit of shared learning to infuse all of our new partnerships. This pilot program will become a signature USC Annenberg experience and will inspire new models for partnerships based on shared learning.
We will also create opportunities for a new generation of students, to challenge the way we think about our own business. The most diverse, technologically savvy and technologically dependent generation we have ever seen, Generation Z, is beginning to look ahead to college. We need to understand them better. We want them to pursue communication as a field of study and possible career.
We will expand our pipeline programs for high-school students, building upon the success of our Annenberg Youth Academy for Media and Civic Engagement. Through this free summer program, students from neighboring schools learn about the importance of a free and fair press, and the core skills and values of quality journalism. They also learn to use media to advance a meaningful purpose. We also will develop new opportunities for high-school students in sports media, media literacy and advocacy communications.
New Conversations
Finally, my third priority as dean will be to expand USC Annenberg's presence in the public square, to create new opportunities for conversation, dialogue and debate.
I want us to do more than be part of the conversation. I want us to lead the conversation.
For example, we're incredibly proud of the work of professor Stacy Smith and her students on what she calls the "inclusion crisis." Her research on women and minority representation in Hollywood has been a catalyst for much-needed introspection. We are seeing Hollywood begin to address gender balance in front of and behind the camera in earnest. And I believe we will see real progress in the years ahead.
Our contributions can ignite debate and accelerate positive change. USC Annenberg will invest in creating a portfolio of groundbreaking and news-making research to ground public discourse in accurate, timely and relevant data.
We will amplify USC Annenberg's voice to increase our impact and engage policymakers, industry leaders, influencers and the general public in addressing the pressing issues of this new era of communication. To keep journalism vibrant and valuable. To shape the future of PR. To provide guidance and counsel to those who make policy for the ubiquitous and unpredictable force of new mass media. To help technology companies grapple with the unintended consequences of their massive reach and influence, and encourage them to consider issues such as values, ethics and intent.
We will bring our expertise in cultural theory and criticism to examine issues of race, gender and class as they shape contemporary communication. And we will use that knowledge to guide the media industry and emerging platforms on issues of equity and inclusion.
USC Annenberg must be at the center of all these discussions. And we have the perfect physical space to host them in the soaring forum of Wallis Annenberg Hall. I invite you all to join us.
Our contributions can ignite debate and accelerate positive change.... We will amplify USC Annenberg's voice to increase our impact and engage policymakers, industry leaders, influencers and the general public in addressing the pressing issues of this new era of communication. To keep journalism vibrant and valuable. To shape the future of PR. —Dean Willow Bay
As I take on the role of dean at this moment of profound and often destabilizing change, USC Annenberg's mission has never been more urgent.
I stand here at this new beginning, brimming with excitement, energy and pride in this great school — its faculty, students and staff.
I stand here profoundly grateful.
To President Nikias and the Board of Trustees, thank you for putting your faith in me.
And, Max, to you in particular for creating a USC where our lofty goals are encouraged.
To Provost Quick, thank you for your guidance and support.
To my fellow deans, I am looking forward to learning from you and collaborating with you. And a special welcome to Dean Milton Curry as he takes the helm of the USC School of Architecture.
To the USC Annenberg Board of Councilors, thank you for your dedication to this great school, and for all the guidance I know you will provide in the years ahead.
To my colleagues in the faculty, including my predecessors, former Deans Geoffrey Cowan and Ernest Wilson, I promise to be your champion and partner.
To our staff, thank you for your continued commitment to our excellence.
And, most of all, to our students for inspiring me, for inspiring us, every day.
I am profoundly grateful to be sharing this with my family.
My mother, at the helm of the clan with her wisdom, dignity and grace.
My sons, Max and Will, who, when I discussed the possibility of coming to USC Annenberg with them a few years ago, said, "Go for it, Mom!," and then asked if the job came with football tickets.
And my husband, Bob Iger, who simply says, "How can I help?" I could not ask for anyone better by my side.
Finally, thanks to two men who are not here: Walter Annenberg and my own father, Gene Bay. They worked together many decades ago. I want to thank them for raising daughters to believe their paths had no limits. I am sure they never imagined their two daughters would cross paths in another century.
And Wallis Annenberg, I have saved thanking you for last. You are our hero. Excuse me, our "she-ro." You encourage us to be bold and daring, inclusive and inspiring, and you support us so generously as we do.
I look forward to traveling this road with you. I look forward to traveling this road with all of you.
Thank you.