The best part of a day of service? It usually turns into a day of learning and inspiration.
Students from Southern California high schools got an introduction to the power of personal branding at the USC Annenberg School for Communication and Journalism this weekend.
It was part of a broader USC Alumni Day of SCervice. Members of the Trojan family around the world joined a myriad of projects to make a difference in their local communities.
At Annenberg, students and alums came together for mini professional development and mentoring sessions with students. The focus was on helping them build their personal brands.
What inspired me the most as an alum was the number of students who have already started their own businesses. They shared savvy social media tips for how they market their businesses.
An Instagram influencer with a large following shared what she learned from working with various brands and how to maintain her authenticity with her followers.
A provider of babysitting services talked about marketing her business on Facebook, because that's where her mother's friends, her potential clients, are on social media.
A maker of children's toys talked about his plans to scale his business more broadly, and how he's reached people through social media.
Annenberg's Leticia Lozoya and Jaime Carias designed the delightful day, bringing together 40 alums and 40 students from partner high schools throughout the Los Angeles area.
Al Naipo on personal and professional branding
Veteran news reporter Al Naipo kicked off the morning's speakers. After many years with FOX 11 news, he launched his own business and he led communications for Los Angeles County Supervisor Mark Ridley-Thomas. He's now the Chief Administrative Officer at the Los Angeles Memorial Coliseum Commission.
Al focused on sharing how to maintain professionalism with your personal brand when you're in the spotlight — whether it's politics, business, education or any arena of life.
He started by sharing a newsroom phenomenon — a large display listing reporters' social media followings, and how everyone ranks compared with their colleagues as well as competitor newsrooms. A social media presence is critical for journalists to be effective today. By extension, the same could be said for all professionals.
Al told several compelling stories, including how career opportunities had come to him based on the power of his LinkedIn profile. Here are a few of Al's nuggets of wisdom:
Your social media presence could be a make-or-break reason to get a job
Everything you do has to do with branding and how you're seen by others
People view your work life and your personal life as all one thing
Stick with your brand, because people associate it with you
Social media is a powerful way to connect directly with almost anyone
Ashley Tesoriero on the power of your personal story
A national marketing specialist at IMT, Ashley Tesoriero told the group the secrets to sharing your personal story, even if you see yourself as a more private person. She emphasized the importance of tying your personal and professional life together make one.
According to Ashley, your personal brand is, "your online and in-person resume you present to the world."
She encouraged everyone to figure out what their story is, and what medium(s) best capture it. For her, it's Instagram, LinkedIn and her WordPress website.
How do you get to your story? It starts with reflection on your mission, vision and values. Ashley led the students through an exercise to begin thinking about these big-picture questions of what they want their lives to be about.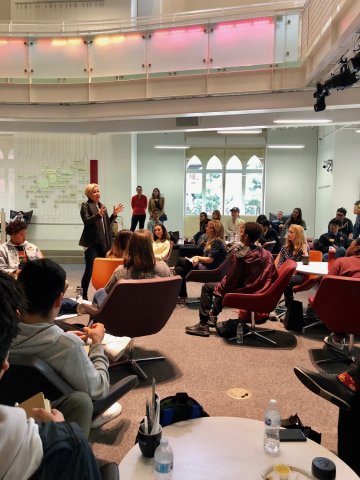 The group outlined their personal experiences — complete with challenges, opportunities and who they are in their communities — in order to establish their personal brands.
Emma Forbes on the power of a personal brand
Students got to practice their "one-minute me" pitches during the lively closing session with Emma Forbes. She's a radio and television presenter from the United Kingdom, and the parent of a current Annenberg student.
Emma told compelling stories of her own career journey to help students shape and package their personal stories to launch their personal brands and be a positive influence in a social media world.
When pitching a "one-minute me," Emma said not to read a list of qualifications. Instead, she advised, "talk about where you come from, where you're going, and what you'd like to do."
She called these the defining moments that happen in a face-to-face setting pivotal moments in everyone's careers.
"You need to be the face of your brand," she said. "No one can sell it better than you. Be you and speak your view."
What do you do when nerves get the best of you?
Start with deep breathing
Make eye contact
Pause instead of saying "um"
Clasp your hands front of you
"You need nerves," according to Emma.
Then the emotional, electrifying moment arrived.
She asked what would have happened, "if I wasn't nervous about meeting you today?"
If someone so accomplished, so authentic and so poised felt nervous about speaking to students and alums, then there is hope for all of us.
Bring on the nerves!