A documentary that looks at a provocative new theory about when the first people came to North America was produced by Annenberg faculty members Dan Birman and Megan Chao. But they did so at a time when the nature of documentary as a media form is changing.
"It's a new day for documentaries," said Dan Birman, professor of professional practice. "They have evolved significantly since their beginnings more than 100 years ago."
Birman and Megan Chao '08, who co-teach a documentary filmmaking class, recently finished their latest documentary, Breakthrough: The Earliest Americans. This was in partnership with CuriosityStream — a service founded by John Hendricks, the former chairman of the Discovery Channel that streams nonfiction documentary-style programming.
"We are watching a new generation of executives who are looking at different ways to program using traditional and non-traditional platforms," Birman said. "Historically, for example, it never would have been the case that you would bring an actor into a documentary," he continued, "but now, we have a lot of scripted content that gets mixed in with factual content."
The Earliest Americans project emerged after it was reported that 130,000-year-old mastodon bones were discovered by scientists and anthropologists at the San Diego Natural History Museum.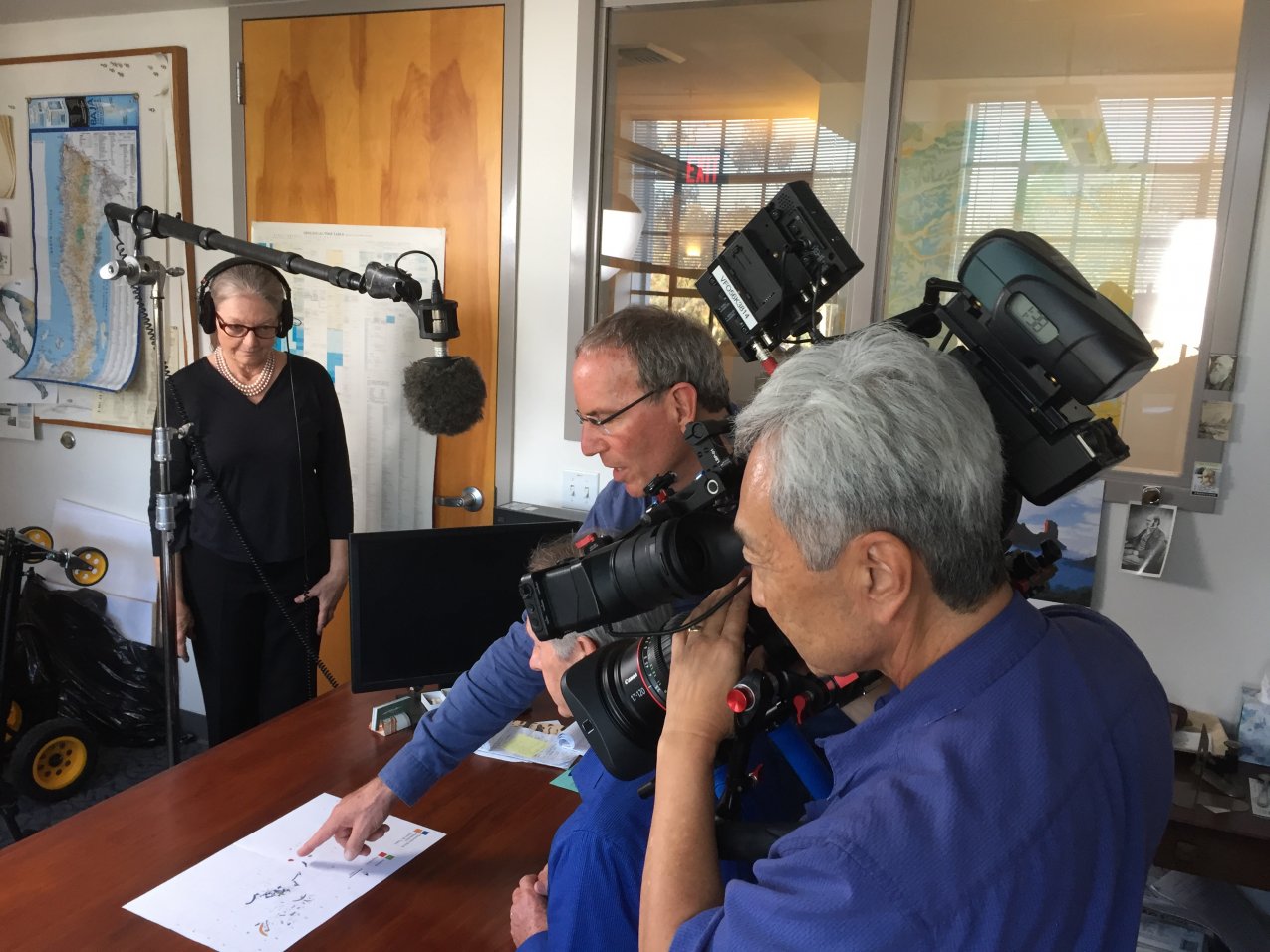 Photo by: Susy Garciasalas Barkley '06
"The story was interesting because it was controversial," Chao said.
According to Chao, the general understanding about paleontology and the history of the 'peopling' of the Americas is that humans got here sometime between 12,000 to 15,000 years ago. "For a group of scientists to suggest they have evidence that pushes that timeline back to 130,000 years ago," Chao said, "was a huge discovery in the field of archaeology and anthropology today."
The nature of the story was hard to visualize, which made it a great fit for their company. "We have a long-standing reputation for taking on difficult subjects and making them entertaining," Chao said.
Additionally, said Chao, "Our team really had to vet this information and cross-reference legitimate sources to make sure we could put this out there as fact. There are a lot of scientists who still think this is a bogus claim. So naturally, what a great topic for a documentary."
"Storytelling is always the main objective," Birman said, "but streaming services can be bolder because their audiences tune-in for something that they're not getting from broadcast and time constraints are no longer an issue."
As faculty members, Birman and Chao take what they are working on in the field to the classroom.
"We are an active test lab for what we teach," Birman said. "We are constantly monitoring what is going on in the marketplace. We then show journalistic best practices on how long-form gets done."
Birman and Chao are often in production on a project during the school year and are able to share raw footage and rough cuts to demonstrate in real-time how they go about assembling a documentary. The students also have the chance to watch documentaries, meet documentarians, and ask questions, all while they are producing their own pieces.
"Most of all," Chao said, "these students get to see that a future in documentary filmmaking as a career is possible. Seeing how it gets done professionally and then showing that they're taking the very same steps makes it real — not just something theoretical."
In the end, Birman added, "The key for all of us, as journalists, as documentarians or filmmakers, as academics, is to look at how things have been done, but then how to make them innovative in today's marketplace."