Next year, the Library Foundation of Los Angeles will celebrate the rich — and untold — history of restaurants and food in the City of Angels with "To Live and Dine in L.A.," an exciting new project led by USC Annenberg Professor Josh Kun. The project will spotlight the Los Angeles Public Library's vast menu collection.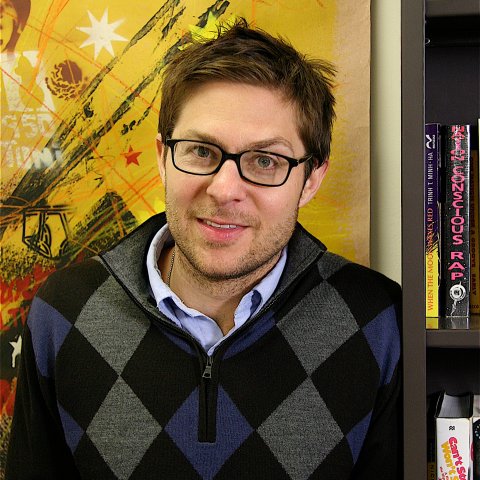 The second in a series of collaborations between the Library Foundation and the Los Angeles Public Library, the project will launch with the publication of the first-ever book on the history of restaurants in Los Angeles written and edited by Kun and published by Angel City Press. Throughout 2015, the Foundation and Library will further celebrate the food history of L.A. with a major exhibition at Central Library and diverse public programs throughout the city that will all help raise awareness of food politics and food insecurity in contemporary Los Angeles.
"As we demonstrated last year with our sheet music collection, the Los Angeles Public Library is the place to discover the richness of our city's history and with that knowledge, consider its future," City Librarian John F. Szabo said. "Again this year, we are pleased to work with a true Los Angeles scholar, USC [Annenberg] Professor Josh Kun, to reveal even more library treasures to educate, celebrate, and inspire."
For over a year, Kun and a group of his students, working with librarians from the Central Library, combed the Library's roughly 9,000-piece menu collection, piecing together an unprecedented history of how, where, and what people ate in Los Angeles over the past century.
The book, "To Live and Dine in L.A.: A Century of Menus from the Collection of the Los Angeles Public Library," will include a forward by chef Roy Choi and contributions from chefs Jaime Martin Del Campo and Ramiro Arvizu (La Casita Mexicana), Cynthia Hawkins (Hawkins House of Burgers), Susan Feniger (Border Grill, Mud Hen Tavern), Nancy Silverton (Campanile, Mozza), Sarintip "Jazz" Singsanong (Jitlada), Joachim Splichal (Patina), and Micah Wexler (Wexler's Deli); restaurateur Bricia Lopez (Guelaguetza); culinary historian Charles Perry (Culinary Historians of Southern California); George Yu of the Chinatown Business Improvement District; Staci Steinberger, Assistant Curator of Decorative Arts and Design at LACMA; and Alexa Delwiche of the Los Angeles Food Policy Council.
The book and exhibition will also feature rare first edition menus, menu templates, and menu printing materials just donated to the Los Angeles Public Library from The Lord Menu Company, which designed, printed, and delivered menus daily to L.A. restaurants — including Bob's Big Boy, The Brown Derby, and Perino's — for most of the last century.
Following the success of last year's "Songs in the Key of L.A." project, "To Live in Dine in L.A." officially launches the Library Foundation's "Mining the Los Angeles Public Library" book and programming series, for which Kun will serve as editor and curator.
To explore the menu collection and other special collections, visit lapl.org. And in the coming weeks, visit toliveanddinela.com for more information about the "To Live and Dine in L.A." project.
Spread the word and join the conversation about Los Angeles' food history online by tagging your tweets and posts with #ToLiveandDine.
Photo credit: Flickr / Basheer Tome