By:
Melody Kim
B.A. in Public Relations
There are milk jugs everywhere. I have about 220 in my basement, another 50 are in the backyard, and a few loose ones are lying in my car. I still need a few more, but soon I'll be ready for Troy Camp's annual fundraiser, Pass the Can, where we send an empty milk jug through every aisle of the Coliseum during halftime at the homecoming game. All of the spare change and contributions go toward Troy Camp, USC's oldest student-run philanthropy.
 
I live in a house with seven other girls, all of whom hold leadership positions within Troy Camp. Some of my housemates are cabin counselors, which means that they are responsible for taking 9 or 10 elementary school kids to our free summer camp and also to our Kid's Events throughout the year. These events include a day at Disneyland, the USC homecoming game, and trips to local museums and parks. One of my housemates runs a weekly afterschool arts program at West Vernon Elementary School for Troy Camp. Another designs and directs every Kid's Event, which involves all 187 of our campers and then another 100+ counselors meeting up every few weeks for a fun and educational day trip. My roommate is in charge of recruiting our 3rd, 4th and 5th grade campers from 19 local elementary schools, and my other housemate manages the finances for Troy Camp. She makes sure that we stay within our budget, manages our endowment and reimbursements, and keeps track of any donations.
Collectively, we probably invest enough time into Troy Camp to consider it a part-time job. Despite the long hours, every day I am reminded of how rewarding it is to be a part of it all. Troy Camp is an organization that's based on a few simple principles: mentorship, education and fun. You only get to be a kid once. Throughout childhood, our parents, teachers and older siblings are responsible for crafting our self-image. These mentors help us envision our future and the specific talents that we can offer to society. Our older, wiser mentors tell us how we can change the world -- not how the world will change us. We ask the kids at Troy Camp, "What college do you want to go to?" We never ask, "Do you want to go to college?" Everything we do focuses on inspiring our kids to stay in school, remain curious, and set ambitious goals for the future.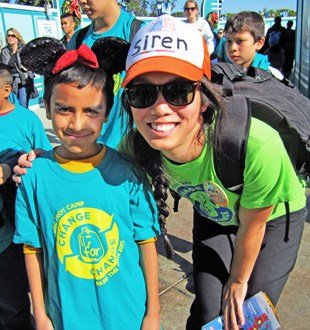 If you attend one of our Kid's Events, you'll see our signature spectacle at the end, titled "Double Dare," where Troy Camp counselors are fully immersed in some sort of messy activity usually involving eggs, chocolate syrup, whipped cream, mustard, or some other mixture from the Chipotle condiment bar. As the kids laugh at our misfortune, we conclude each Kid's Event on a happy and sticky note.
Beneath the smeared chocolate syrup and the dried egg yolks on our faces, Troy Camp counselors carry a high degree of professionalism. We are constantly switching between acting goofy and carefree with our kids and then serving as mature role models. We also consider ourselves to be important liaisons between parents, donors and the USC administration.
As Director of Fundraising, I coordinate massive fundraising efforts. These efforts include Pass the Can at the homecoming football game as well as our annual spring gala. For the first event, I work with USC Athletics, corporate sponsors and USC fans. For the other, I reach out to older Troy Camp alumni and their families as well as venerated Troy Camp supporters. Given the diversity of my audiences, I have learned how to best target and communicate with the people that I need to reach. In addition to a place of mentorship, Troy Camp has truly become an outlet for me to practice what I learn in the Annenberg public relations classroom. When I pitch sponsorship opportunities to local businesses, I use the PR skills that my professors teach me every week in class. I also remember comments from guest speakers as I forage my way through the marketing and social media realm. I even use some of the event planning templates from lecture handouts. Everyone could use an occasional dose of public relations advice: Don't short sell your audience, check your facts, recognize and deal with resistance, and always follow up.
My favorite Troy Camp memory brings me to a cold, foggy morning at 5 A.M. I was helping out a cabin of 5th grade boys who had all agreed to line up for breakfast two hours early for the sole intention of winning the prized "Be on Time Bunny," a stuffed animal given to whichever cabin was consistently on time for meals and events throughout the day. In the crisp morning darkness, the boys quickly began to see the reality of their brave yet demanding decision. To regain our focus, I called them over to do some yoga. As other cabins began to arrive, everyone saw us doing the Triangle Pose and Warrior II in silence as the sun rose over the mountains.
Without a doubt, Troy Camp has been the highlight of my time at USC. Aside from growing personally and professionally, every day I am given the opportunity to make a positive difference in my community. While we want the kids at Troy Camp to simply enjoy being a kid, we also encourage them to set goals and work toward reaching them. Most important, we empower them to dream big.