By:
Brenna Clairr O'Tierney
M.A. in Strategic Public Relations
Daphne Wang devoted the first 20 years of her life to the violin. As a classical violinist, Wang spent much of her youth in private lessons, orchestra and symphony rehearsals, and more concerts than she can count. But after majoring in violin performance in college, working as a teaching artist for the Los Angeles Philharmonic, and serving as an assistant to the renowned violinist, Midori Goto, she realized in the midst of her doctorate program in violin performance, music business, and music education at the USC Thornton School of Music that she might be interested in a career outside of music. 
That's when she decided to explore an entirely new field -- public relations. After becoming inspired by her music mentor's media savvy, she entered the MSPR program at Annenberg. As soon as she enrolled in Professor Jerry Swerling's Introduction to Strategic PR course and fell in love with the strategic planning model, Wang knew that she had made the right transition. 
Wang has no regrets about drastically changing her career path. While at Annenberg, she interned at Rogers Finn Partners and even landed a job there after she graduated from the program in 2008. She also interned in Hong Kong during her time at Annenberg as part of the International Program. While in Hong Kong, she worked at APCO Worldwide, an independently owned global communications agency with headquarters in Washington D.C. and roughly 600 employees in 30 offices worldwide. 
She stayed in touch with her co-workers at the agency following graduation, and after four years of working in L.A. with Rogers Finn Partners, she decided to mix it up and move to New York City for an associate director position at APCO. Now Wang focuses on corporate communication, issues management, and media relations for a variety of clients, handling everything from issues in the healthcare industry to sustainability and corporate social responsibility in the food and beverage sector.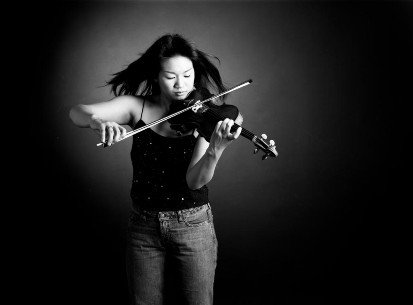 While her day-to-day work changes on a constant basis, she regularly works with top-tier national media on behalf of her clients, handles a variety of account needs, and specializes in corporate reputation building and proactive media relations campaigns to build and improve public perceptions of non-profits and companies across a number of industries.
Wang is also expected to participate in a large number of new business pitches, which she loves. 
"It's a chance to get creative, come up with awesome or wacky ideas, and be brave," said Wang. "It's so fun to sit down and just brainstorm ideas with your team members after a potential client submits a request for proposal. In fact, the brainstorming sessions where we decide how to respond to the client's request are very similar to what we did at Annenberg -- from media planning and developing strategies to branding, and eventually coming up with a cohesive and compelling story."
She enjoys traveling for new business pitches and also travels frequently for her existing clients. During a particularly busy time last year, she was on the road for 20 days over the course of only a month. While this isn't the norm, it certainly keeps Wang on her toes. 
"It's easy to get in a rut with your own accounts if you're doing the same thing all the time," said Wang. "That's why it's absolutely crucial to meet new people and learn from your colleagues. It's important to keep it fresh – to keep learning, pick people's brains, and collaborate on accounts that you may not even be assigned to -- that's how you grow as a professional."
Wang credits the MSPR program for teaching her how to think in a creative way about strategies that are not only unique but executable as well. 
"The professors fostered an environment that allowed me and my classmates to take chances and not be afraid to come up with something that had never been done before," said Wang. 
Wang loves working in the PR field because she never has a "typical" day. 
"I've always had a fear of growing bored in my career," said Wang. "As a musician, I would sometimes wonder if I could handle performing some of the same masterpieces over and over for the rest of my career. But I have never felt that way in PR. There's always another twist, an added dimension to think about, and the media landscape seems like it literally changes multiple times a day." 
While Wang's life no longer revolves around playing the violin, she still loves classical music and often takes on weddings gigs for fun. In addition, every summer she helps out at a music camp in Northern California where she shares her musical gifts with special needs children. 
She may not be playing at Carnegie Hall, but music definitely holds a special place in Wang's heart. She has even found a way to combine both of her passions -- now she puts her PR skills to good use and attempts to help her musician friends promote their concerts and careers. It's clear that just like the name of her blog, Wang is finding life in the PR world to be perfectly pitched.