By:
Jesse Switzer
M.A. in Strategic Public Relations
I've had a passion for politics for as long as I can remember. It really blossomed in high school when I began playing an active role in student government. I later became the founder/editor-in-chief of the school's only politically oriented newsletter, The Blacklist. The publication was named in honor of my high school's founding parents who were members of Hollywood's blacklist during the McCarthy era.
Originally poised to enter the music industry, first as a film composer and later as a talent executive at the William Morris Agency, I was eventually drawn back into the political arena after volunteering for the Kerry-Edwards campaign in Las Vegas when the Advance Team recruited me to help with events for Senator John Kerry and President Bill Clinton.
After the campaign ended I came back to Los Angeles and worked on a number of grueling jobs ranging from environmental canvasser, to field operations manager, to campaign manager. After helping elect then school board member Julia Brownley to the California State Assembly, I became her Senior Field Representative, making me one of her top advisors and liaisons to the community.
When I returned to school to earn my master's degree in public relations at Annenberg, I didn't want to stray too far from life in politics, which is why I was fortunate to land a position with USC's Southern California Earthquake Center (SCEC) as its government relations officer. For my job at SCEC, I help create earthquake safety awareness and increase government participation in the earthquake drill known as The Great California ShakeOut.
Initially a Southern California event, the ShakeOut drill has grown exponentially to become the largest earthquake preparedness exercise in the world. The drill is based on a detailed scenario of a 7.8 magnitude earthquake on the infamous San Andreas Fault, which is responsible for many of Southern California's tremors. The ShakeOut is California's annual opportunity to practice the three most important safety steps during an earthquake – drop, cover, and hold on. The 2012 Great California ShakeOut took place on October 18th, and it had over 9.4 million registered participants. Boasting a worldwide participation total of nearly 13 million, ShakeOut events have occurred in over 15 different states and several countries around the world including Italy, New Zealand and Japan. 
My responsibilities as the government relations officer at SCEC revolve around three separate activities: recruitment, event planning, and statistical reporting. I spend a lot of time recruiting elected official offices for the ShakeOut and ensuring that they communicate with their constituents about earthquake safety. In addition, I'm on the phone with political staffers (many of whom I know from my time in the assembly), providing them with information on the ShakeOut and encouraging them to participate. When a public official shows particular interest, I coordinate with his/her offices to host district events on disaster preparedness. This past year, State Senator Carol Liu's office reached out to the senior community, an especially vulnerable population during a major crisis. The rest of my day is often spent registering government offices such as state agencies and county offices, drafting talking points, keeping the ShakeOut database clean, and reporting annual progress surrounding government participation.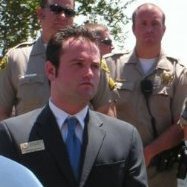 My job at SCEC has provided me with an incredibly unique and rewarding work experience. Rather than starting from a place of conflict or competition, I am engaging Democrats and Republicans as well as progressives and conservatives on one of the few issues that they all agree on -- public safety.
The primary purpose of government lies in safeguarding its citizens from harm, and we often turn to elected officials during times of crisis. It is extremely fulfilling to serve a key role in the process of educating our elected officials so that they can serve their constituents effectively and with compassion throughout an environmental disaster.