By:

Brenna Clairr O'Tierney
M.A. in Strategic Public Relations
Marissa Borjon considers her time in Annenberg's MSPR program to be the two best years of her life. That's why she is committed to giving back to the community of students and faculty that gave her so much. She regularly volunteers to chat with accepted students and answer any questions, sits on numerous alumni panels, and often participates in career fairs on behalf of Golin, the global PR agency that she has worked at since 2010.  
Borjon's passion for mentoring and helping others succeed doesn't just exist in her personal life -- she brings the same enthusiasm and drive to her job as a media associate on the automotive team at the Golin L.A. office.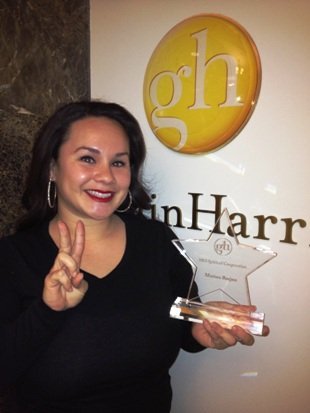 That's why she won the 'Spirit of Cooperation' award at this past January's Western Region Golin Offsite. The all-day event brought together employees from the agency's Orange County, L.A., and San Francisco offices, as well as its remote employees from other areas in the western region. The event featured a recap of the year's achievements, previewed upcoming campaigns and events, provided agency updates, and gave everyone a chance to interact with colleagues from other offices in-person. Icebreakers, discussions with groups of employees from a variety of teams and offices, and keynote speeches from CEO Fred Cook and President, Americas Gary Rudnick were also part of the agenda. 
The event included the announcement of various employee awards for work done during the past year. Last fall, Judy Johnson, President, Western Region, sent an e-mail to all western region employees and asked for nominations of select employees who had demonstrated exceptional performance in every aspect of the business. Borjon had no idea that she had been nominated for the 'Spirit of Cooperation' award until Johnson announced her name at January's Offsite. Numerous peers and supervisors nominated Borjon for the award, which was given to three employees who demonstrated a commitment to strategic problem solving, acting as a supportive and inspiring team player, providing exemplary client service, offering a consistent can-do attitude, and going above and beyond the required job duties.  
"It was very humbling to receive this award," said Borjon. "It speaks to my overall attitude and personality within my position. I'll volunteer for anything and help with any task -- big or small. The award also represents the team and client success that I've had the opportunity to contribute to in a meaningful way." 
Borjon started working at Golin's L.A. office as an intern in 2010 during her final semester in the MSPR program after Annenberg PR Program Director Jerry Swerling sent an e-mail to current students alerting them of an internship opening at the agency. 
Borjon aced her application interview and started interning in March. By mid-April, the agency offered her a permanent position, so she graduated on a Friday in May and started working full-time the following Monday.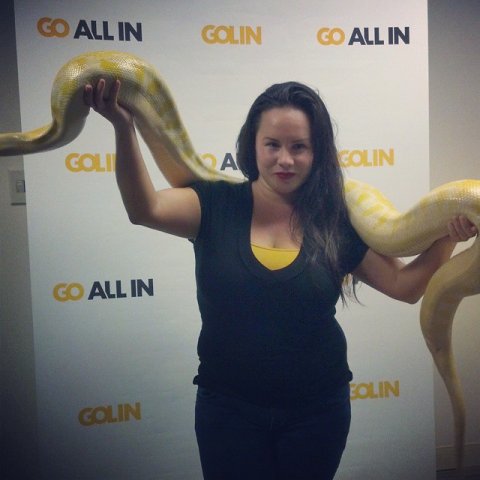 "None of this would have happened if it weren't for Jerry Swerling," said Borjon. "I wouldn't have known about the internship if he hadn't sent that e-mail, so I can't thank him enough."
Borjon said that the MSPR program helped hone her relationship management skills, which transferred over to media relations building. This area of PR is a crucial part of her current job. 
"The program also took my writing skills to the next level, and Jennifer Floto's 'Writing for PR' class was definitely a game changer for me," said Borjon. "My co-workers ask me to proofread documents all the time, and now I am able to not only feel confident about editing, but I am able to do it efficiently and provide real value."
While Borjon graduated from the MSPR program in 2010, she says that her experience at Annenberg will stay with her for the rest of her life. 
"You don't realize what a special community it is until you're away from it and in the working world," she said. "I joke that I would live at Annenberg if I could, but it's partially true! Bottom line, the program prepares you to take on anything and everything and truly thrive."