For Ashley Cooper, USC isn't just the name on her college degree -- it's a way of life. Cooper received a B.A. in Communication and Public Relations from USC Annenberg, and she met her husband at a USC baseball game at Dedeaux Field during her sophomore year. After graduating in 2006 with an M.A. in Strategic Public Relations, her ties to the university grew even stronger. She landed a position as a marketing and events coordinator at the USC Career Planning and Placement Center before transitioning to a development role in the Corporate and Foundation Relations office of the USC Dana and David Dornsife College of Letters, Arts and Sciences.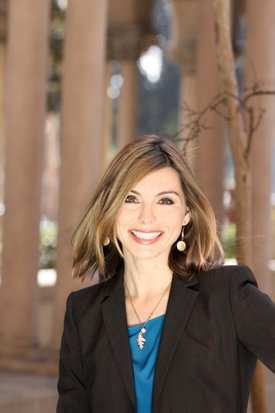 Cooper, who went by her maiden name of Ashley Harvel when she attended USC, is also active in the Trojan Junior Auxiliary, the USC Alumni Club Regional Board of Los Angeles, the USC Alumnae Coordinating Council, the USC Women's Conference, and received the USC Widney Alumni House Award in September 2012 for her service and dedication as an alumna. In short, Cooper bleeds cardinal and gold.
In her current role as Director of Corporate and Foundation Relations at Dornsife, Cooper is responsible for the identification, cultivation, solicitation and stewardship of corporate and foundation donors to the Dornsife College. She works with faculty, staff and administrators to develop strategic campus partnerships and innovative grant proposals to advance Dornsife's priorities within the Life and Physical Sciences departments. Cooper also collaborates with academic units across the university to manage donor relationships and develop interdisciplinary opportunities.
Cooper spends about half of her time in the office and the other half meeting with faculty and staff or potential funders. She says that success in her role relies on strong listening skills and acknowledging both the potential funder's needs as well as her own.
"I'm really playing matchmaker in terms of what we're seeking funding for and what a foundation or company is willing to support. We both have agendas, and my job is to figure out if we can align them in some way," said Cooper.
Cooper uses much of what she learned in her PR classes at Annenberg on a daily basis, and she often refers to the infamous 'Strategic Planning Model' whenever she faces a challenge. She also becomes the official layperson in the office when asked to translate complicated scientific messages or other academic news to funders in terms that a non-researcher can comprehend and appreciate.
"I am constantly trying to make sure that I'm telling a story. What's our hook? What's the impact and why does it matter?" said Cooper. "Then, if we are fortunate enough to receive financial support, it is imperative that we honor the donor's intent and also convey back to them a meaningful story about how the funds were used and why their support matters. You can never say 'thank you' too many times."

Cooper jumps at the chance to put her PR skills to the test when it comes to relationship management, key messaging, branding, and audience identification. 

"Instead of pitching a journalist a story, I'm pitching a funder an idea that has value for everyone involved," said Cooper. "In order to do this successfully it comes down to knowing your audience and speaking in their 'language' so that your message gets through in an authentic way."
Developing the ability to trust her gut has played a crucial role in Cooper's work.
"You have to be genuine," she said, "because people know when you're not. It's a fine balance between purposefully conveying your message and pacing it appropriately to give people plenty of time and space to receive it and take action."
At the same time, she often has to remind herself that not everything can be funded. Some programs have to end because donors can no longer support them due to a variety of issues.
"Maybe it's just not a good fit, and you have to move on and focus on another organization that may be more in line with our programming needs. Discretion is key," said Cooper.
Cooper loves her job since it allows her to give back to the school that has given her so much. Thanks to numerous scholarships and an Annenberg Fellowship, she was the first person in her family to not only attend college but receive a master's degree as well.
"Education is a huge passion of mine, and having the opportunity to go to USC definitely changed my life for the better," said Cooper. "It's a wonderful feeling to know that my work has a positive impact on students and faculty on a regular basis."
Her advice for current students? Stay in touch with your networks and give more than you receive.
"You never know who has the key to a new opportunity," said Cooper. "Nurture your contacts like a garden and keep your eyes and ears open -- you could be pleasantly surprised by what's right in front of you."