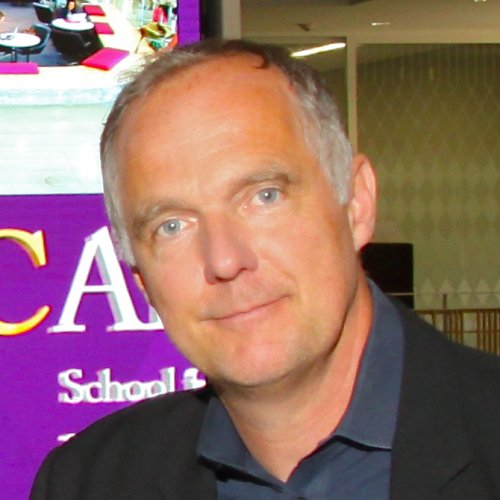 Burghardt
Tenderich
Professor of Professional Practice; Associate Director USC Center for Public Relations; Director of Masters of Strategic Public Relations
Program
Public Relations (BA)
Strategic Public Relations (MA)
Phone
213-740-0446
Office
ASC 227B
More

Burghardt
Words to live by
Scio Nescio
Download

CV
Expertise
Changing News Industry
Disruption and Innovation
Emerging Media
Information and Communication Technologies
Marketing
Media Entrepreneurship
Public Relations
Transmedia
Center Affiliation
Center for Public Relations
Media, Economics & Entrepreneurship
Burghardt Tenderich is a Professor of Professional Practice and the Associate Director of the Strategic Communication and Public Relations Center at the University of Southern California's Annenberg School for Communication. He's the author of Transmedia Branding, USC Annenberg Press 2015, together with Jerried Williams. Prior to joining the USC faculty, Burghardt Tenderich was the executive director of the Center for Entrepreneurship & Technology at the University of California at Berkeley, where he lectured on technology innovation. He has over 20 years of experience in marketing and communication in the information technology and Internet industries, both in the United States and Europe. Previous positions include General Manager, North America, for technology communications consultancy Bite Communications; Vice President, Public Relations at Siebel Systems; and Senior Vice President and Partner at technology PR agency Applied Communications. He holds a Ph.D. in Economic Geography from the University of Bonn, Germany.
Areas of interest:
Public relations and strategic communication are evolving and maturing rapidly, as recent advances in Internet publishing and multimedia content production are disrupting the 20th century media industry. New media technologies enable innovative business models, and everyone is invited to explore their entrepreneurial spirit.
My interests focus on emerging practices and concepts in this dynamic industry. I consider myself a conduit between academia and the professional world.
At Annenberg, we work closely with innovative companies and organizations to track and help shape the emerging communication environment. A particular interest of mine is a new concept called Transmedia Branding.
Our research and teaching prepares students for successful careers in public relations, marketing communication and other media industries, or to start their own media company. Guiding principles include critical thinking, research for insights, strategy and ethical conduct.
Recent publications:
Tenderich, B., Williams, J. (2015)Transmedia Branding, USC Annenberg Press, eISBN: 978-1-625179-06-7

Tenderich, B. (2015) "Why Study Public Relations?" Public Relations and Social Media for the Curious, 1st edition, ISBN: 978-1-925128-20-8, chapter 5

Tenderich, B. (2014) Transmedia Branding, European Institute for Media Optimization, Nierstein, ISBN: 978-3-981633

Tenderich, B. (2014) "Storytelling für Märkte – Transmedia Branding," in: Herbst, Dieter-Georg. Storytelling. Konstanz, München, 3rd edition, ISBN: 978-3-86764-439-6, ISSN 1863-8988

Tenderich, B. (2013) "The Case for a Master's in Business Communications," in: The Holmes Report, November 18, 2013

Thorson, K., Tenderich, B., Swerling, J. (2012) "Predicting Digital and Social Media Adoption Based on Organizational and Practitioner Characteristics" AEJMC conference paper

Thorson, K., Swerling, J., Tenderich, B. (2012) "Re-imagining Public Relations Curriculum in a Time of Rapid Change" AEJMC conference paper
Course Titles
JOUR 429 - Business and Economic Foundations of Public Relations
JOUR 491 - Transmedia, New Media and Strategic Public Relations/Communication
JOUR 504 - Public Relations Research and Evaluation
JOUR 508 - Introduction to Strategic Public Relations
JOUR 510 - Legal, Ethical and Social Foundations of Public Relations
CMGT 599 - Principles of Public Relations