Andrea
B.
Hollingshead
Professor of Communication
Program
Communication Management (MCG)
Communication (PhD)
Phone
213-821-4081
Office
ANN 414L
More

Andrea
Expertise
Creativity
Group Dynamics
Knowledge Management
Leadership Development
New Media
Andrea B. Hollingshead is Professor of Communication in the USC Annenberg School for Communication and Journalism and has joint appointments with the USC Marshall School of Business and the Department of Psychology.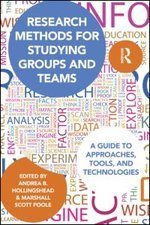 Professor Hollingshead is an expert on group and team collaboration and decision making. Her research identifies the factors, processes, and practices that make some groups more effective than others, and addresses how groups collaborate and create a community in online spaces. Her publications include three books, Research Methods for Studying Groups and Teams: A Guide to Approaches, Tools and Technologies (2012, co-edited with Marshall Scott Poole), Theories of Small Groups: Interdisciplinary Perspectives (2005, co-edited with Marshall Scott Poole), and Groups Interacting with Technology (1994, co-authored with Joseph E. McGrath). Her many research articles have appeared in top outlets in the fields of communication, management, and social psychology. Professor Hollingshead teaches courses on group communication and leadership, marketing communication, and mindful communication at both the undergraduate and graduate levels. She also conducts workshops and short programs for professionals on those topics, and has received many awards for her research and teaching.
Professor Hollingshead joined USC Annenberg in 2005. She holds a BA in Psychology from Yale University and an MA and PhD in Social Psychology from the University of Illinois at Urbana-Champaign. She also worked in the advertising and marketing research industries.
Course Titles