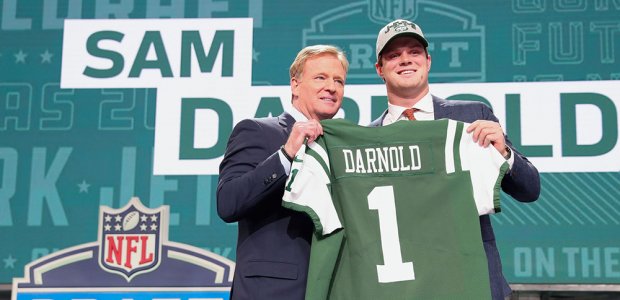 Photo/Tom Pennington, Getty Images
From USC to Broadway: A conversation with New York Jets quarterback Sam Darnold
Wednesday, February 6, 2019 - 6:30 p.m.
USC Annenberg School for Communication and Journalism (ASC), G26
Join Professor Jeff Fellenzer in his class "Sports, Business, Media" for a conversation with Sam Darnold, former Annenberg student and current starting quarterback of the New York Jets, after being the No. 1 pick in the 2018 NFL Draft. The session, "From USC to Broadway," will discuss Darnold's just-completed rookie season, handling the expectations of a rabid fan base in the No. 1 media market in the world, leadership, building a personal brand, dealing with the media, the business of football, and more.