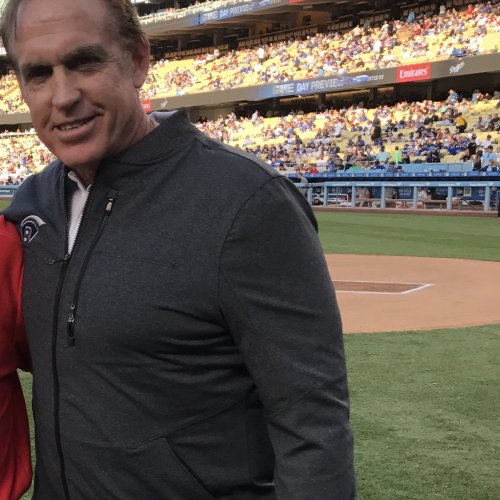 Jeff
Fellenzer
Associate Professor of Professional Practice
Program
Journalism (BA)
Journalism (MS)
More

Jeff
Expertise
Sports
Jeff Fellenzer has more than three decades of experience in sports management, news media, higher education and as an entrepreneur. He is an Associate Professor of Professional Practice at the University of Southern California's Annenberg School for Communication and Journalism. His "Sports, Business, Media" class averages about 125 students each semester. "Sports and Media Technology," which he designed to focus on the tech sector's impact on sports, launched in 2014.
In a 2012 survey of students, "Sports, Business, Media" was voted the fourth most popular class at USC. In April 2014, Fellenzer was featured in Annenberg TV News' series, "USC's Most Inspirational Professors."
His newest class, "The Athlete, Sports Media and Popular Culture," which he team-teaches with award-winning Annenberg professor and documentary filmmaker Joe Saltzman, was introduced in fall 2017 and focuses on the image of the athlete and the media based on how athletes have been portrayed through the years in film and on TV. Fellenzer also teaches a Sports Beat class for graduate students in the USC Annenberg journalism master's program.
Fellenzer has been a Heisman Trophy voter since 2007, one of only 43 in California and 925 nationally who have been invited to participate in the selection process for the most prestigious individual award in sports.
Among the prominent sports figures Fellenzer has interviewed as part of his classroom experience for students are: John Wooden, Jerry West, Bill Walton, Pete Carroll, Al Michaels, Scott Boras, Leigh Steinberg, Keyshawn Johnson, Larry Scott, Lynn Swann, Baron Davis, Byron Scott, Kevin Love, Shelley Smith, Lee Jenkins, Jeanie Buss, George Raveling, Casey Wasserman, Bill Plaschke, Sam Cunningham, Jamaal Wilkes, and World War II hero/U.S. Olympian Louie Zamperini (Unbroken). His "Weekly Wooden" segments are a tribute to the life lessons of his late friend, the Hall of Fame basketball coach and teacher, who was a three-time class guest.
Fellenzer has been a featured speaker the past three summers at the Sports Business Classroom in Las Vegas, held in conjunction with the NBA Summer League, moderating panels and lecturing on the subject of networking, resume writing and interviewing. He has been a guest speaker for sports business events at USC, UCLA, Caltech, the UC Berkeley School of Law, Pepperdine, UC Irvine, UC Santa Barbara, University of San Francisco, Long Beach State and Southwestern Law School.
Fellenzer serves as a faculty advisor for the USC Sports Business Association and for the high school newspaper at Chadwick School in Palos Verdes, where he also teaches a journalism skills class.
Fellenzer is a frequent media commentator on sports business issues, having made live, in-studio appearances on the KTLA-TV Channel 5 News in Los Angeles. He was interviewed extensively on ESPN's Trojan War documentary in fall 2015, and as a featured guest on Yogi Roth's #LifeWithoutLimits podcast in September 2016. Fellenzer also has been interviewed for ESPN's "Outside the Lines," National Public Radio and KNX News Radio, and has been quoted in publications including Sports Illustrated, the New York Times, Los Angeles Times, L.A. Daily News, Associated Press, Forbes.com, Salon.com and MSNBC.com.
Fellenzer serves as a communications consultant for USC Athletics, working with athletes and coaches in developing social media and overall media awareness, brand building and good learning habits with his "Keys to Success in the Classroom" program.
Fellenzer developed and hosted his own hour-long sports TV interview show, One on One, for Charter Communications in Long Beach.
He was founder and president of the Pete Newell Challenge, a college basketball doubleheader held annually in the Bay Area from 1997 to 2006 that honored the late Hall of Fame coach and teacher. The event still holds the record for the largest crowd ever to see a college basketball game in California. On Dec. 21, 2000, a sellout crowd of 19,804 at The Arena in Oakland watched No. 3-ranked Stanford defeat No. 1-ranked and eventual national champion Duke, 84-83.
In February 2012, Fellenzer recruited, hosted and moderated an elite panel of Olympic broadcasters at the inaugural USC Olympics Conference: "Stories from the Booth: Broadcasters and the Games," with Al Michaels, Jim Nantz and Jim Lampley.
Holder of undergraduate and graduate degrees from USC Annenberg, Fellenzer has served as an editor for several sports-related books, including: Never Make the Same Mistake Once, a tribute to the late USC baseball coach, Rod Dedeaux, by one of his former players, Robert Leach; Fred Claire: My 30 Years in Dodger Blue, an autobiography, and Money Players and Go Pro Like a Pro, both by Marc Isenberg.
Fellenzer is a vice president and immediate past president of the Board of Directors of the Long Beach Education Foundation, and director/founder of the Spirit of Sue, a fund that offers financial assistance for arts-related programs in the Long Beach Unified School District, honoring his late mother, longtime educator Sue Fellenzer. He is also on the Advisory Board of the United Cambodian Community in Long Beach. Fellenzer is a frequent speaker and interviewer at the annual Most Inspiring Students Awards in Long Beach.
Fellenzer worked as an editor/writer at the Los Angeles Times for almost eight years, writing a column on recruiting and serving as sports coordinator for the original L.A. Times website that became latimes.com, before leaving to launch the Pete Newell Challenge and start his own company, Innovative Sports Management.
An avid runner, patron of the arts and longtime supporter of the Center Theatre Group's Ahmanson Theatre and Mark Taper Forum, Fellenzer is a member of the Screen Actors Guild, having appeared in two sports-related films: Blue Chips (1993), with Nick Nolte and Shaquille O'Neal, and Cobb (1994), with Tommy Lee Jones. He officiated his second wedding ceremony in November 2015.