Dr. Sangita Shresthova is Director of Research for USC Annenberg's Civic Paths, a group she co-founded with Professor Henry Jenkins. In fact, Jenkins was a major factor in developing Shresthova's career and drawing her to southern California, where the two could collaborate on developing concepts around popular media and civic engagement. However, Shresthova began her journey long before she and Jenkins ever met.
As the daughter of a Nepalese father and a Czech mother, attending an international school in Kathmandu, Shresthova says she "felt like [she] had a really fractured existence and [she] remember[s] … [she] would put on a different identity to go different places." As with many mixed race people, she became an adept code-switcher, yet, she needed an outlet. Though no one else in her family shared her interest or showed her what to do, Shresthova became a dancer. Specifically, she became a freestyle-with-a-tape-recorder-on-the-roof-in-the-dark dancer.
When she danced, she improvised, and eventually she incorporated Bollywood dance moves she'd seen in her cousin's VHS rental store. He would copy tapes and she would catch bits and pieces of the choreography — which were themselves bits and pieces that choreographers had lifted from various styles, Shresthova explained: "…they, too, were taking all kinds of movements and all kinds of aesthetics and just mixing it together, and that it was this mashup of culture. To my fractured self, it was like, 'Oh! It can all exist in one body.'" Nonetheless, Shresthova was not envisioning a career as a dancer, much less, a media scholar.
While at Princeton, Shresthova double-majored in German and Political Science, though she did pursue a minor in contemporary dance. Despite feeling like the perpetual "ugly duckling," she found that the dance community was "…where [she] made [her] friends, where [she] had a community." She carried that with her as the recreational balance to her work in India as a fellow with a micro-finance organization where she helped loanees understand the paperwork and processes that would help them gain financial independence.
After a handful of years doing similar not-for-profit work in India and elsewhere, Shresthova was accepted to the Massachusetts Institute of Technology's (MIT) Master of Arts in Comparative Media Studies program. There, she met her unofficial mentor and future colleague, Dr. Henry Jenkins. Though Jenkins was not a member of her thesis committee, Shresthova recalls how helpful he was, remarking that all of the students were Henry's students, in a way — a familiar feeling for many Annenberg students.
Shresthova points to her Master's Thesis at MIT as the first time she took seriously the idea that dance could be a serious professional interest. Her thesis took up Bollywood dance's "mixedness" and the way different Bollywood fandom communities created a cycle of innovation, diffusion, and re-creation. Following her time at MIT, she took a brief respite, a second Master's (MSc) in Development Studies at the London School of Economics (LSE), and then forged ahead to her doctoral studies in Culture and Performance at UCLA. Before Shresthova could be hooded, she received an inquiry from SAGE Publishing, making an offer to publish her first book. Is It All About Hips?: Around the World with Bollywood Dance was released first in India, something that was important to Shresthova. The Indian dance community did not disappoint. Her book was featured in top women's magazines facilitating a successful outcome, bolstered by additional sales in the United States and elsewhere.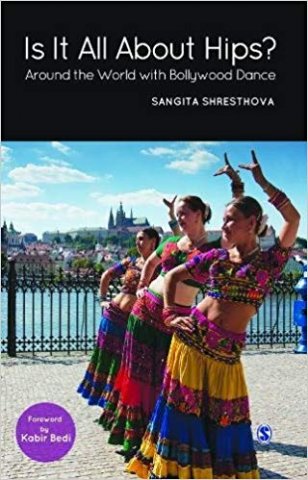 The process from dissertation submission to books in stores took a total of about two years, including two months of "drawer time" for Shresthova to take a break from the material and come back to the page with fresh eyes. During the course of that two years, Shresthova and her editors cut the book in half. Terrifying as this may sound to many writers, she remarked that it wasn't as bad as it seemed. Much of the process involved excising the sorts of defensive arguments many scholars employ to bolster themselves from critiques of neglect and overconfidence. From there, it was a matter of translating some academese — mostly done by her editor, whom she remembers fondly — and of course, removing a bit of content for length. Throughout the process, Shresthova supported herself dancing and teaching.
Not long afterwards she exchanged a note with Jenkins — Shresthova notes that they "always kept in touch," partly because Jenkins' work had "…always been important to [her] thinking." Jenkins was relocating to join the USC Annenberg faculty, and Shresthova, already in Los Angeles, was ready for a reunion. Together the two founded Civic Paths (CP) as an informal space where Jenkins, Shresthova, and their students could get together and discuss questions around politics and participatory culture. They received a grant from the MacArthur Foundation which enabled them to create the MacArthur Research Network on Youth and Participatory Politics. From their site:
The MacArthur Research Network on Youth and Participatory Politics (YPP) formed out of the recognition that youth are critical to the future of democracy and that the digital age is introducing technological changes that are impacting how youth develop into informed, engaged, and effective actors. We believe that youth engagement in participatory politics reflects fundamental changes in political expectations, the developmental pathways that can lead to engagement, and the ways in which youth can be politically active. Through research and targeted action projects YPP is working to understand participatory politics, and support the development and implementation of best practices around youth engagement in participatory politics.
Contemporaneously, the duo and CP released the book By Any Media Necessary: The New Youth Activism (ed. Henry Jenkins, Sangita Shresthova, Liana Gamber-Thompson, Neta Kligler-Vilenchik (PhD 2015) and Arely Zimmerman). The collection of case studies examines how young men and women use social media and fandom networks to exercise their civic imaginations.
Civic Paths grew over time and Shresthova notes that her views about what the group should be have matured. She says the group is constantly calibrating: "I have now realized that we will never arrive at the perfect structure of what Civic Paths should be, because that is not […] its point. We're not trying to build an enduring structure that would remain constant. We're actually always responding to needs that we have on particular projects, interests that we have at a given time, and the students that are in the mix, so there's always that give and take."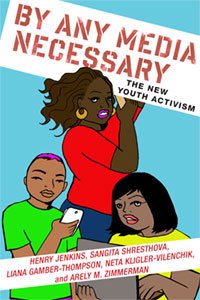 In its early days, CP was loosely configured and members would meet at each other's houses and discuss current events. These days there is still a great deal of discussion as well as more funded projects, a new book on the civic imagination, and a generally more outcome-oriented style. Together CP has released one book, with another forthcoming, as well as websites, edited journal volumes, workshops, media and other companion materials. The group is open to anyone and encourages interdisciplinary work. It's a bit of a family, especially for Shresthova who, when asked if she had any favorite memories with particular students, couldn't help but gush: "I love them all! I don't think they realize how much I love them all!"
Civic Paths meets regularly during the semester, once a week at the School of Cinematic Arts in the SCI building. Meeting times are decided at the beginning of each semester. To join in next semester, contact Sangita Shresthova via email: sangita.shresthova@usc.edu to be added to the mailing list. In Spring 2019, Shresthova will co-teach COMM 576: Civic Media and Participatory Politics with Research Professor Colin Maclay. Henry Jenkins will teach COMM 620: Studies in Communication Theory — Public Intellectuals and IML 600: Historical Approaches to Media Arts and Culture. While neither Shresthova nor Jenkins will teach undergraduates courses next semester, students are welcome to contact them for an opportunity to discuss their work and how to get involved.