"How do students, who are bombarded with information and always on their phones, remain present and mindful?" Austin Maddox asked.
The USC Center on Public Diplomacy (CPD) fellow posed that question to Gopi Kallayil, Google's chief evangelist of brand marketing at the Conference on Soft Power, a three-day event hosted by the India Foundation in New Delhi, India. Kallayil is known for blending technology with spirituality and mindfulness, including establishing a yoga program for Google employees.
"Technology can either be used as a tool for great benefit or it can be a weapon of mass distraction," Kallayil replied. "The choice is up to us as human beings; we have the discernment."
The first of its kind, the conference convened academics, diplomats and policymakers to discuss how soft power — including performing arts, cinema, spirituality and digital storytelling — is starting to play a greater role in India's foreign policy.
In addition to interviewing attendees for videos, a podcast and a written story that CPD plans to release this spring, Maddox — an M.S. in journalism student who is also the inaugural recipient of the USC Annenberg Alumni Leadership Scholarship — captured live footage of the conference for USC's Instagram story.
Whether Maddox was listening to lectures about tourism and the expansion of outreach, or shooting b-roll of workshops focused on language and literature, her aim was to showcase stories of India that people don't traditionally hear.
"In the U.S., especially the West Coast, we don't receive a lot of information about what India is really like," she said.
At the conference, participants explored how their country relates to dance, art and food — and how they can integrate India's history with the future, Maddox shared. "It was interesting to see how the people of India were trying to figure out how to best build and package their story for an international audience."
As she tracked down her interviewees and raced to catch natural light before the sun set, Maddox said she learned both the value of self-confidence and how to approach a story with integrity.
"As a journalist, I was on my own, trying to figure out how to make everything work, so it involved a lot of thinking on the fly," she said. "I had to believe and trust in my skills while knowing I had done thorough research on the topics being discussed, and that my intention was to expand topics in a way that was honest and offered new insight."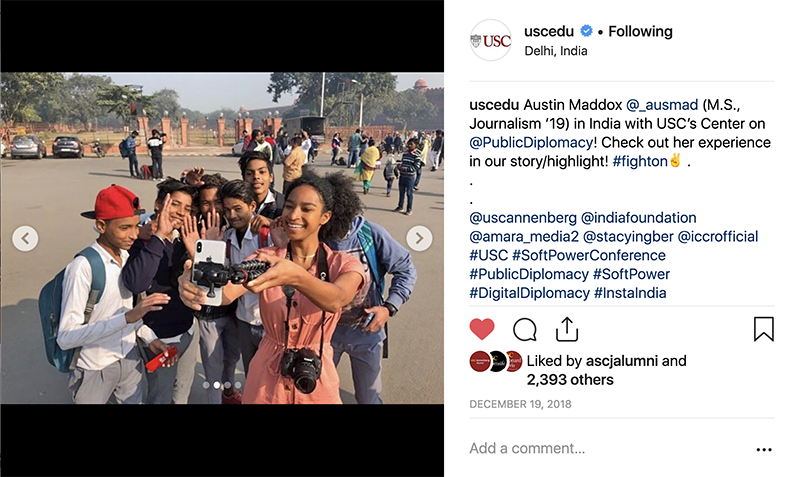 Photo courtesy of: Austin Maddox.
One of the main goals of CPD's student fellowship program is to offer USC Annenberg students an opportunity to develop their own research and interests as well as interact with practitioners, international leaders and other USC students.
Maddox's path to USC Annenberg didn't travel in a straight line. She received her undergraduate degree from USC Dornsife in 2016, where she majored in Spanish and double-minored in psychology and American studies and ethnicity. While in school, Maddox worked at the USC Law School's Post-Conviction Justice Project, where she became intrigued with people's stories and the way individuals were represented.
From there, she became a law clerk and her love of storytelling shifted her career goals. In 2017 she took an assistant position for Sony's Annual Diverse Directors program, and from there segued into a job as a marketing coordinator for MRKT, Terry Hines and Associates' multicultural division. During this time she had the opportunity to produce her own videos on YouTube.
"I wanted to learn as much as I could and work in an industry that was exciting, where I could engage with people in a creative way," she said.
Maddox decided to apply to USC Annenberg's master's program in journalism and accepted a CPD student fellowship to expand her knowledge of international policies and continued to produce videos that would help encourage conversations.
"Like public diplomacy, journalism is about storytelling and messaging, she said. "It's also about knowing the community that you're speaking to so that you can convey your story's message as effectively as possible. The fellowship has provided me with a respected platform to create and publish videos, with critical experience as I prepare to enter the digital journalism world," she said.
During her student fellowship, in addition to visiting India, Maddox produced a video of Anne Hidalgo, the mayor of Paris, when she visited campus in September 2018. Maddox has also developed new technical skills in graphic design and digital production. Most of all, though, Maddox said she has discovered how integral public diplomacy is to the younger generation. Through her videos and social media work, she aims to increase CPD student engagement.
---
USC Center on Public Diplomacy
The USC Center on Public Diplomacy (CPD) was established in 2003 as a partnership between USC Annenberg and the School of International Relations at USC Dornsife. It is a research, analysis and professional education organization dedicated to furthering the study and practice of global public engagement and cultural relations.
Alumni Leaders Scholarship
Fellow alumni and friends recently established the first-ever crowdfunded endowed scholarship at USC Annenberg: the Alumni Leaders Scholarship. Need- and merit-based student aid enables USC Annenberg to attract extraordinary students, foster their success and promote the diversity that enriches the education experience for all.