USC Annenberg students are known for being busy both on-campus and off-, but for senior Robby Kolanz (Broadcast and Digital Journalism '16), busy takes on a whole new meaning when football season rolls around each fall.
That's because Kolanz has been a junior wide-receiver for the USC Trojans for the past three seasons, and his typical weekday during the fall semester starts at 6 a.m., followed by meetings, a few hours of practice, more meetings in the evening, and class and extracurriculars in between.
"After you do it for a few semesters you really get in the groove of things," Kolanz said. "It's definitely a big commitment but it's something that's so rewarding and worth every second."
As a reserve walk-on for the 2015 season, Kolanz has played in about half of the Trojans' games so far, both on the road and at the Los Angeles Memorial Coliseum. Off the field, he's interned for the USC Sports Information Department, USC Athletic Director Pat Haden, and Student Sports, a Nike Football affiliate. Kolanz is also a contributor to Annenberg TV News (ATVN), a member of Sigma Chi fraternity, and on the executive board of USC's Students Against Sexual Assault organization.
Kolanz keeps a busy schedule as a student athlete, but said the close bonds he shares with his teammates make all the work worthwhile.
"It's been an awesome year and it's been so cool to be a part of this kind of resilient battle that we've been going through now," Kolanz said. "I'd say that in my tenure at USC this is the closest team I've been on in terms of all the teammates being so close as a family type of atmosphere."
A Southern California native, Kolanz was a top football player at Palos Verdes High School, and he first became involved involved with journalism there, too, as a sports anchor and then a lead anchor for the school's television station. Broadcast journalism is also something of a family business, as Kolanz's late grandfather is local broadcasting legend and USC alum Stan Chambers, who was an award-winning KTLA reporter for 63 years.
"I grew up visiting him up at the studios and we'd be sitting around the dinner table, me and my family, and watching him on the TV," Kolanz said. "He's been my role model since I was a little kid, so he definitely sparked my interest in broadcast journalism."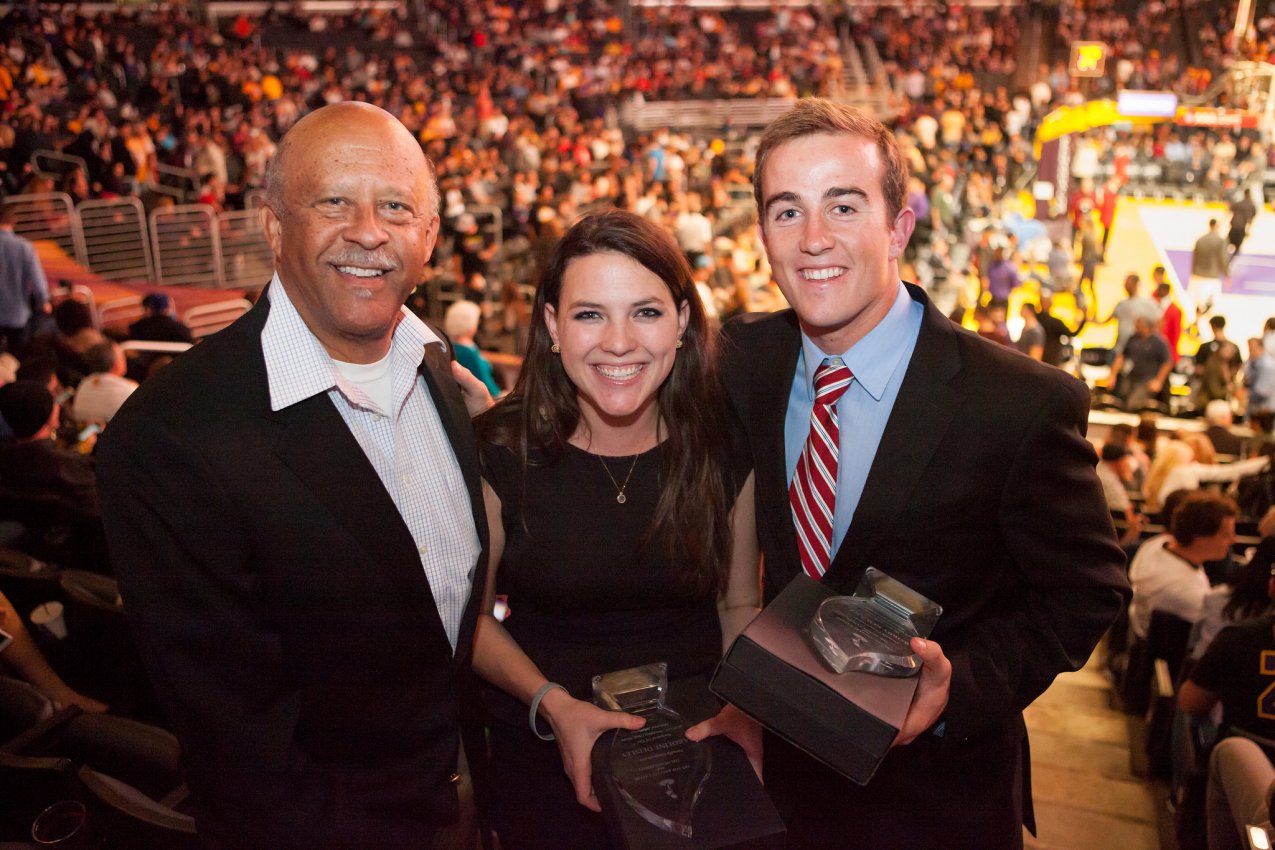 Brett Van Ort / USC Annenberg
Seeing his grandfather's dedication to his career inspired Kolanz to pursue broadcast journalism, and also helped him to connect with some of his instructors at USC Annenberg, including adjunct professor and award-winning broadcast journalist Jeffrey Wald.
"He's an amazing guy, and he actually happened to be my grandfather's producer at KTLA for a number of years, and I didn't even know that going in," Kolanz said of Wald. "He's definitely been influential in my development as a journalist."
Wald, who taught Kolanz in JOUR 306, a broadcast production class, said the student athlete's commitment to storytelling was evident in the work he produced. Wald said Kolanz always looked to incorporate new technology in his reporting, and even shot several broadcast packages with his iPhone.
"He was able to think beyond the usual ways of shooting stories to find the really interesting people angles," Wald said. "I don't know how he did it because he's on the football team and is a popular kid, but Robby was an outstanding student."
Kolanz also counts among his mentors USC Annenberg lecturer's Graham Robertson and Jeff Fellenzer, who teaches sports business and journalism.
"He kind of took me under his wing the first day I met him," Kolanz said of Fellenzer. "He's just a great guy and a great ambassador for Annenberg as well as USC in general."
Fellenzer, who taught Kolanz in JOUR 380: Sports, Business and Media in Today's Society, said he came to know Kolanz during his class as a thoughtful and engaged student. Fellenzer even had the chance to see Kolanz play high school football, as the son of a family friend was also on the Palos Verdes team.
"I had already heard what a good player Robby was, but also that he was an even better person," Fellenzer said. "That has certainly proven to be the case in getting to know him over these semesters, and Robby definitely has a very bright future."
Both Kolanz and his USC Annenberg instructors noted that the school is uniquely suited to providing student athletes a top-notch education and a chance to pursue their passions at USC, whether that be sports or anything else.
"Across the board, the entire Annenberg program is amazing, and every teacher I have I'm just blown away by their various talents and commitment to bettering us as students," Kolanz said. "I think it's so cool that USC does such a good job of bringing in the right people for the jobs."
Kolanz said he's interested in pursuing sports journalism, and in 2014 received the Chick Hearn Scholar Award, presented by USC Annenberg and the Los Angeles Lakers, alongside friend and fellow broadcast journalism major Caroline Deisley at the Staples Center.
"That was one of the coolest experiences of my life, and growing up I would literally fall asleep listening to Chick Hearn every night when the Lakers were in season," Kolanz said. "Coming full circle and being awarded something with his name on it was a huge blessing, and being on the center court and accepting it with one of my best friends at USC was amazing."
Set to graduate in the spring, Kolanz is already fielding job offers, and said his dream career would combine sports business and journalism. He said though being a student athlete hasn't always been easy, it's taught him skills he'll carry with him after he leaves USC.
"Juggling school and sports equips me with the ultimate preparation, in my opinion for taking on the real world," Kolanz said. "With all these commitments and everything that I have on my plate, I do think that I'm going to be so ready when it gets to that time, and I feel ready to take on my next stage in life."