For Daniel Hailpern, sports broadcasting helped him get through a time when he was literally fighting for his life. Diagnosed with leukemia at age 14, Hailpern was being treated at Children's Hospital Colorado in his native Denver when he noticed there was a TV and radio studio on the ground floor of the hospital. Founded by media personality Ryan Seacrest, Seacrest Studios offers kids an opportunity to learn and have some fun during their hospital stays.
"I went into the studio and said, 'Hey, I'm going to be here for a while undergoing treatment, can I start my own sports radio show?'" said Hailpern, now a senior journalism major. "I would preview all the NFL games on a Friday, and then come back on Monday and review all the games. That was definitely when I realized I wanted to be in sports media."
Carlo Jiménez's path towards broadcast journalism started while he was pursuing his basketball dreams in high school in San Jose. He recalls working hard to make junior varsity — only to mostly sit on the bench. But he found another way to fulfill his passion for the game. "After the JV basketball games, I would sprint to the locker room to change, and I would be really excited to go back to the court to broadcast the varsity games," the junior journalism major said. "From that point on, that's where my sports emphasis was.
Those first sparks of interest led both Hailpern and Jiménez to USC Annenberg to follow their dreams of become sports broadcasters. Now, both have earned the 2021 Chick Hearn Memorial Scholarship to help bring them another step closer to making those dreams a reality.
At halftime of the Nov. 28 NBA game between the Los Angeles Lakers and the Detroit Pistons at Staples Center in downtown Los Angeles, Hailpern and Jiménez were honored in an on-court ceremony, where they were joined by members of the Hearn family and Gordon Stables, director of the School of Journalism.
Prior to the ceremony, Jiménez and Hailpern also met Spectrum Lakers broadcasters Stu Lantz and Bill MacDonald.
"This was a once-in-a-lifetime opportunity," Hailpern said. "I mean, who else gets to go out and get honored on the court at a Lakers game?"
The endowed scholarship was established at USC Annenberg in 2003 in honor of legendary Los Angeles sportscaster Francis Dale "Chick" Hearn, who broadcast more than 3,000 Lakers basketball games over 40 years until his death in 2002.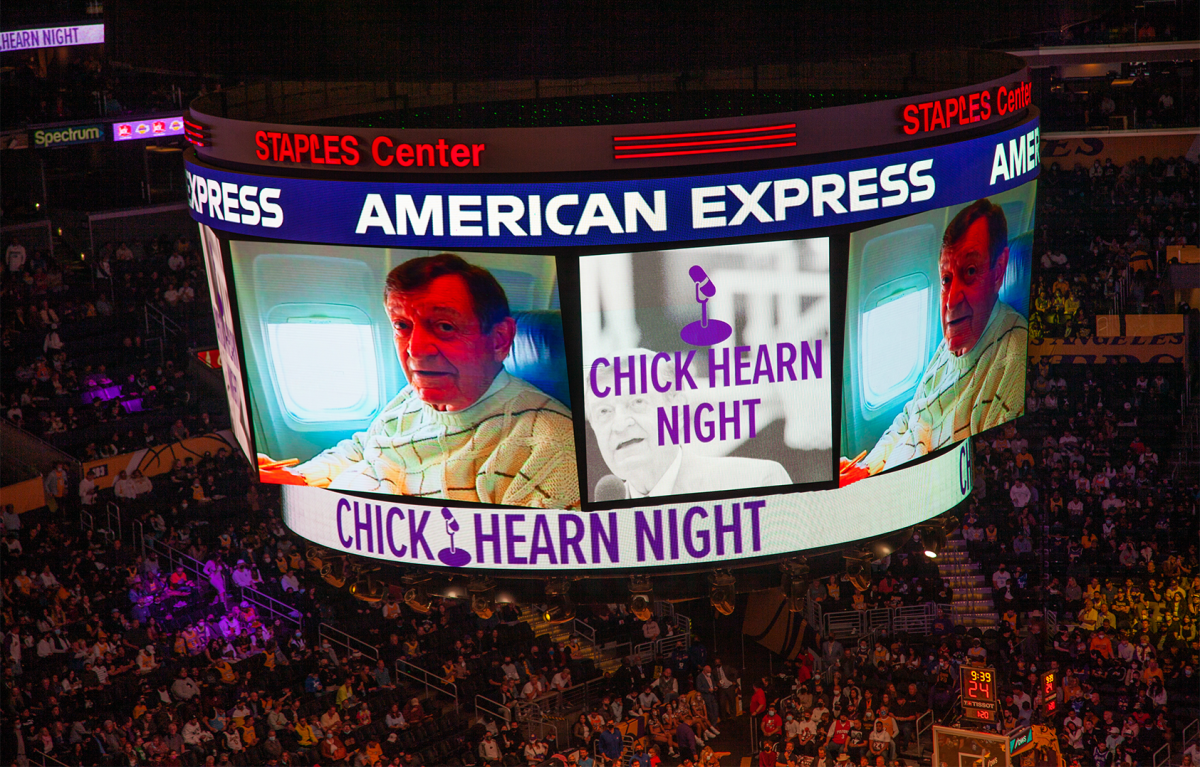 Photo by: Olivia Mowry
Hailpern — who recently celebrated seven years of being cancer-free — said he was able to parlay his teen experience with Seacrest Studios into opportunities with ESPN and the NFL Network. Since his freshman year at USC, he's worked for The Water Cooler on the student-run sports TV station Trojan Vision, as an executive producer, on-camera analyst and host. He's currently working part-time on a new sports show for NBCUniversal's Peacock network.
"My dream job is to be an executive producer of a big sports program like Monday Night Football or Inside the NBA," he said. "That would be awesome."
The Chick Hearn Scholarship, he said, offers him financial stability as he looks to launch his post-collegiate career. "Obviously, USC is not a cheap ticket," he said. "I'm very grateful to be able to get this scholarship. It definitely alleviates a lot of the stress of the day-to-day — and it means less in student loans I'll need to pay back in the future."
Jiménez might be from Northern California, but his San Jose home was officially part of Laker Nation. "My mom grew up in Orange County, so she was a Laker fan," he said. "She told me that when she grew up, her dad always had Chick Hearn on the radio. So, when I got the Chick Hearn scholarship, my parents thought that was pretty cool."
While at USC, Jiménez got his first sportscasting break as a freshman, when he worked on the halftime broadcast of a Trojans football game. He also called football and soccer for USC Athletics that year. Then, as a sophomore, Jiménez became one of the sports directors at KXSC. He's also a football writer for the Daily Trojan and a sports anchor for Annenberg Television News.
The Chick Hearn Scholarship, Jiménez said, will help him take on the kinds of often-unpaid internships he'll need to continue pursuing his career. "Sports broadcasting is a great industry, but it's very expensive to get into," he said. "Last summer, I went to Cape Cod to broadcast baseball games — and didn't get paid. What's awesome about this scholarship is that it's enough that it will cover my housing, so I can go back to Cape Cod this summer, as well."
"For me, sports broadcasting and sports are very similar," Jiménez added. "I've found that, if you just work hard, the results will come."