When Robin Stevens relocated to Los Angeles from her native Philadelphia in Summer 2020, the chance to work with her new colleagues on the USC Annenberg faculty was the most exciting part of the move.
"The faculty here breaks every mold," said Stevens, associate professor of communication focusing on health communication in communities of color. "I was impressed by how so many of the faculty integrated their research with the work of the communities that they're studying. It's not innovation for innovation's sake, it's innovation to solve a problem.
"That culture resonated with me," she added. "This is a place where I can bring all those kinds of things together in the service of using media and communication and technology to improve the health of people of color."
A pioneer in the emerging field of digital epidemiology who spent five years as an assistant professor at the University of Pennsylvania, Stevens uses digital data, such as social media posts, to investigate Black and Latinx youth well-being, sexual health, mental health and substance use in order to begin thinking of how to construct interventions.
As she looks to the communities around USC to identify the right place to focus her next research efforts, she has jumped right into the virtual classroom, teaching health communication last Fall and research methods online this Spring. She has also already begun collaborating with scholars from USC Rossier School of Education and Children's Hospital of Los Angeles as mental health interventions have become an ever-greater priority in the communities she works with.
Stevens spoke with USC Annenberg about the connections between public health and racial justice, and how communications can advance the cause of both.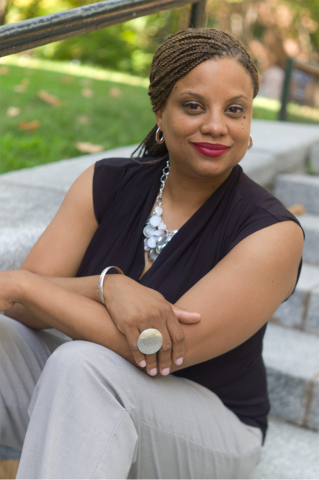 Photo courtesy of Robin Stevens
What drives your work as a health communicator?
The lion's share of my training was in adolescent sexual health substance use and other adolescent risk behaviors. I'm always concerned about asking, "How can I help young people live their very best lives? How can I help them navigate barriers? How can I help them be resilient in the face of structural racism and oppression and disinvestment in their communities?"
You examine online data to find out how youth are thinking about risky sexual and drug-related behaviors. What recurring themes have emerged from your research?
I've been very invested in how neighborhoods influence behavior. When it comes to what is happening with Black and Latino youth in their digital spaces, there has been very little conversation about that. It's all about cyberbullying and privacy — but that is not what my young people were struggling with in their spaces. For them, social media sites like Facebook were places that also amplified the worst parts of their real-world neighborhoods — shootings, unplanned pregnancies, people using Facebook to set up other people for violence.
And your work has focused on intervening in those spaces to create more positive outcomes, right?
Yes, because it's important to find a way to repurpose these tools so that they are most useful for these communities. These platforms aren't built for Black youth, but there has to be ways that we can adapt and help young people of color navigate and benefit from them. That's the intervention work I'm thinking about right now: how to help kids who want mental-health support, particularly over the past year, with the viewing of so many state-sponsored racial killings and brutality — it takes a toll. I'm asking, "How can we cleanse the social media timeline in a way that supports youth of color to thrive, building resilience and supporting creativity and community?"
So, you're talking about public health as a racial justice issue — and vice versa.
I'm looking for ways to build resilience as part of a long struggle towards liberation. What can communication solutions offer that will help us build a Black future? When you're thinking about a solution like that, don't imagine it for the world that is, imagine it for the world that could be. With COVID, we can imagine going back to life pre-COVID, right? But that life was not good enough. We need to imagine a future where the color of your skin doesn't determine how long you live.
Any lasting solutions have to be both individual and structural. We can't just be talking about individual behavior like mask-wearing, because that ultimately just reproduces inequalities. What is driving the disparities in the effects of COVID are not individual things.
As you begin your work in Los Angeles, how do you see yourself engaging with the community?
I want to continue to help young Black and Latino people build mental wellness with resilience, with joy — and some of that will include thinking about workarounds or buffers for online spaces that exacerbate problems with substance use or risky sexual behavior. We're thinking about how to intervene with the technology and amplify the creativity that the community brings through things like TikTok. If we can work with youth to find ways to intervene in those spaces to help young people navigate the pitfalls, we can find a way to a better future.